Actor Banita Sandhu released a statement on Instagram explaining why she did not self-isolate in the Beleghata Government Hospital in Kolkata. 
It was recently reported that Sandhu tested positive for COVID-19 when she reached Kolkata to shoot her new film and had refused to be treated at the government hospital. However, on Thursday, Sandhu in her statement said that she did not test positive and the report was false.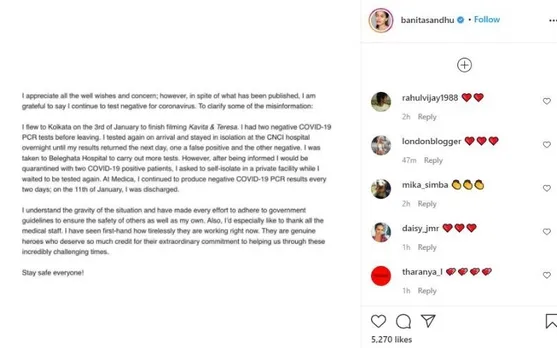 The 23-year-old actor said that when she learned that she would be quarantined with two COVID-19 patients at the hospital while further test result could come, she decided to shift to a private facility. Sandhu said that she was repeatedly being tested at the private hospital and her results were coming negative on every second day. She said that she was discharged on January 11.  
In her statement, she explained the turn of events on her side and said claimed to clarify some "misinformation". She wrote, "I appreciate all the well wishes and concern. However, in spite of what has been published, I am grateful to say I continue to test negative for coronavirus."
 "I understand the gravity of the situation and have made every effort to adhere to government guidelines to ensure the safety of others as well as my own," she added. In ended her statement by expressing gratitude towards healthcare workers as she called them genuine heroes. She said that now she has the first-hand knowledge of how the medical staff is working hard tirelessly. She wrote, " They are genuine heroes who deserve so much credit for their extraordinary commitment to helping us through this incredibly challenging times." 
Sandhu is currently shooting for an upcoming movie named Kavita And Teresa which is directed by Kamal Musale. The film is set in old Kolkata and it tells the story of Mother Teresa and her life spent in slums of the old city. Sandhu shot to fame with her debut in Shoojit Sircar's October in 2018 in which she shared the screen space with Varun Dhawan. She has also done international films such as Pandora and Eternal Beauty. 
Also read: Grammy Awards 2021 Pushed To March 14 Amid Surging Cases of COVID-19 In Los Angeles