The society we live in considers sex and sexuality as obscene. This very notion is what's stopping us from knowing what sex education is and how important it is for the youth these days.
The 21-year-old Akshita Chandra's Tumblr 'Being Censitive' (a play on the words 'censor' and 'sensitive') is a magic touch of brushes on the topics which remain hushed in our society till date. The series is a mighty splash on the taboo topics, and is inspired by the temple art in the Khajuraho. Snippets from our meeting with Akshita.
What inspired you to become an artist? 
Well, my inspiration to go into the art and design field was very gradual. I am not one of the naturally gifted artists. I just knew that I didn't want to opt for one of the conventional fields and become an engineer or a doctor.
When I was in 7th grade, I started playing around with my father's old camera and it became an obsession. We would take trips to Bandhavgarh and Kanha National Park and I would love to capture the wildlife. My father had all these fancy lenses that I could use. By 11th grade, I was certain I wanted to be a professional wildlife photographer. So I started working to get into a design college where I could make my dream a reality. Eventually, when I got into Srishti, I steered towards the visual arts.
Also Read: At 17, artist and feminist Tara Anand is already changing the world
Tell us about the project 'Being Censitive' and 'Grimm Reality'? What inspired you to create these arts?
Being Censitive is about celebrating sexuality in our cultural past and viewing it through the lens of censorship and moral policing.
The idea was to take the temple art of the Khajuraho and juxtapose them with some recent examples of censorship and moral policing and create a dialogue between the past and the present. The project is about seeing what is deemed appropriate and what is obscene.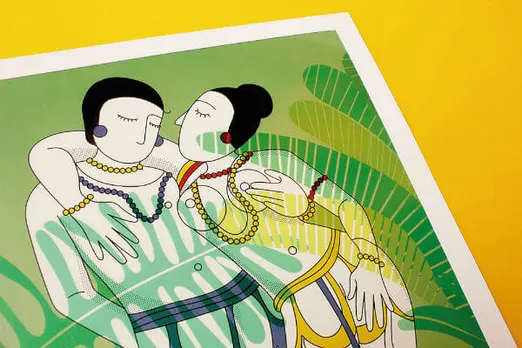 Grimm Reality draws parallels from the four Grimms' fairy tales of Cinderella, Rapunzel, Snow White and Little Red Cap (Grimms' version of Little Red Riding Hood) and looks at how this good-natured cautionary advice has been amplified and played out in our society in a way that they have now become more restrictive and poisonous.
The idea was to see how they are causing more harm than good. Also, how they become an excuse to judge girls. It is not the girls who are at fault – it is the wolf, the aggressor, the sexual predator.
The aim of the interpretation of these fairy tales was to see how similarities could be mapped out, how synonymous would it be if placed in an Indian context. Both of these started as college projects. The first project was to work with a part of history and the other required us to re-interpret a text of our own choice. I ended up making them contemporary, relevant.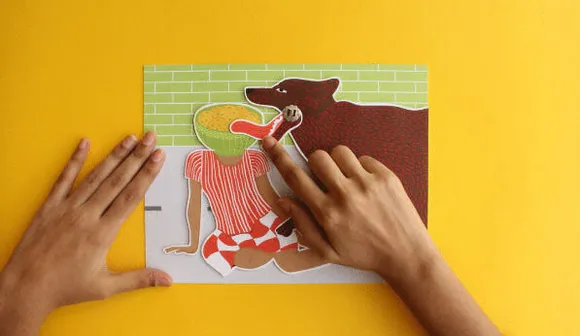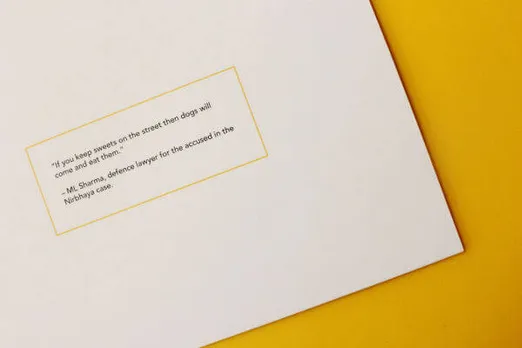 Why illustrating such bold arts? Your recent arts convey the message of shattering taboos in India, especially for women. Was it inspired by any personal space?
These two projects have been the longest and most intensive projects yet. Each took about 4 months to complete.
Both of the projects came from a very personal space. I think I try to find a reason in everything. But there are some notions that I just fail to see any rationale behind Them. It irks me. These two projects have been based on ideas and beliefs that I just couldn't find any rationale in.
I don't intend to only look at issues relating to women, but since I've grown up being a girl in our society, it's a viewpoint I relate to and associate with the most.
Both the projects involved a great deal of introspection.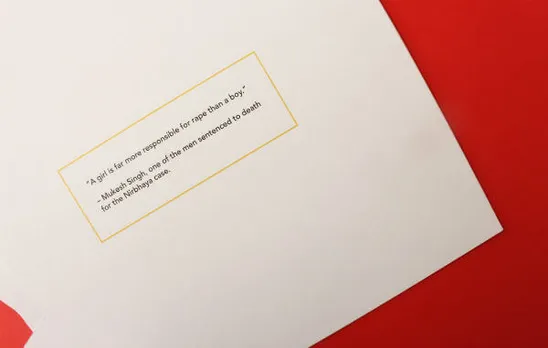 What makes your illustration so special for the Indian audience?
Well, the illustrations used in Being Censitive were directly inspired by the Khajuraho temples. And both the projects are contextualised taking the Indian social and cultural landscape. I wouldn't identify my illustration style as particularly 'Indian' but the content of the illustrations used in the projects talk about issues we face in our country.
How and when was your love for giving social messages born? 
I never intended to develop these projects that can act as social messages for people, but they just happened to become like that. While I was creating these projects, I was just trying to create something that I felt strongly about and wanted to work with.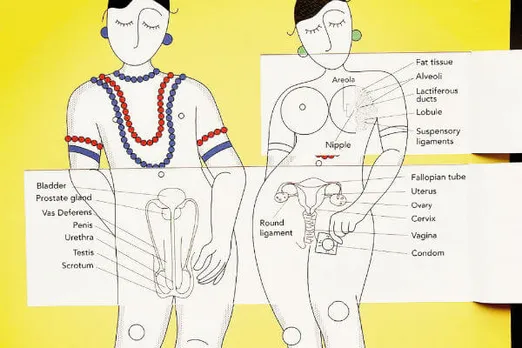 The projects almost became self-therapeutic for me.  Also, as artists, we cannot really situate ourselves outside of what goes on around us and with us. At the end of the day, art IS a tool to communicate ideas and viewpoints.
What are your ambitions for your career as an artist?
To be able to successfully sustain myself for doing what I love doing, to be known for it in the industry and otherwise: for doing what I love doing, and to hopefully inspire others.
Also Read: This Artist Tells Body-Shamers to Mind Their Own Business
How much research goes into each project?
For an intensive project like this, I researched for about a month. While iterating with visuals on the side. Both the projects started with completely different ideas. But they evolved into what they exist as now. To flesh out the project conceptually and visually takes a lot of time and effort.
What are your biggest challenges when it comes to designing and doing research, plus balancing personal life?
Finding the time to do everything I want to do! Managing personal work with a job and also save some time for myself. I end up not doing as much as I would like to do in a week but I think I'm getting much better at it. It's been a year since I've graduated so I'm still figuring out. But I've realised - the more organised I get, the more productive I am. Making to-do lists every day.  Ticking those boxes is really gratifying.
READ: Acid Attack Survivors Turn Tattoo Artists
Indians are reluctant to talk about sex education. What's your solution?
Well, I don't think I'm adept to assume that I would know the solution. The project was more of a commentary rather than providing a solution.
What are some of the lessons you learnt from your project?
How Art is just yet another tool that works within a larger social structure. How it can be used to come up with different ways of approaching or commenting on a contemporary issues. To paraphrase Thelma Golden (the Director and Chief Curator of The Studio Museum in Harlem, New York City, United States), It's not only aesthetic innovation that the creative minds can generate, it is also about the voices that they use that might propel conversations.
How would you be differentiating these efforts from others? 
Perhaps the way it was finally manifested and the different layers the concept eventually ended up having.
Also read: The ardent feminist: 17-year-old Kaanchi's art for acid attack survivors