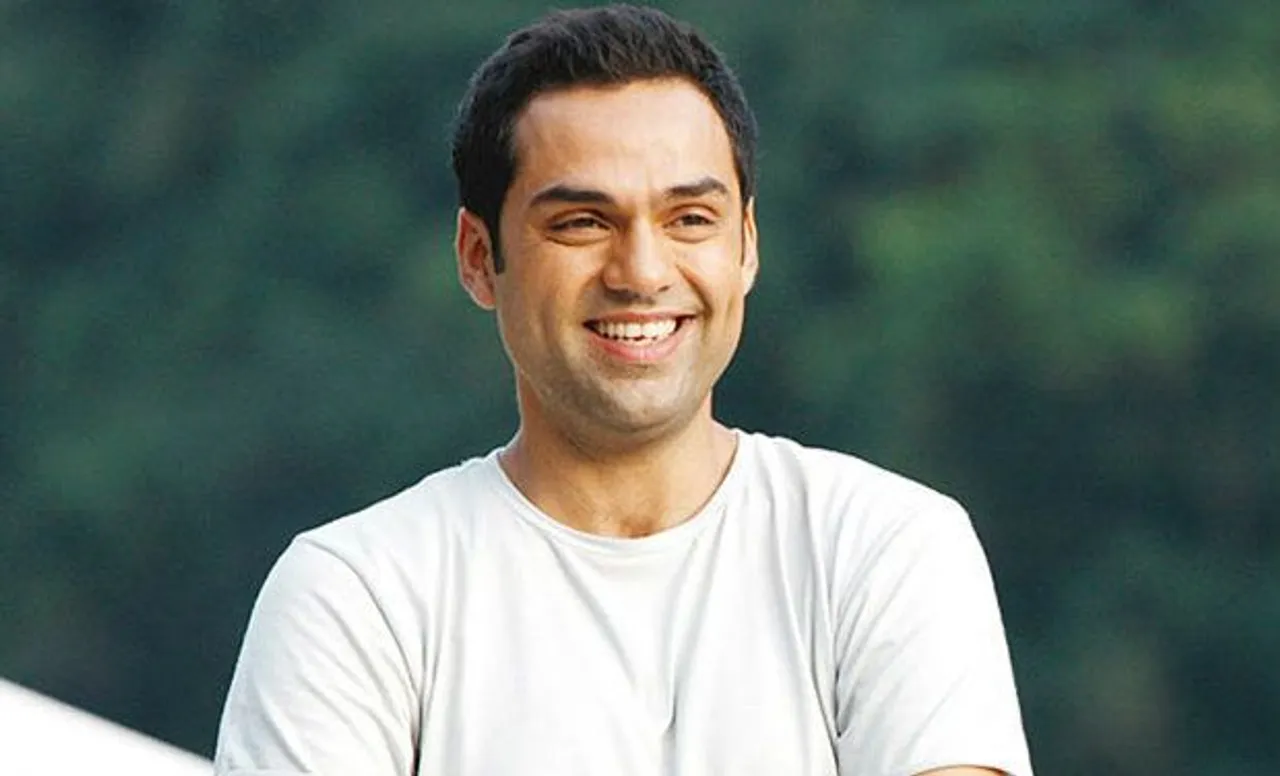 In a series of social media posts on Wednesday, April 12, Bollywood actor Abhay Deol criticised India's fixation with fairness creams and actors who endorse it. The Facebook posts were a bid on the actor's part to create awareness about how the Indian mindset is giving way to racism in the country.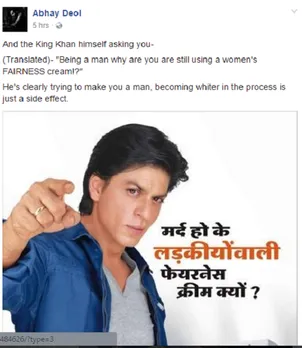 Abhay Deol comments on Shah Rukh Khan commercial of Fair and Handsome
Deol, in a sarcastic tone, commented on many Bollywood celebrities like Shah Rukh Khan, Diana Penty, Sushant Singh Rajput, Deepika Padukone etc. who have been a part of fairness cream commercials. For King Khan who stars in the Fair and Handsome commercial, he also back-handedly commented that masculinity is being used to run fairness cream campaigns. He wrote, "And the King Khan himself asking you - (Translated) "Being a man, why are you are still using a women's FAIRNESS cream!?" He's clearly trying to make you a man, becoming whiter in the process is just a side effect."
Expressing his views on a L'Oreal commercial and ripping the brand apart, Deol comments, "AHA! So when they get a beautiful Latina and gorgeous black girl they say on the box - finally a way for everyone to make their OWN SKIN ideal!"
Abhay Deol comments on a racist L'Oreal ad
He lists nearly all the commercials that have Bollywood actors shamelessly endorsing white skin colour and shows how irresponsibly actors are earning bucks while giving out a bad message to society.
About a Deepika Padukone commercial for Garnier's Fair Miracle "2-in-1 fairness cream", Deol writes, "It says "2-IN-1 FAIRNESS cream". If you notice her eyes are also lighter than they are in real life. So '2-in-1' must be you can put it in your eyes to change their colour. It's not so much a 'FAIRNESS' cream as it is a coloured lens for the eyes. And who wouldn't want grey eyes, eh? It's the colour of Delhi in the winter. What a patriotic cream!"
It is refreshing to see that a Bollywood actor has come out and spoke against this age-old idea of a particular form of beauty and the colour associated with perfection. Deol appreciated Nandita Das and her efforts in ending racism as he commented in a sarcastic manner again, "Silly Nandita trying to teach us that Black is also beautiful. Doesn't she know that we already know that? Why else would we be so accepting of people from the south*? What's that? She's from Orissa? Can we include that in the southern belt of states? Cause I really want to believe in my bullshit."
Abhay Deol Facebook post against racism
Talking to SheThePeople.TV, a brand expert and co-founder of Blog Brandz, Priya Florence Shah, said how brands are not really the culprit here. She said, "It is our mindset that dark skin is undesirable, that creates marketing opportunities for fairness creams. Multinationals that profit off this mindset are only making money off our insecurities. If we, Indians, were not so insecure about our natural skin shade and didn't still look up to "goras" the way we did before Independence, then these companies would have nothing to exploit."
Shah added, "We need to become more secure about ourselves and get rid of this gora worship. We need more advertisements and movies to feature women who are dark skinned. Indians need to understand that our worth does not depend on the colour of our skin. However, we are an extremely racist nation and I doubt that change will come easily."
Though many actors still go on being part of such racist commercials, there are quite a few who have turned down hefty offers from MNCs to perform their social duty. A prime example is Kangana Ranaut who is rumoured to have turned down a Rs 2 crore offer to endorse a fairness cream. Other actors who are not a part of the fairness cream bandwagon are Randeep Huda and Upen Patel.
Picture credit- Life n lesson
Join Us on https://www.facebook.com/SheThePeoplePage
Follow Us on https://twitter.com/SheThePeopleTV