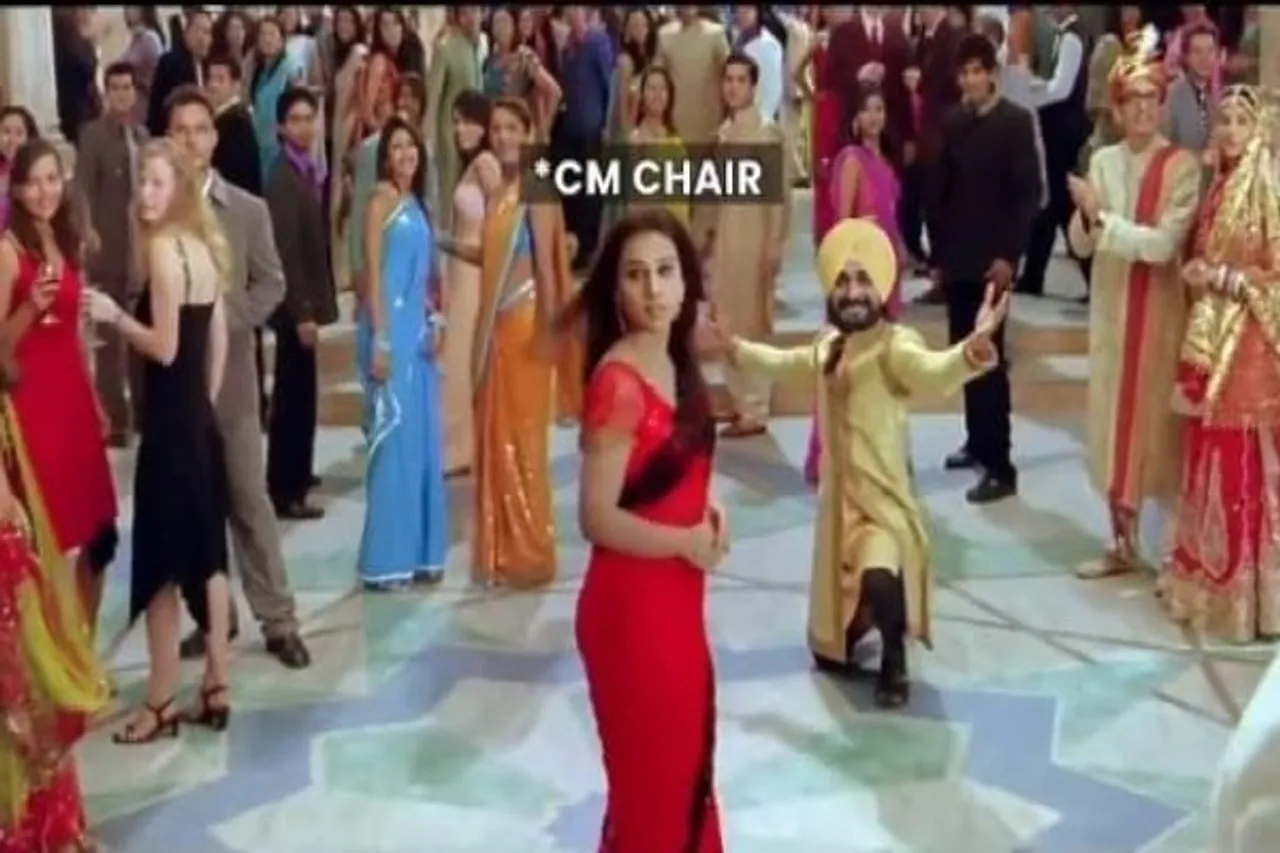 Very often political parties creativity in terms of showing women in poor light during campaign speeches and videos have fired back. The recent AAP Vidya Balan video has created a big controversy and received flak online. Aam Aadmi Party launched a video introducing politician Bhagwant Mann as the Chief Ministerial candidate for the upcoming Punjab Assembly elections 2022.
On January 18, AAP's official handle on Twitter shared a video of a song sequence from Heyy Baby (2007) film, reworking it and giving it a political tone. In the video, above Vidya Balan's head, they have put an asterisk mark and called her 'CM Chair'. The song used by the creatives is Dil da mamla which features Akshay Kumar, Riteish Deshmukh, Shah Rukh Khan, along Balan.
They have replaced, Akshay Kumar's face with the Chief Minister of Punjab Charanjit Singh Channi's face, who is trying to lure Balan's attention and Deshmukh's face with Punjab Congress Chief Navjot Singh. While Shah Rukh Khan's face is replaced with Mann's, Rahul Gandhi and Arvind Kejriwal also make an appearance with their face pasted on Anupam Kher and Boman Irani, respectively.
---
Suggested Reading: Didi, Behen, Amma, Aunty -Why must female politicians be desexualised in India
---
The AAP, through the video, had intended to send a message showing Mann making a surprise yet powerful entry like Khan in the song and win's over Vidya Balan, the CM chair.
Dilip Mandal, who is the founder of the Centre for Brahmin studies, wrote, "Dirty advertisement. In the very first shot, Sidhu is shown slapping the CM, Punjab. Then the girl has been told as the chair of the CM, for which there is a scuffle going on. Dirty thinking video. @ArvindKejriwal is a family man. Care should be taken."
AAP's New Video Showing Vidya Balan As CM Chair For Punjab Election Receives Flak Online
They received flak online for the video. Punjab Congress tweeted, "While men are portrayed as heroes, a woman comes as an 'object' for @AamAadmiParty. No wonder they don't have a single leader who is a woman and a minister in Delhi. They expose themselves every day. STOP OBJECTIFYING WOMEN!"
Yesterday, the chief of AAP Arvind Kejriwal announced Mann as the chief ministerial candidate in Punjab and organised the 'Junta Chunegi Apna CM' campaign. Mann was a comedian and has acted in Punjabi films before. He began his political career in 2011 with Manpreet Singh Badal-led People's Part of Punjab. Later, in 2014, he joined AAP and contested for Lok Sabha election against Sukhdev Singh Dhindsa. Mann won it with two lakh votes.