If you're just counting down the days and moments till the New Year, here's a delightful rendition of Leonard Cohen's 'Hallelujah', performed by a 10-year-old girl with autism, which is guaranteed to give you all the feels. This young girl from Northern Ireland led her school choir and like thousands on Facebook, where this video was posted over Christmas, we are just blown away.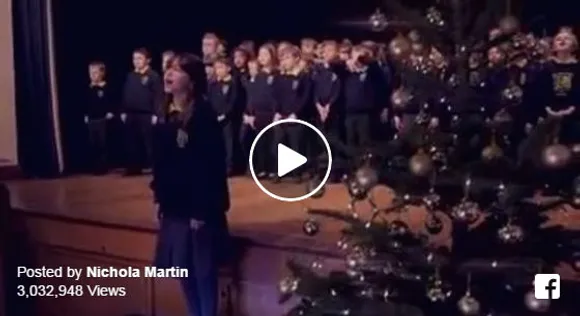 It is already a social media hit and an inspirational one of course, knowing that the girl -- Kaylee Rodgers, from Donaghadee, County Down, has autism and ADHD (attention deficit hyperactivity disorder). The video has gained almost 170,000 views in three days from people around the world. It was posted by by a parent Nichola Martin, whose son is also in the choir.
https://twitter.com/HobblesFred2002/status/813968481968422912
https://twitter.com/ruthie2theright/status/813571629427097600
Colin Millar, head teacher at Killard House, said, "For a child who came in P4 and would really talk, couldn't really read out in class, to stand and perform in front of an audience is amazing. It takes a lot of effort on Kaylee's part."
Also Read: When The Amul Girl Got Our Sentiments Bang On In 2016 
"I just loved doing it", Kaylee told ITV who is super excited to launch her video, knowing that it has created a buzz already.
Watch the breathtaking performance below:
Also Read: Mohenjodaro 'Dancing Girl' Is Goddess Parvati, Says New Study
We adore you Kaylee!!
Feature Image Credit: TheBlaze
Join Us on https://www.facebook.com/SheThePeoplePage
Follow Us on https://twitter.com/SheThePeopleTV