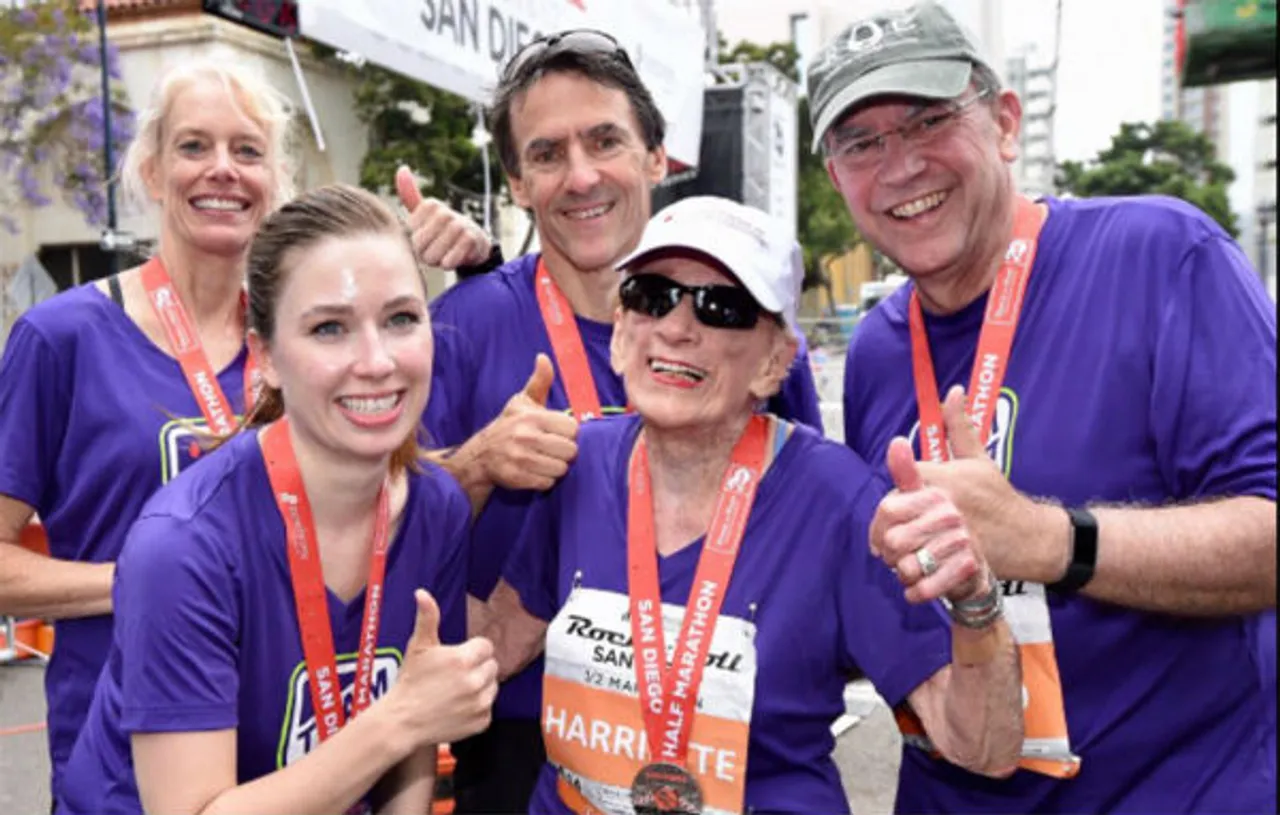 A 94-year-old has become the oldest woman in the world to run a half marathon, reported the San Diego Union Tribune.
Harriette Thompson took part in this year's San Diego Rock 'n' Roll Half Marathon on June 4 and finished like a pro in 3:42:56. The previous record was held by a 93-year-old oldest woman.
UPDATE: 94-year-old Harriette Thompson is almost to mile 10 of the #RnRSanDiego half-marathon! She's going to finish under 4 hours!!! pic.twitter.com/AJa6gHdZUO

— Dan Cruz (@CGIprguy) June 4, 2017
Thomson, who is from North Carolina, has triumphed over cancer as well, not just once but twice. The cancer survivor took the racing track on behalf of the Leukemia and Lymphoma Society's Team in Training. However, this is not the first time that she ran run the San Diego race. Reportedly, she has run for the organization 16 times since 1999. The event missed her in 2013 when she was battling cancer. Till date, running has helped her raise over $115,000 for the disease.
Also Read: Meet Bhumika Patel, Ambassador Of Underprivileged Women Runners
"I could hear my name being shouted the whole way," she said in a press release issued by the race. "I suppose I'm a legacy, at least that's what they say."
Wait! The list of triumphs is not completed yet. A former concert pianist who has performed at Carnegie Hall, Thompson at 92, became the oldest woman to complete a full marathon, a record that is yet to be broken.
"I want to thank everybody who was so generous and gave me money," she said. "I made quite a bit this year for leukemia and lymphoma and that's the whole reason I'm running,", ABC reported.
Also Read: 70-Yr-Old Celebrates B'day Running 7 Marathons In 7 Continents In 7 Days
When she crossed the finish line, thousands of people cheered her on, clapping and celebrating her win. Well, not physically, but we could always send this old runner many more hugs and congratulations on the victory.
Feature Image Credit: National Geographic
Also Read: 83-Yr-Old Granny Is A Tennis Champ
Join Us on https://www.facebook.com/SheThePeoplePage
Follow Us on https://twitter.com/SheThePeopleTV