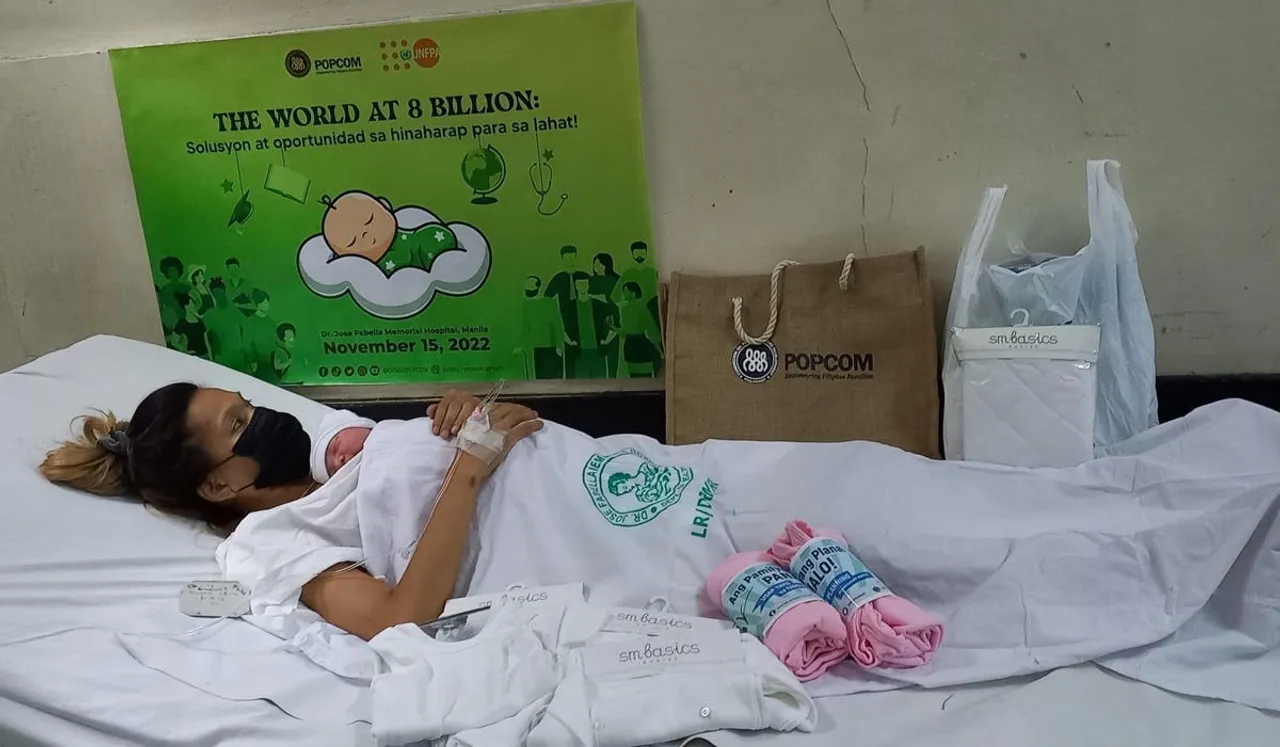 It's been eleven years since the world reached its seventh billion population mark and, with the rise in population over the last decade it looked like we would be inching closer to the 8 billion mark any time soon. On Monday, the population hit the 8 billionth standing with the birth of a baby girl in the Philippines. The girl took birth in Tondo, Manila, at Dr Jose Fabella Memorial Hospital at 1:29 am. The Philippines' Commission on Population and Development celebrated her birthday and declared the news via social media.
On November 15, the world's population reached the 8 billion mark with the birth of Vinice Mabansag, a baby girl born in Manila, Philippines.
---
Suggested reading: NFHS-5 Data Shows Drop In India's Fertility Rate and Population Stabilising: Report
---
World's 8 Billionth Person
Maria Margarette Villorente was elevated to see that the baby girl she gave birth to on Monday turned out to be symbolic for the world population. Margarette Villorente was admitted to the Dr Jose Fabella Memorial Hospital where she delivered her child, whom she named Vinice Mabansag.
We did wait about two hours starting at 11 last night the baby girl was delivered at 1:29 am. It was a normal delivery," said Dr Romeo Bituin, the chief medical professional at the hospital. Baby Vinice's mother told the media that she was happy to see her daughter being considered the 8 billionth baby in the world. The baby was welcomed in full celebratory mode by the nurses and doctors at the hospital with banners and gifts.
The Philippines'' Commission on Population and Development announced the news on Facebook, writing, "The world welcomes Vinice Mabansag of Delpan, Tondo, as its symbolic 8 billionth baby.
A world full of possibilities
With the world population hitting 8 billion, the United Nations noted that this milestone signalises a positive graph for public healthcare, which has increased life expectancy and lowered the risk of death. However, the UN expressed that with the rise in population, it becomes urgent for humanity to take a closer look at numbers and partake in shared responsibility to protect people and the planet we're residing in.
"Eight billion hopes, eight billion dreams and eight billion possibilities. This planet is now home to eight billion people," the United Nations Population Fund (UNFPA) shared.
The UN estimated that the global population may reach the 9th billion mark by 2037 and reach the 10 billion mark by 2058. With the rise in population in Asia, India is on the cusp of overtaking China to become the world's most populated country in the coming two years.
Born in 2011, Sadia Sultana Oishee was the world's seven billionth baby and, born in 1999, Adnan Nevic came out to be the world's six billionth child.