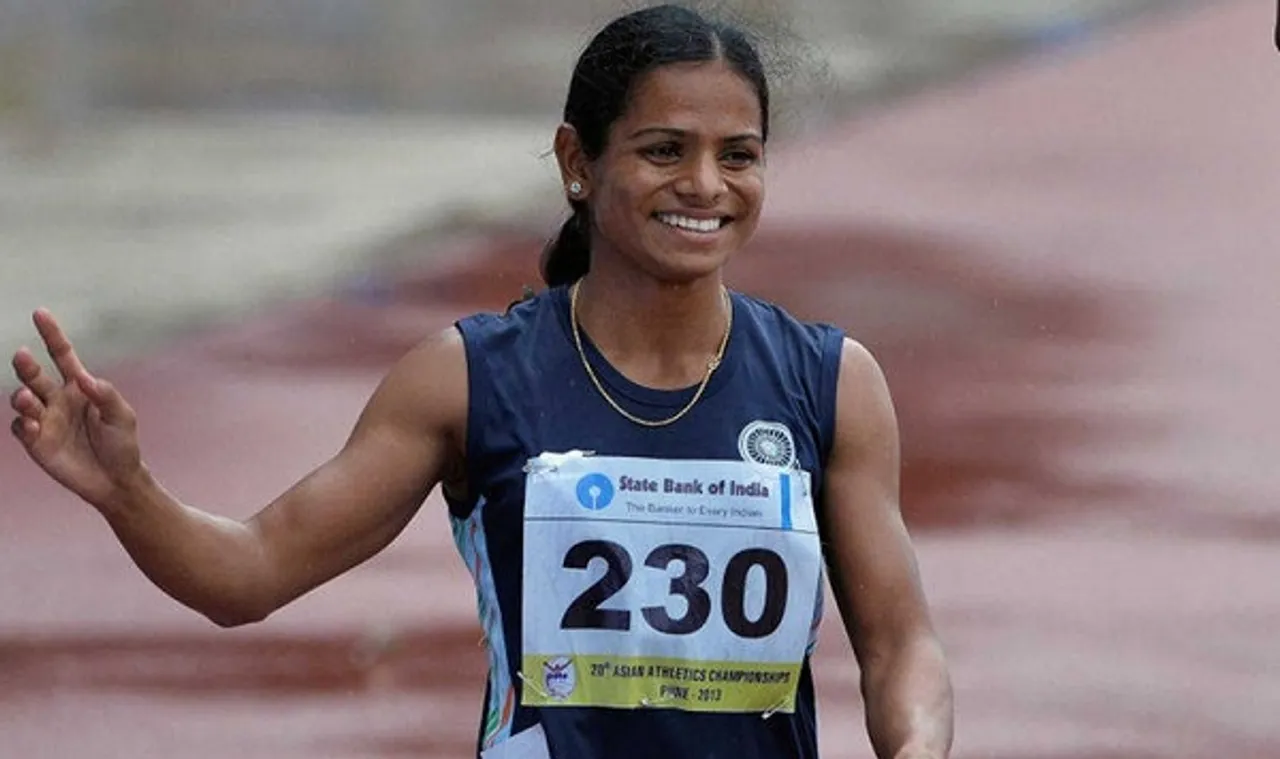 Indian athletes are off to a good start at the 22nd Asian Athletics Championships, being held in Bhubaneswar. On Friday (July 6), Day 2 of the championship, they bagged four gold medals.
Though all hopes were on sprinter Dutee Chand, who topped the 100-metre heats on the opening day to qualify for the semi-final, she had to settle for a bronze in 100m. It was a disappointment as she clocked 11.52 secs, behind two runners from Kazakhstan -- Viktoriya Zyabkin (11.39 secs) and Olga Safronova (11.45 secs). Dutee is currently involved in a hyperandrogenism case.
#AsianAthleticsChampionship: #Odisha sprinter #DuteeChand wins bronze, State govt announced cash award for winning athletes. pic.twitter.com/eXrucEnEO0

— All India Radio News (@airnewsalerts) July 8, 2017
However, Dutee is in the final round of the women's 100m dash as she finished second in the semifinals heat 2 with a time of 11.56 seconds.
"I will not say that I am disappointed. I am happy with a bronze in front of my home crowd and I will take it. I thought I would at least qualify for the World Championships, but could not do it due to rain. The conditions are not good for a 100m dash," she said to TOI.
Meanwhile, Haryana girl Nirmala Sheoran opened the medal count and topped in the women's 400m, clocking 52.01 seconds. Similarly, Muhammad Anas repeated the same in the 400m men's event, Rajiv Arokia and young Jisna Mathew (clocked 53.32 seconds) grabbed a silver and a bronze in men's and women's 400m respectively. Vietnam's Quach Thi came second and Veteran Indian M R Poovamma was fourth with 53.36 seconds.
"I knew I could win today but the rain and delay in the race led to slow timing. We have been waiting for long after warm-up and it affected the timing. I am very happy to have done the country proud. Now, my target is World Championships," Nirmala said, TOI reported.
Athletes PU Chitra and Ajay Kumar Saroj clinched a yellow metal each in men's and women's 1500m race. Another sprinter, Tejinder Pal Singh Toor, won a silver in men's shot put.
At the end of the fruitful day, India bagged four gold (thus qualifying for the World Championships to be held in London next month) two silver and two bronze.
On the first day of the championship, Manpreet Kaur had grabbed the gold medal for India in women's shot put. Manpreet, who has a five-year-old child, threw at a distance of 18.28m to clinch the top medal.
I focused only on giving my best performance, I am feeling happy: #ManpreetKaur, Gold medalist in women's shot put event pic.twitter.com/xkNp0GZm1q

— India TV (@indiatvnews) July 6, 2017
India now has a total of 15 medals, including 6 gold, 3 silver and 6 bronze and is thus topping the chart. China is second with 4 gold, 3 silver and 2 bronze at the end of the second day. India's best was registered in 1985 in Jakarta edition where they won 22 medals (10 gold, 5 silver, 7 bronze).
Also Read: Sportswomen Who Made India Proud In 2016
Also read: Sachin is the God of cricket, but who are the Goddesses? 
Congrats Champions!
Also Read: What's gender got to do with talent?
You May Also Like: 10 reasons picking a sport can transform your life
Join Us on https://www.facebook.com/SheThePeoplePage
Follow Us on https://twitter.com/SheThePeopleTV