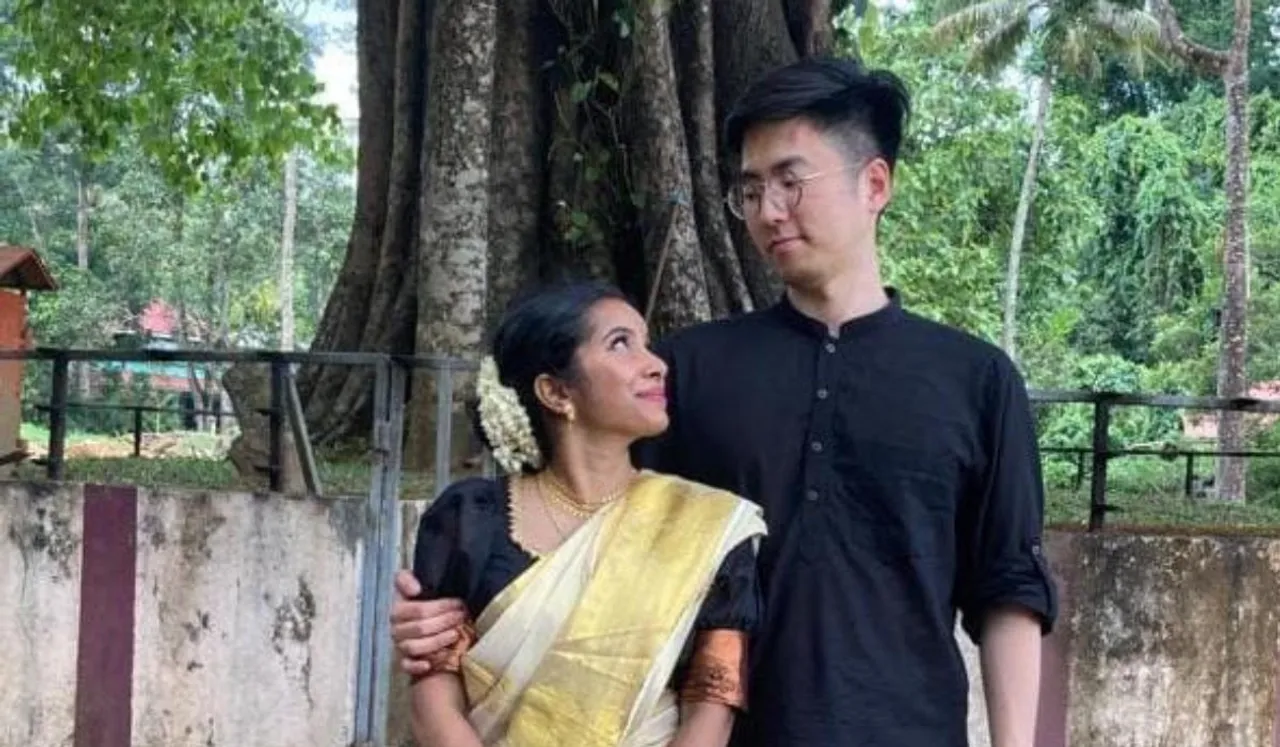 Love goes beyond geographical and cultural differences; if anything, it brings together distinctive cultures and faiths together and makes for a powerful, unbreakable bond for the ages. As we honour and celebrate love this week, let's find out what it took for couples from different countries to embark on such a journey and what being together means to them.
In an interview with SheThePeople, Amratha Sidharthan talks about the interesting personal journey of finding love, what keeps her relationship with Hyun-bin Kong strong, and what it takes to grow together.
Love Beyond Border
"In 2020, when COVID-19 plagued the world, stuck in quarantine, in the absence of friends and micro-interactions, I met the love of my life. My spouse Hyun-bin Kong is from South Korea, and I hail from a typical Keralite family. We met virtually via a language exchange app and discovered a love for each other while pursuing our favourite pandemic hobby: learning new languages. My interest in the Korean language began back in 2014 when I first watched a K-Drama and have never stopped learning languages ever since.
Our first exchange was really formal, not going any further than 'hello, what's your name' but eventually conversations became regular in no time. We loved talking to each other and exchanging daily updates with one another about almost everything happening around and switched to calls from texts and within 3 months, we started dating, virtually! After a few months, we came to know we actually were born on the same date, month and year–just in different time zones. We both believe we were meant to meet each other. Soon after the lockdown was lifted in 2021 and visas were accepted, Hyun-bin told me he'll be coming to Delhi. I was over the moon to hear that. Right from that moment, I started anticipating our first meeting. So we met. We met at a cafe in February 2021 and when I told my parents about him, unlike my expectation, they too loved him right away. In January this year, we got married in a simple Kerala-style wedding with close relatives & both our parents.
It's been over 2 years of loving each other and even forever doesn't seem enough with Hyun-bin. We are building our home, taking small steps together each day. Meanwhile, he is learning Hindi; I have become fluent in Korean.
Almost a year later, we are still walking, munching on endless 'Biryani' and 'Ramyeon,' and I know this was meant to be.
Looking back, everything turned out beautifully, just like a K-Drama, with us being the main characters and we couldn't have imagined it better."
As narrated by Amratha
---
Suggested reading: Took Us 13 Years To Make Folks Understand Love Has Nothing To Do With Religion