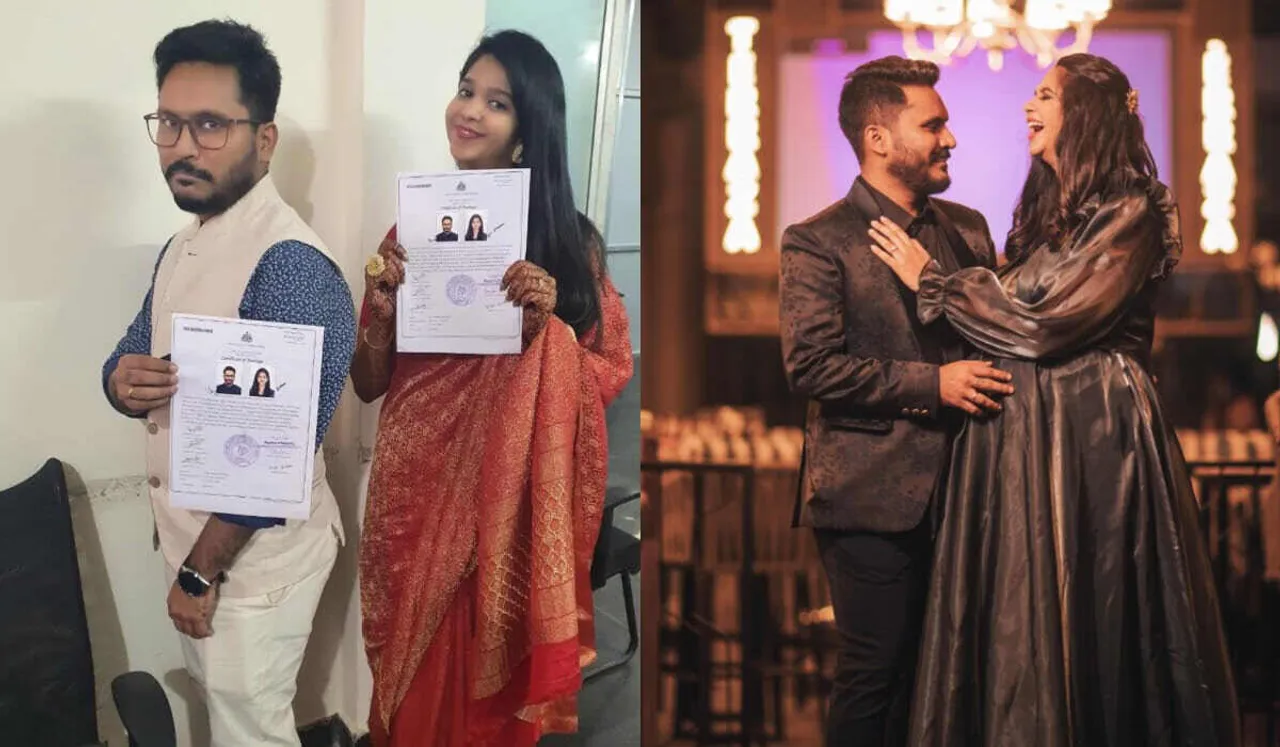 Sometimes, it takes true love a little longer and a lot harder to find happiness and fulfilment; with religion involved, it's both tricky and controversial. It doesn't have to be though, does it? While the inter-faith, cross-cultural, cross-border debates are never-ending across the globe, here's a couple which shattered religious-bound notions of what love and marriage entail and created a new faith altogether, a faith that's purely based on friendship, love and mutual respect. This Valentine's week, we bring to you Shazia Firdose and Vivek Todi, who inspire us in more ways than one as they are set to clock fifteen years of being together this coming April.
In an interview with SheThePeople, Shazia Firdose talks about her relationship with her spouse, Vivek, the battles they fought against inter-faith differences, how they plan to raise their child to bring a change in the world that's still obsessed with caste and why love, anywhere, has got nothing to do with religion.
Love Beyond Religion
How they met
While Shazia grew up in Bengaluru and Vivek in Guwahati, their paths crossed each other when the latter moved to Bengaluru to pursue his secondary education. "Vivek happened to come to Bengaluru, we met when I was in the 11th grade and the 12th. We became friends, started chit-chatting a lot and that's how our friendship grew," she recalls. Vivek stayed in the city until his MBA and in the years that they started spending time together, the two fell in love. The duo were in a long-distance relationship for about seven years after Vivek moved back to Guwahati to take over his family business and Shazia continued working in Bengaluru.
How their marriage was groundbreaking
Two faiths coming together is very empowering and groundbreaking in more ways than one. However, the couple had a very long fight for their families to come around to the idea of their marriage. "We did not just belong to two different states, we also belonged to two different religions, and for a Hindu and Muslim to marry is something the Indian society has never considered ideal. Our families never came along, it took us more than a decade, thirteen years to be precise to finally get accepted by both families. There were challenges beyond families too; the paperwork, criteria, and other requirements, ad while it was a long and tedious process, we finally won in the end."
Life-altering decision
"Of course, it's life-changing," says Shazia, however, she adds, "it's an elevation of the lives we were already leading. We had the same love and respect for each other and while marriage was the next huge step in our relationship, our ability to stick together through the hardest of times made our fight and love for each all worth it."
Shazia reflects on how their story is also hope-giving for couples who are not just stuck in rigidness around religious differences but also other several factors that put a hindrance in their love stories. "There's casteism, gender, and so many more factors that come into play for individuals and couples to fight against, I hope people get to see that love has nothing to do with anything."
Motherhood
Deciding on becoming parents was something the two had thought about and yet were met with challenges of sorts. She explains, "We were both born in different faiths and although it didn't matter to us, being parents of a child and raising that child in a world that is overpowered by religion was difficult. For a child to come into a world where two families have different expectations was a complicated idea. However, I and Vivek sat down and discussed it. We thought, 'maybe we could bring a change with our child.' We didn't want our child to go through any process we went through hence we decided that we will become parents and raise our child where there are no boundaries on choice. We decided we will stand up for our child whenever needed, and I'd take a stand against my family if needed, and Vivek would take a stand against his whenever needed."
Reflecting on her phase of pregnancy, she says, "I remember we threw a small part during my eighth month of pregnancy and while I wanted to dance my heart out whilst being careful, I faced so many raised eyebrows. The stereotypical mentality didn't allow or agree with me dancing. I was done with all the judgements and rules people posed on me, consulted my doctor and after I git a go-ahead, I danced. I dance with Vivek as we made a beautiful entry and I still remember how empowering it was for me."
Pregnancy was the best phase of Shazia's life, she tells us. "My pregnancy was a great phase. My in-laws and spouse stood like a pillar throughout and helped me through every difficulty I faced even post delivery."
"In the moments when we decided we wanted to spend the rest of our lives with each other, we also decided we wouldn't let anything come in between the way of the love and respect we hold together."
The biggest impact on their relationship from when they started dating to now that they're married was their friendship they did not slide by no matter what. "We have known each other for almost two decades now. What kept us going through hardships was each other. The sense of being with each other and never losing respect was one mantra that helped us become strong individuals as well whilst being together."
"The challenge in interfaith marriages is never the faith, it's the systemic conditioning of age-old ideals that restrict people from availing choice and leading the lives they want to lead. That's changing now, but there's a long road ahead before everyone thinks in the favour of love and not against it."
---
Suggested reading: Through Military Life And Beyond: Love From The Age Of Letter Writing