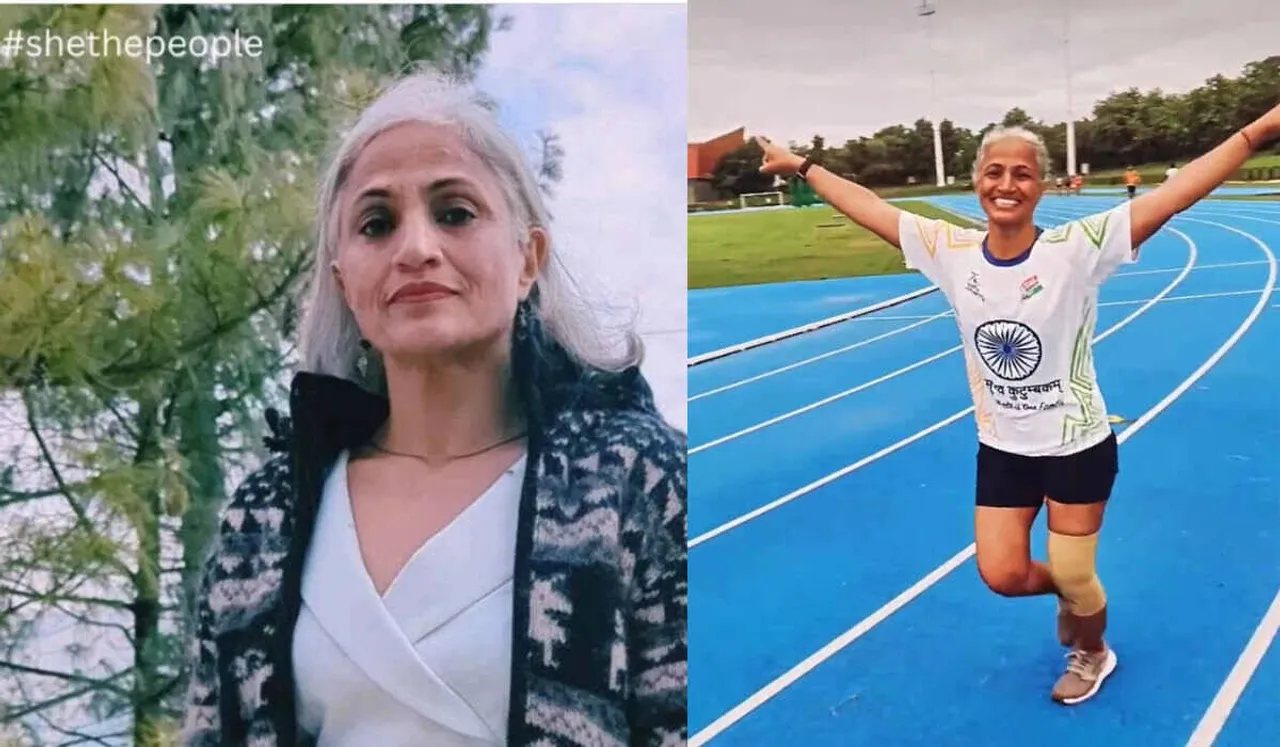 Yoga, cycling, mountain climbing, marathons - you name it, there's nothing Neeru Saini can't. A science teacher in a government institution in Chandigarh, Saini took to fitness and adventure at one of the most challenging times of her life, and then there was no looking back.
Neeru Saini opens up about her empowering journey with SheThePeople, recalling how her challenges pushed her to explore a different side of life and regain her identity in adventure, fitness and new endeavours.
Neeru Saini Journey
"I got married at the age of 20. My husband was in the Merchant Navy, so I sailed with him to 23 countries. When I was 28, we found out that my husband had cancer, and that was devastating for us as a family.
In the year 2000, his medicine cost us over a lakh. Unfortunately, in the year 2002, we lost him to cancer. I was a homemaker with two daughters, one 4 and the other 10, and though my husband earned well, most of our resources were exhausted in his treatment. I knew I had to take care of my daughters. I started taking tuition classes to make ends meet.
The starting months were difficult, but I kept working hard and soon got a job in a private school as a teacher. Then I gave government exams and got a job as a teacher in a government school. Every day, I woke up at 3, studied by myself, woke my daughters, and got them ready. Eventually, with all the hard work, I started earning well. From the age of 32 to 47, these fifteen years, I devoted myself to my daughters, as my husband before passing had taken a promise from me to make our daughters study. My older daughter got admission to a good Ivy League university and got a good job. My younger one is also working at a great company.
But at the age of 47, when both my daughters were abroad, I felt alone. I couldn't understand what to do, and I slipped into depression and lost a lot of weight. Seeing this, my younger daughter told me that she was dropping her year and coming to stay with me. This is when I realized that now I had to live for myself and my daughters and be happy. I started meditating, and that was the beginning. I started doing Yoga. I started exploring my liking for adventure sports like cliff jumping, scuba diving, sky diving, and many more.
My daughters pushed me to try everything. I went trekking. I tried many adventure sports. At the age of 52, last year, I did two solo bike rides, one for 7 days in Kashmir and another for 8 days in Rajasthan. I am a science teacher in a government school in Chandigarh, and I love my students. I love participating in all school activities. I go cycling every morning and do yoga. I have realised that every woman should live for herself and do everything that she wishes!"
Interviewed by Saloni Karnani, Team SheThePeople 
---
Suggested reading: How Somasundari Manoharan Found Empowerment In Powerlifting In Her 50s