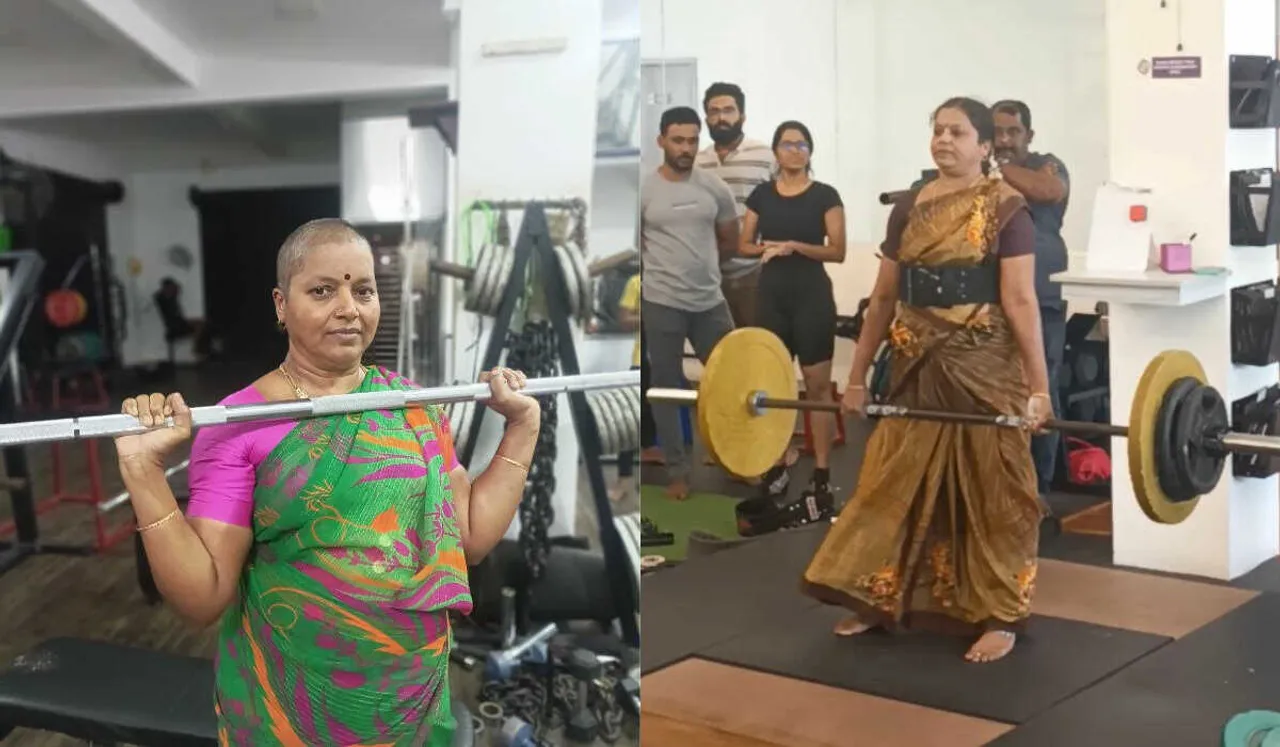 Just a few years back, we'd hardly heard of middle-aged and older women taking part in sports; it wasn't because they weren't capable of doing so, it was because societal norms boxed them in age-restricted barriers. Their potential, therefore, never had the space to grow. Not anymore, women are trying to go beyond the ceiling and picking up passions at later stages in life and, in Somasundari Manoharan's case, harnessing strengths and breaking records.
56-year-old Somasundari Manoharan proudly wears a saree in the gym and for all the weightlifting and powerlifting competitions she partakes in. By choosing a saree as her go-to attire in the gym, she serves as an inspiration for many with respect to not bowing down to limitations when it comes to particular attire.
In conversation with SheThePeople, Manoharan's daughter-in-law Manimozhi shares her journey, what makes Somasundari persist as a powerlifter, how she defies odds and breaks barriers, and why by choosing her attire she inspires people around her.
Somasundari Manoharan Story
"My Mother-in-law, Somasundari Manoharan, got introduced to weightlifting at 52 after my husband, Karthikeyan, opened his first gym, Madras Barbell, in 2018. She had terrible knee pain and wanted to cure herself through exercise. For someone who is a homemaker and had never been to the gym before, finding a happy part of herself while weightlifting was something that hooked her to it even more.
In October 2022, she got an opportunity to compete in the Women's powerlifting meet. She lifted a total of 210 kg which earned her first place in the 50-plus age category. She has not just acquired a hang of strength training but also imparted a lot of inspiration to the women around her.
She is proving every day that age is never a barrier to starting anything. For us, and the audience that has seen her achieve small milestones over the years, it's inspiring to watch a woman who does what she loves every day without any fuss with her only focus to better her performance.
Coming to another stereotype she is challenging is choosing an attire she most identifies with irrespective of the rule. She slays her powerlifting routines wearing a saree and is the happiest doing it. Lifting in a saree has not been normalised yet in our society but she is making this the new normal by not bowing down to limitations when it comes to particular attire. She says, 'How people dress should never act as a limitation for them to pursue anything.'
For her, her life is still the same with an added purpose that not just serves her fitness regime but also helps her mental health. Doing something which rather seems unconventional for women her age in a society that constantly sets norms for women, she has come a long way in empowering herself, one deadlift at a time."
As narrated by Manimozhi, Somasundari Manoharan's daughter-in-law.
https://www.youtube.com/shorts/CkoRTgR9Np8
---
Suggested reading: Blending Journeys: How Aditi Kakkar Masters Athletics And Entrepreneurship