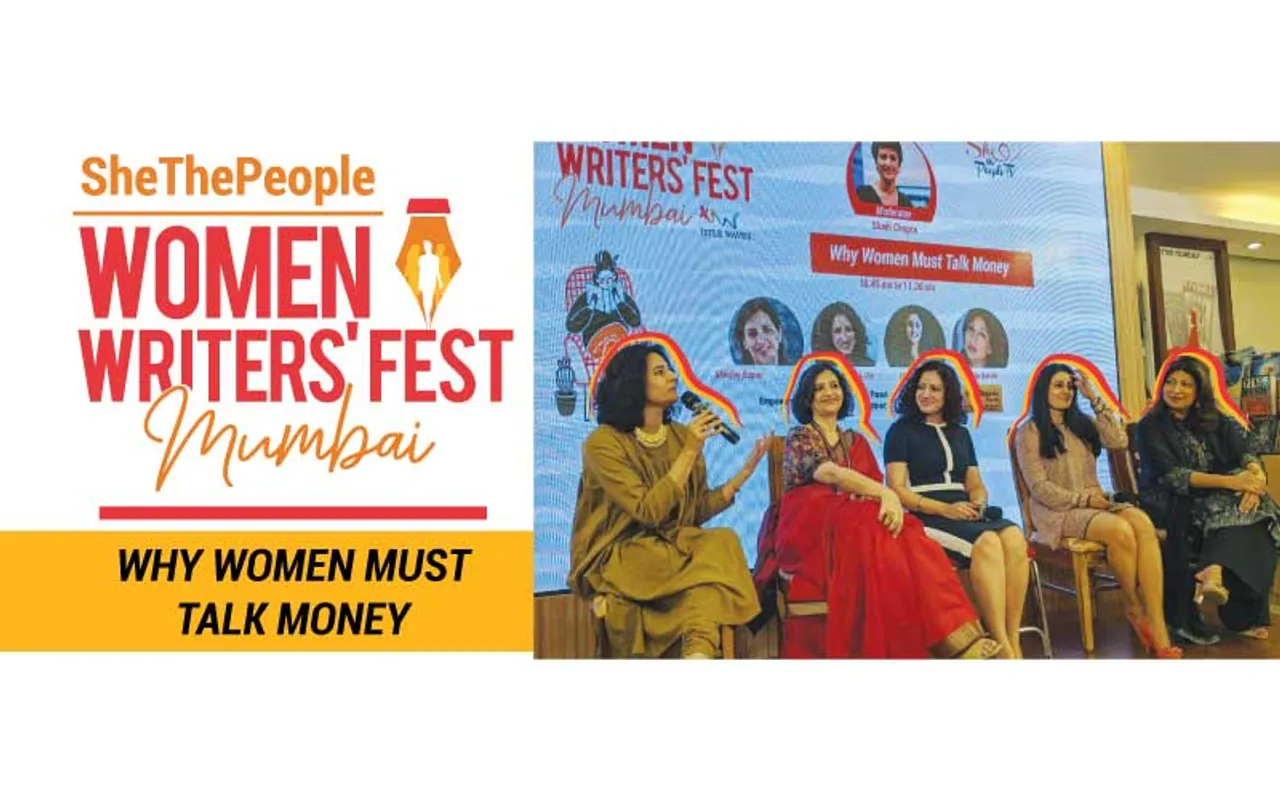 Why women should take charge of their finances is a conversation which needs to take centre stage. With more and more women choosing to remain in the workforce, SheThePeople Women Writer's Fest along with partners CITI decided to have a panel discussion on "Why Women Should Talk Money". It focussed on why women should take a chance upon themselves and take money-related decisions independently as financial liberty is an important aspect in attaining empowerment in the true sense of it.
The panellists were Shinjini Kumar Country Business Manager, Global Consumer Banking, India, Priyanka Sinha Jha leading Entertainment Content Strategy & Partnership Consultant, Molly Kapoor Head of Marketing at Aditya Birla Sun Life AMC Limited and Vibha Bakshi National Award-winning filmmaker. The panel was moderated by Shaili Chopra, founder SheThePeople.TV.
Why Women Need To Talk Money
Priyanka Sinha Jha says when she started out "the last thing on my mind was money. It was I should get a job and manage my finances. But as you move along you realise as women it is harder to talk about money. You believe it is a privilege to be there at a professional space. You are so grateful for it that you think, ok money is secondary."
It just doesn't start and end with money, it can be a happy life for yourself, it also means putting your point forth, make sure you have your space. - Molly Kapoor
It was during her second job interview that she negotiated hard for a salary. She says that taught her the importance of "knowing your worth. And if you don't then nobody will hand that over to you".
How often do women take a chance on themselves?
Molly Kapoor who has created a niche for herself in a highly male-dominated industry, says women need to ask for what they want without fearing about the downside. "It just doesn't start and end with money, it can be a happy life for yourself, it also means putting your point forth, make sure you have your space."
Women are not conditioned to think "This I will do by myself"
Vibha Bakshi spent a lot of time in Haryana making a documentary film on gender rights, Son Rise. The film has only got men in it. She says she got her heroes from this unlikeliest place, "When we are talking about anything that's got to do with women's rights, including knowing your rights, it is very very important that we make men also a part of the conversation." She further says money and your relationship with it give you a sense of security and the security gives you options to continue your fight which in turn gives you power.
Also Read: WoMoneyKiBaat: This Couple Is Breaking Major Stereotypes
Taking Chances as a theme of financial empowerment
Shinjini Kumar says when she started out people would put, "so much verbiage around finance that it scared people away. The banker was supposed to intimate you". But it was while she was helping set up Paytm, she actually took a chance on herself. She says, "that gave her the opportunity to think of finance in a way that is futuristic and belongs to a much larger number of people." The endeavour also highlighted, "that dealing with finances is very organic to most people. They don't think about money in terms of the language we are taught in business schools. But everybody knows, to live we need to have some saving."
Continuing the conversation around financial independence
Molly who is the only woman CMO in the mutual funds' industry says, "the onus of responsibility for carrying on the conversation needs to be taken seriously." She also observes, "patriarchy hasn't changed in thousands of years, so how will our behaviour on money change so fast."
Importance of role models
Vibha talks about conversations on money should become a partnership at home and emphasis that not just women but men need to evolve in carrying on this conversation. She talks how through her film in the seat of patriarchy in Haryana she found, "her real-life heroes who are changing the narrative of inequality. That is what we need to do at home." She further adds, "It is very important that the mother becomes a part of this conversation because that is what is going to get passed to the next generation."
Also Read: Of Translations, Writing And Bringing Social Change Through Literature
Are we benchmarking our aspirations less?
Sinjini says, "Women actually are better at taking new projects that are not guaranteed for success. I think that is because they have less to lose and they have less to prove to a peer group."