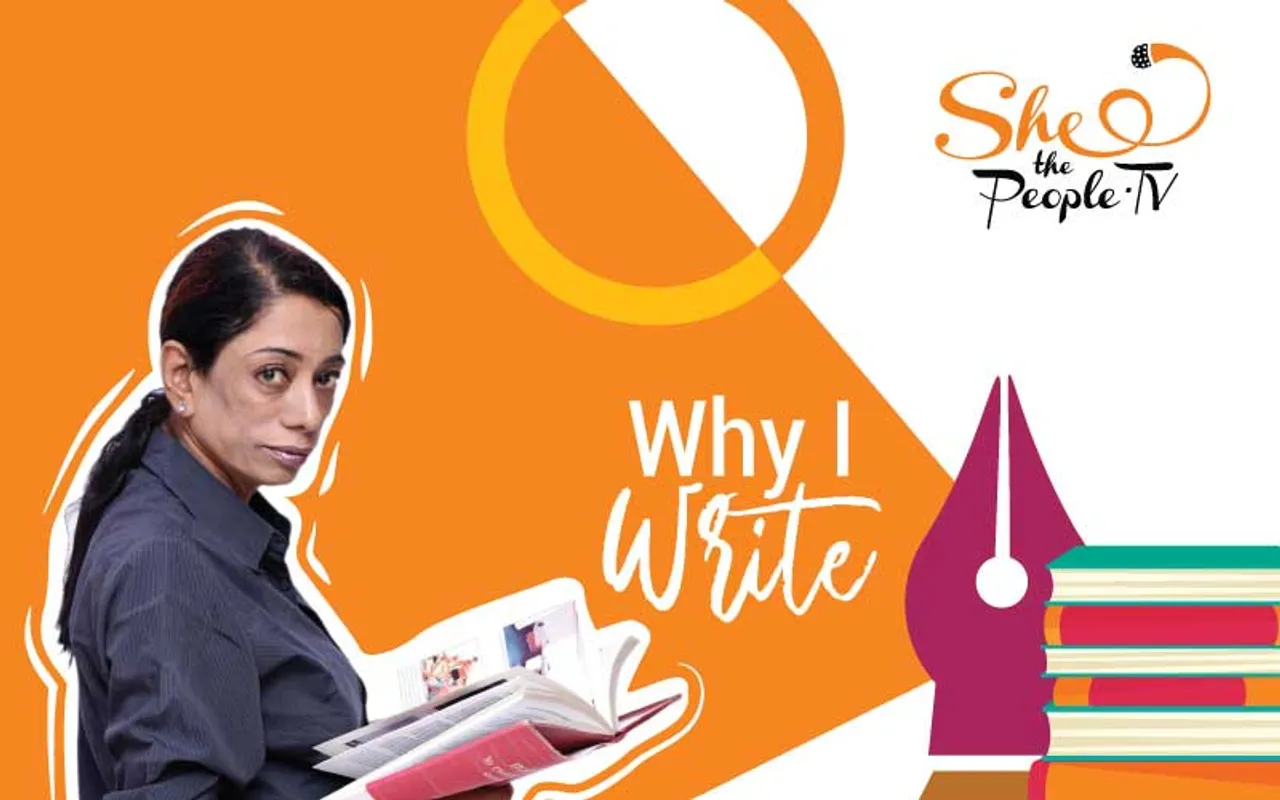 To be absolutely honest, I write for a living.
Until, I felt compelled to write Second Go: First-hand account of a liver transplant recipient's journey in India, all my attempts at committing pain to paper, would flow out in the form of poetry. But poetry it seems has no takers.
So I chose to do prose, strictly as a business activity; a means of sustenance for a family of three – dad, daughter and myself. My advertising outfit, Write Solutions, puts bread on our table, roof over our heads, clothes us; pays for mine and dad's long medical bills, daughter's education, salary to the staff and associates, etc. etc. We do all kinds of business writing, graphic designing, web development and social media marketing these days, but earlier it was pure business writing, mainly 'ghost-writing.'
Also Read: Why I Write: Stories Are Everywhere And Words Make The Waters Part
While extremely progressive in her thoughts and for her generation, my late mother, never approved of my profile. "What's ghost writing?" she would turn up her nose and say, "Letting others put their name on your work." I explained that to her, as a mother, it may have appeared as "prostitution of my words" but truly I never found my work any bit demeaning.
To me ghost writing is a very honourable thing to do. It's like the role of a midwife, or if I can go a little bit further, the role of a 'surrogate mother' who is volunteering to give birth to someone's baby.
I lend words, just as a prostitute lends her body, or a surrogate mother lends her womb. The responsibility comes with its own set of rewards and a few birth pangs too! And, like those women, I do get paid handsomely by my clients for the job rendered well. After the birth of the book, I too am expected to discretely fade out of their lives.
But my mother's constant prodding would sometimes make me wonder – "Do I have a book, my book inside of me?" and would be disappointed to discover that I felt no stirring of a compelling idea in me.
UNTIL - Until, I faced the prospect of a liver transplant. The thought of hosting another organ in me, struck fear and made me imagine the worse – what will it feel to host a dead person's liver in me? "What if my body rejects it? Will it turn me into a cripple? In that vegetative state, will I be put on the ventilator?" A thousand thoughts plagued me to no end.
Also Read: Why I Write: Parenting Is A Topic I Can Relate To Even With Eyes Closed
But I had to deal with the situation; as I had learnt to deal with several such do-or-die situations in my life that has had more than the average share of troubles. During all those times, I would cry my words out on paper, and upon returning, my mother would knowingly look into my puffed-up eyes and say "Read out what you wrote today?"
She knew. Unfortunately, she was not there with me during my surgery. We had lost her four years before. But I know that even if she had been there, she would have prodded me on - and Second Go would anyway have happened. She was familiar with my urge to express my anguish through my writing. She knew it was my device for channelling frustration and fear.
I lend words, just as a prostitute lends her body, or a surrogate mother lends her womb. The responsibility comes with its own set of rewards and a few birth pangs too!
She also knew, that I had similar fears about my own reaction to my daughter, Aarzoo, days before I was scheduled to bring her home from Palana, Delhi.
During a particularly vulnerable moment I asked her: "What if I don't feel any maternal stirrings, when I hold her in my arms."
She smiled and cryptically said, "You are asking me?"
"I produced three daughters. All unaided, natural deliveries. On all three occasions I would feel so worn out that it was over that I felt a rush of emotions, every time the bundle was placed next to me."
True to her words, I felt exactly the same, when Aarzoo, all of three, dressed in pink overalls, and two tight ponies, wrapped her skinny arms around me at the staircase of Palana. I instinctively knew she was mine.
Also Read: Art Is My Place Of Salvation And Solace Says Artist Sharmistha Ray
Second Go also came as a stirring of an emotions waiting to be born. While I lay there prone in my hospital bed, wary, weary and waiting for a sign of hope from my caretakers, the idea took its slow and painful birth. All those months of probing, needling, scanning, observing, X-Raying, injecting, of being radiographed and MRI ied – was so overwhelming, I wanted to document each moment, hoping it would dull some pain.
It started as a series of blogs on LinkedIn, keyed in on my Samsung Galaxy smartphone, the only device allowed to me in the hospital, and was posted real time as a health bulletin and for some, mystifying reason, people started reading it and it went viral.
I continued with the catharsis, as words gushed out of me, unchecked, in the process, clearing the dense clouds of despair and to my surprise, there were messages of support from total strangers in different parts of the globe.
It was much later, after my discharge that I landed a book offer from Fingerprint! Publishing and those blogs got compiled into a book, which could be one reason, why at places it appears as fragmented as one critic has pointed out. I decided to throw in some WhatsApp chats into it, in order to reinforce this 'real time' flavour of the book and experiment with a hybrid, offline-online model.
All in all, a moment of overwhelming love, made me a mother.
Another moment of helpless despair turned me from a potential donor to a grateful organ recipient.
While, yet another moment of hardship made me an author.
Through it all, I've discovered a writer in me who has lots more to write for work and for channelling my stirrings and experiences into hope for others.
Is there a second book in me? Or a third?
Definitely yes!
Also Read: Why I Write: It Was Important To Tell My Story As A Woman Journalist
Radhika Sachdev is an independent journalist who has held senior editorial positions with leading news banners – The Times of India, Hindustan Times, Indian Express, Financial World and The Pioneer. Presently, she runs her own advertising outfit, Write Solutions. Radhika stays in Mumbai with her father and her adopted daughter, Aarzoo. The views expressed are the author's own.