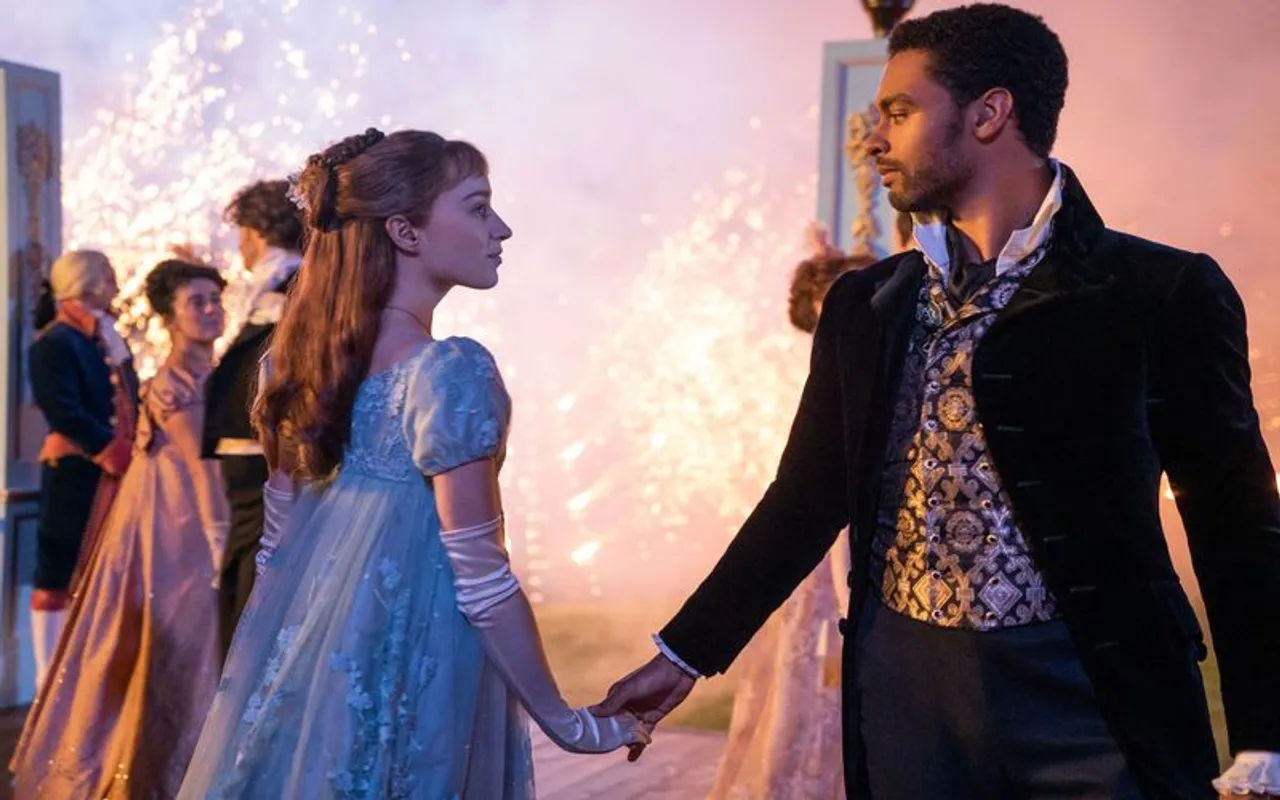 The Bridgerton wave has finally crashed the world, and ever since its release, the show has reportedly been watched in more than 63 million households, making it Netflix's fifth-biggest original series launched till date. I admit to being one amongst those people who binge-watched the entire series in a day's time, although I am not entirely sure how to feel about it. That is not to say I didn't enjoy the show, its hard not to get lost in this Gossip Girl (there's one, quite literally) and Jane Austen world crossover. But that doesn't mitigate the problematic aspects that the makers turned a blind eye to. Primarily, Bridgerton is based on the lives of the Bridgerton siblings residing in London during the 19th century - it is a historical fiction that is fictional to an extent that it's historically inaccurate.
We have people of colour in powerful positions, and in fact, the male protagonist, Simon Barett (Regé-Jean Page), himself is a Black man who is also a duke and story follows his courtship of Daphne Brigerton (Phoebe Dynevor), a young woman belonging to a wealthy, white and titled family. We also have a black queen, and anybody who has even an iota of knowledge about the history of England would know how far from reality the entire set up is. But then the show never paraded itself to be based on true events, and since the representation adds to the quality of the script, it isn't a point that bothers the viewer too much. Although in not letting anybody apart from the people of colour talk about race, and in turn freeing the white characters of all forms of racial identity, the show reinforces the same white privilege that it initially started out to undermine.  
Also Read: Modern Austen, Anthology Reimagining Works Of Jane Austen, Under Development
Goes Beyond Just Showing Pretty Ballgowns
We have Daphne, the fourth sibling and the eldest daughter of the Brigerton family who is making her debut in the London season of 1813. The focus on corset-induced cuts on her back, the constant pressure put on her to find herself a husband as soon as possible, added with the bizarre list of things that threatens to taint her honour now that she is "out in the society" (from not wearing gloves to being seen around a man unchaperoned) sets the stage in the very first episode for what later becomes a staunch criticism for all the sexist regulations placed on a woman's body and mind during the Regency era. Our protagonist is a strong lady; she follows the rules of the society but makes sure that she does it out of choice and not compulsion.
Daphne is different from her younger sister Eloise (Claudia Jessie), who loves to read and hates to dress up in feathers and ballgowns. I honestly ended up liking both of them, opposite ends of the spectrum as their personalities inhabit. Both the sisters stand up against the wrongs done unto them and have their own way of rebelling, and it shows you the range of methods women have used since time immemorial to survive in a society that is constantly trying to crush their spirits. The show also thoroughly establishes itself as a post-MeToo series, with its many titbits on how the society perceives a woman's word compared to that of a man's. The makers clearly also wanted to initiate conversations on consent, although to what extent this intention succeeds is questionable. And this is where, in my opinion, the show stumbles the most.
Also Read: Dialectics of Sensuality and Gender in 'One Part Woman': A Critical Review
A Conversation On Consent Gone Wrong (SPOILER ALERT)
The storyline forces Daphne and Simon into a hastily arranged union. The two soon consummate their marriage, and from there the plot focuses on Simon's choice of not telling Daphne that he has vowed not to have children. The only thing he tells her is that he "can't" have children, an ambiguous statement that Daphne thinks has something to do with a physical disability. It's quite interesting that the show treats the distinction between "can't" and "won't" as a crucial one, and navigates the terrains of informed consent through this.
When Daphne, a woman who's had no sexual education, eventually realises that there is a connection between Simon pulling out every time during their intercourse and his insistence that he can't have children, she is left horrified. But the problem lies in that fact that to figure out whether she is being truly deceived, Daphne herself commits an act of nonconsensual sex. She forces Simon to ejaculate inside her despite his cries to do otherwise, and stops only when she achieves her goal while Simon is left to process the happenings in shock.
The very next moment we see Daphne giving an impassioned speech about Simon's betrayal of her trust by choosing to lie to her by omission. Clearly the makers intended to use this scene to spell out the intricacies of informed consent, but what a viewer such as me is left wondering is if one previous moment of uninformed consent can justify another moment of nonconsensual sex. Hear me out, I understand that the dynamics of consent are complex and often confusing to navigate. But to treat nonconsensual sex as a plot development to a seemingly bigger issue of Simon's deceit makes the conversation on consent even more difficult than it already is.
Also Read: Is #MeToo casting a shadow on sexual pleasure?
That the victim here is a black man makes everything even more complicated. Men are oft considered silent victims of sexual violence, while history stands witness to the ways in which Black men have suffered sexual assault in hands of their oppressors. For the camera and the script to shift the focus from Simon to Daphne only reinforces the historical and cultural gaslighting of Black men and the blame-shifting from white men and women who enact violence upon them. And while it might look like a minute fallacy, the connotations of such can make huge impacts on real life. (SPOILER ENDS)
A Good Watch Nevertheless
Producer Shonda Rhimes and creator Chris Van Dusen have been notorious in providing rebel women characters, ones who are imperfect and yet astonishingly bold. In comparison, the women in this story are quite stock characters. There's nothing new to them per say and the plot completely relies on the Regency setting to present them as radical characters instead of actually developing their personalities. We know that Eloise loves reading books, but she is never shown to be more knowledgeable than the women around her. We are told that Lady Danbury (Adjoa Andoh), a Black woman who features as Simon's mentor, is powerful and fearsome, and yet there's not one instance where her influence can change the tide of things. There's also a gay character whose presence feels tokenistic rather than an actual representation of the LGBTQiA+ community.
Nonetheless, Bridgerton is a fun show if you choose not to put much thought into what you're watching. The eight-episode period drama is a delight for the eyes, and despite its blind spots, I am looking forward to more, and perhaps better, seasons.
Picture Credit: Netflix
Views expressed are the author's own.