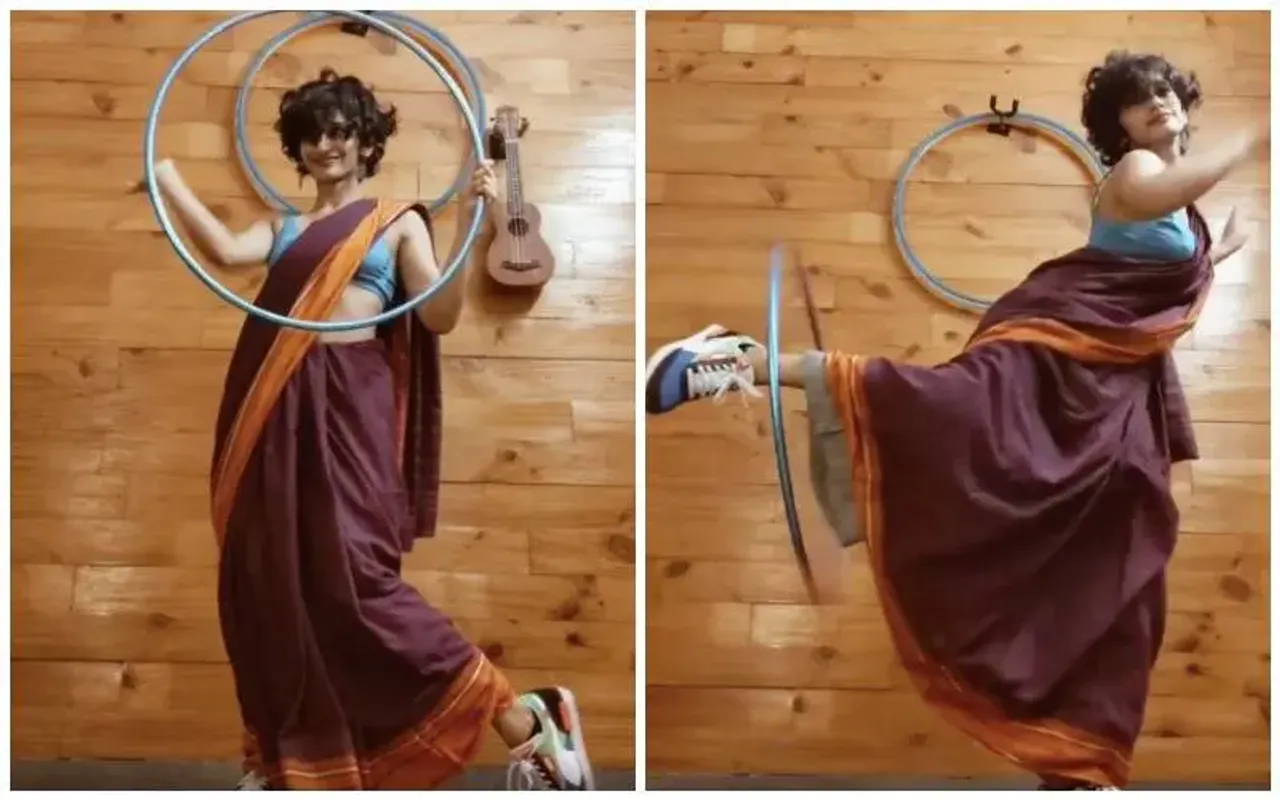 There's no doubt that sarees are among the most gorgeous outfits to ever be designed. But ask someone who drapes themselves in sarees, and they'll tell you that this seemingly graceful piece of cloth is not all that innocent. It's a tough job multitasking with its pleats, pallu, pins, and other paraphernalia, struggling to keep them neatly in place. A woman whose video has surfaced on social media, however, is making it look like a cakewalk. This morning, a viral video showed this young woman hula hooping in a saree and sneakers to the tunes of Sasuraal Genda Phool from Delhi-6. The internet, especially women who wear sarees, are floored at the way she is pulling off stunts with ease in her nine yards.
The featured woman is 23-year old Eshna Kutty, who is a hula hoop artist with a popular page on Instagram, where she posts videos of herself pulling off unbelievable stunts. She is an accomplished dancer with an arresting stage presence - and I can attest to this because I have seen her perform live multiple times back in college when she was a senior.  
Also Read: Why Are Women Labelled Troublemakers When They Refuse To Remain Silent?
The video of her hula hooping in the saree had been originally shared on her Instagram profile, from where it took off on other sites. Watch it here:  
When Saree meets Sports shoes meets Genda phool they gotta have some crazy fun. A perfect video to welcome #Friyay pic.twitter.com/E6wjKUJzdO

— rachna kanwar (@Rachnakanwar) September 24, 2020
Social Media Reacts To The Viral Hula Hoop Video
Journalist Chitra Narayanan, reacting to the viral video which has amassed over 790K views on Twitter, told everyone that the girl in the video was her daughter. She wrote, "Woke up to several people whatsapping me this video ! Meet my daughter who has sparked off a #sareeflow trend." 
Others like journalists Barkha Dutt, Smita Prakash, and author Aparna Jain also commented on the video, and appreciated how easy Kutty was making dancing in a saree look. Jain wrote, "This is... Eshna who is a hoop master. Saris and sneakers are par for course for past few years. You should see her students doing sari hoop. Something else... you should join her class. I did. Im the oldest. BUT SO FUN!"
Businessman Anand Mahindra too was "awestruck" with the video. He wrote on Twitter, "A star is born...Thank you for the #Friday high. May the #sareeflow movement grow..."
Also Read: The Social Dilemma: Think Twice Before You Scroll
What Is The #SareeFlow Movement?
The #SareeFlow movement that Kutty has kicked off is an attempt at liberating women from the stress that wearing sarees brings. It's a young take on a traditional attire, adding some spunk and lightness to it.
In the caption posted with her saree video, she explained, "the intention was... to feel so comfortable and happy wearing it without the pressure of being a delicate lady... Theres so much diversity in our cultures and even in our sarees that I hoped this trend would add a very unique twist to a global art form. Or visa versa- that you'd want to get yourself a hoop because you secretly want to dress up to goof around."
Also Read: Today On Women's Equality Day, Let's Ask: How Far Have We Come In the Fight for Equality
It has led to several other women sharing pictures of themselves on social media, sporting relaxed poses in sarees. A woman posted how she doesn't let her saree become a hindrance to her fitness:
My sporty #sareeflow moments are about racing in Kari racetrack and other fitness ventures enroute journey. pic.twitter.com/iAx8p6vOxA

— Sangeetha #CIT150 (@SangitaSri) September 25, 2020
Picture Credit: Eshna Kutty Instagram
Views expressed are the author's own.