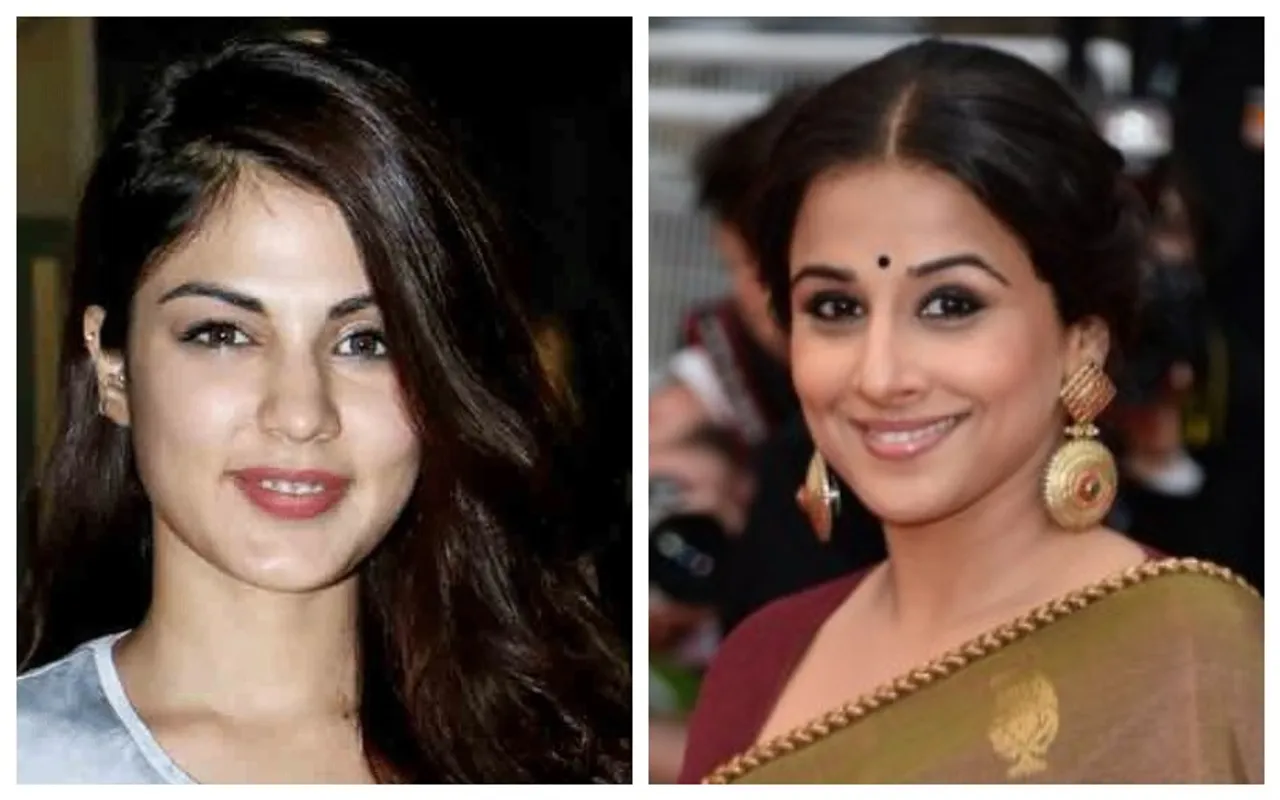 It is rare for an A-lister in Bollywood to take a firm stand, when it comes to issues that create a divide in our country. Though we cannot entirely blame them, can we, for minding their own business rather than speak up and be demonised? We do remember, the kind of hatred Deepika Padukone received, for simply showing up at JNU and standing by the side of the student leader Aishe Ghosh? The trolling, the vile attack, the name-calling; and we are doing it again. This time, the target is Vidya Balan who took to social media to condemn the media trail of Rhea Chakraborty in Sushant Singh Rajput's case.
Responding to actor Lakshmi Manchu's call to speak up against the media's witch hunt against Rhea, Balan tweeted yesterday, "It is so unfortunate that the tragic and untimely death of a beloved young star Sushant Singh Rajput has become a media circus. In the same breath, as a woman, my heart breaks at the vilification of Rhea Chakraborty. Isn't it supposed to be 'Innocent Until Proven Guilty', or is it now 'Guilty Until Proven Innocent'!? Let's show some respect for the constitutional rights of a citizen and let the law take its course."
Also Read: "My Heart Breaks At The Vilification Of Rhea Chakraborty" Vidya Balan Writes In A Tweet
The story of Balan's switch from being unanimously hailed as country's finest actor (which she indeed is) to being shamed by a large section of social media for "supporting a criminal" proves, yet again, that we are beyond reasoning on this issue. We think of ourselves to be wiser than CBI, just than Indian judiciary and we do this standing on such a moral high ground that we cannot see the difference between questioning sensationalism and "supporting a criminal".
Has Rhea been pronounced guilty? Has it been proved that she "killed" Sushant, or drugged him, or performed black magic on him? Then what gives the media the right to demand her arrest? To dissect her character and lifestyle in the public eye? Doesn't our attitude scream of faithlessness in India's justice system, if we are jumping to a conclusion before CBI comes to one or before Rhea is pronounced guilty by Indian courts?
These are also some of the questions that Balan has asked in her post. If trolls read carefully, her post is more about letting justice take its course and that every citizen is granted some basic constitutional rights, rather than defending Rhea against all that she is accused of.
Also Read: Does Media Have Any Right To Pronounce Rhea Chakraborty Guilty?
The largest democracy in the world cannot fail a woman who stands accused but not yet found guilty, by letting media shame and scar her for life. Unless convicted, the treatment being meted out to Rhea is unfair and we are all culprits here, of not only watching her life fall apart with keen interest, but also of trolling anyone who questions this process, or demands that we rethink our behaviour. Sushant deserves justice, but that cannot mean that Rhea doesn't deserve to be treated with dignity.
The views expressed are the author's own.