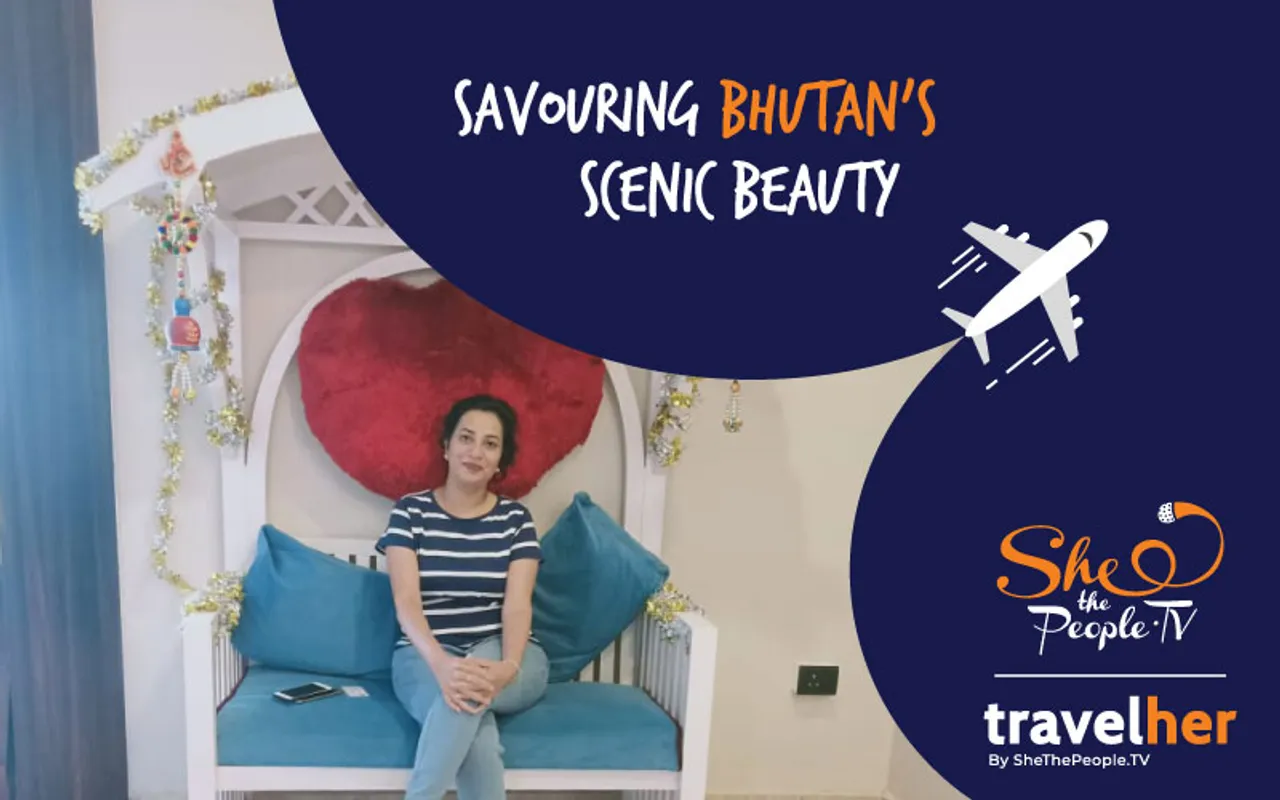 First and foremost, Bhutan, a heart filled gratitude and thanks for the warm welcome that you as a country has bestowed on a group of women voyagers. There is something magical about Bhutan, the people are simple, happy, peaceful, and it is a mesmerizing land which manages to touch your soul and heart. It helps us to balm it with peace, and even mend a broken heart and soul. The breathtaking views and the majestic monasteries are very beautiful. It is difficult to describe the beauty of Bhutan, but each word used for this gorgeous country stands true.
Bhutan is known for its natural beauty, forest conservation, gross national happiness, great culture and heritage. For all the selfie lovers and photographers, it's a photographers' paradise.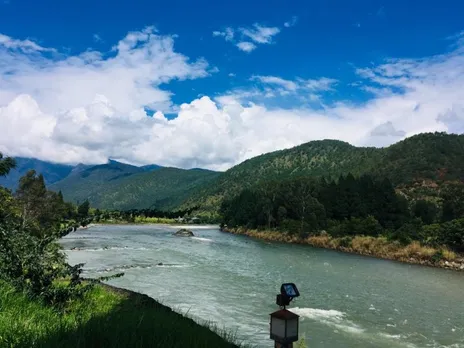 Image Credit: Minna Francis
Best Time to Visit this Peaceful Country:
Bhutan is very close to the Himalayas and the variations in altitudes across the country brings with itself, a widely varying climate. Bhutan's climate is also influenced by the Indian monsoons that bring rains at certain times of the year.
It is difficult to describe the beauty of Bhutan, but each word used for this gorgeous country stands true.
The best time to visit Bhutan is during the spring months of March to May when the valleys come alive with flowers in bloom. The entire place is full of flowers as though a scene from the Bollywood film. We missed it this time, as we went in October, nonetheless, we will be planning another trip during that period as well.
The monsoons in Bhutan are from June to September with heavy rains and high humidity levels. Autumn comes in its full grandeur from October to November, when it's generally sunny with some snow at higher elevations. Late November to early March is dry with pre-monsoon showers starting in May. Thankfully we only encountered rains when we were traveling on our bus and not roaming around, especially during our trek to Tigers' Nest, which would have been very difficult, had we not taken loads of precautions.
ALSO READ: TravelHer: Sudha Mahalingam Says Solo Trips Bring Out Your Character
The Himalayan peaks are at their most visible with the clear skies of October and we could capture the entire range. This beautiful sight was a treat to the eyes. Since I am in love with this nippy, slightly cool air, which kisses my face and tells me that I am alive and full of love from nature, I truly love being in Bhutan in October. Also, during this time of the year, black-necked cranes start coming to the valleys of Black Mountains in Bhutan from Tibet and it's a wonderful sight to experience up close.
Best Places to visit in Bhutan
Phuentsholing:
The border town of Bhutan, Phuentsholing is indeed the reflection of what the country is all about. Clean locales, sound traffic system, orderly homes and shops, and smiling and humble-looking individuals, clean air and pristine beauty of the mountains. Phuentsholing is a small town and has quite a few attractions, which can be covered in a day. The major tourist attraction here is Karbandi Monastery, from where one can witness a breathtaking view of the Bengal plains and that of Phuentsholing town. The Monastery is popular amongst the locals as a place where prayers for fertility/bearing of a child is said to get fulfilled.
Another place to see in the town is the centrally located ZangthoPelriLhakhang, a Buddhist shrine dedicated to Guru Rinpoche. There is also a Crocodile Breeding Centre, called AmoChhu that can be an interesting place to visit. Apart from this, Phuentsholing has a foreign goods shop where one can buy clothing at lesser prices. There are several restaurants in Phuentsholing, where Bhutanese, Chinese and Indian dishes are served. One can also find dance and singing bars that are quite a thing to have an experience of.
Thimpu: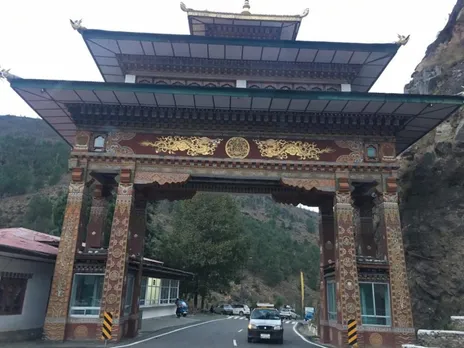 Entry gate to Thimpu
Our destination was the Changangkha temple, a Buddhist temple established in the 12th century. Huffing and puffing our way up the final flight of steps, we were rewarded with a beautiful sight - crisscrossed strings of Buddhist prayer flags fluttering in the breeze, clouds wafting in and out of the valley below, arrays of prayer wheels whirling together in sync. We were not allowed to take the camera inside the sanctum sanctorum (a general rule in Bhutan is that if you are asked to take off your shoes before entering a temple, photography won't be allowed either). The idol of Buddha at this temple is exquisitely crafted.
ALSO READ: TravelHer: A Solitary Evening Spent Exploring Hanoi
Phunakha:
We covered Phunakha as a day trip since there is not much to see, but you can always savour the scenic beauty. Phunakha is a literal mosaic of cultural and spiritual traditions that have been extraordinarily influenced by Buddhist principles and unique Bhutanese lifestyle and history.
In this haven, Phunakha, a scenic Shangri-La is hidden behind silent hillocks, you can see a world lost in time and steep-sided alpine valleys knee-deep in wildflowers.
Phunakha is an enthralling place tucked away in a mountain realm where it creates an amalgamation of culture and nature that rises like a divine monument to touch the spirits of those to seek refuge in this land. In this haven, Phunakha, a scenic Shangri-La is hidden behind silent hillocks, you can see a world lost in time and steep-sided alpine valleys knee-deep in wildflowers.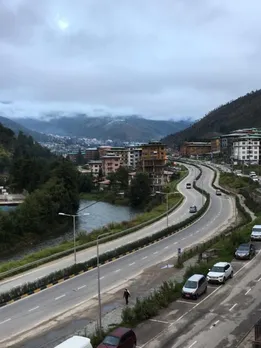 Enroute to punakha
Up until 1955, Punakha was the capital of Bhutan. It is still the winter seat of Je Khenpo, the Chief Abbot of Bhutan. It is about 72 kilometers away from Thimphu and is the administrative center of 20 districts of Bhutan. Located at an elevation of 1,200m, Punakha sits in a sumptuous, fertile and beautiful valley at the confluence of the Mo Chhu (Mother River) and Pho Chhu (Father River).
Paro:
With our adventures in Thimphu and Punakha over, we now drove to Paro, the famous Tiger's Nest Monastery at Paro. We visited the majestic Paro Dzong (also known as Rinchen Pung Dzong). It was constructed in 1644 by Zhabdrung Ngawang Namgyal at the foundation of a monastery built by Guru Rinpoche. Walking across the bridge on the Paro river, we stopped to shoot a few selfies, to capture a few fond memories in our cameras and also show back home about the adventurous trip. The steep flight of stairs to reach the Paro Dzong tested our fitness. Inside the impressive central courtyard, we admired the colourful murals depicting Guru Rinpoche, the intricate wooden panels.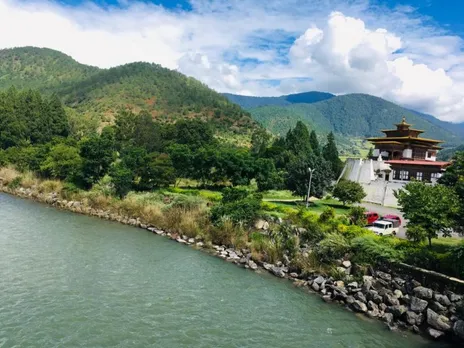 Image Credit: Minna Francis
Tiger's Nest:
We did save the best for the last! While it does take considerable time and effort to trek up and down the steep hill, the Tiger's Nest is the mainstay of Bhutan attractions.
It is believed that Guru Rinpoche arrived at this spot on the back of a tigress and meditated in a cave for three years, three months, three weeks, three days and three hours in the 8th century. The sacred spot houses a temple complex that appears precariously balanced atop a 900 m high cliff.
ALSO READ: TravelHer: An Experience Of A Lifetime In Kuala Lumpur
Shopping Areas and What to shop for in Bhutan:
For people who love shopping and want to take home gifts and soveneuirs, Bhutan offers a variety of goods, mainly textile, hand-woven items made from raw silk or silk, carved masks of various animals, woven baskets of cane and bamboo, wooden bowls known as dapas, handmade paper products or finely crafted gods of silver. You can also shop for thangkha – paintings on cotton or silk applique. Personally, for me, its only Magnets, I truly love them, and it reminds me of my various travels and my quest to know more about different traditions and cultures.
Travel in Bhutan is very safe and still largely free of the major banes of travel such as theft and begging. Petty crime is not commonplace, even in larger cities
Thimphu, Paro, and Phuntsheoling are the major centers of shopping in Bhutan. Tourists can buy woven bags, stoles, traditional jewellery, handmade kira and gho, brassware, yak-bone jewellery, hand-woven bamboo items, carpets, masks, thangkas, handmade paper, and finely-crafted metal products. I like to shop in Phuetsholing as Thimpu is slightly on the expensive side.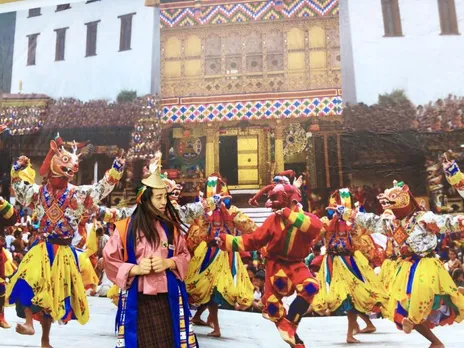 Image Credit: Minna Francis
Famous Bhutanese Food – Not to be missed out at any cost:
Bhutanese food is little known outside of Bhutan, it's a cuisine both exciting and packed with flavour. Some of the most famous dishes include:
Kewadatshi – Potato and Cheese
Shamudatshi – Mushroom and Cheese
Phakshapaa – Pork and Red Dried Chilly
From emadatshi (chilies in cheese sauce) to dried yak, and incredibly delicious chili sauce combinations, Bhutanese food is really yummy and yes oily too.  I would request you go out there and enjoy this beautiful country and eat sumptuous meals.
Travelling in Bhutan
Travel in Bhutan is very safe and still largely free of the major banes of travel such as theft and begging. Petty crime is not commonplace, even in larger cities. However, it is not such a bad idea to stay as safe as you can and there are ways to ensure your trip is as enjoyable and trouble-free.
It is the Buddhist belief to respect all forms of life, and this includes Bhutan's large number of stray dogs. It's best to avoid contact with the strays and not to feed them.
Things to carry on your trip
Even on cloudy days, you will get a sunburn if you're not careful, so bring sunglasses, wear a hat or cap, and apply a high SPF sunscreen regularly. Drink bottled water always and ensure that you are hydrated. If you need to take any medicines regularly, make it a point to carry them with you. Also carry clothing as per the prevailing climate.
Be aware that it is illegal to buy or sell tobacco products in the country. You may bring cigarettes into Bhutan with you, with an import duty of 200 percent, but be sure to keep hold of your receipt to prove you have not smuggled them in. And do not smoke in public spaces, including hotels and bars. INR is widely accepted in Bhutan.
To sum it up, Bhutan is one of the most enchanting and most culturally preserved nations in the world, untouched by the outer world of technology. Television and internet were introduced as recently as in 1997. The beauty of this land is just beyond words and I truly believe that you have to take a trip to truely experience it.
ALSO READ: TravelHer: Sonal Satelkar Got To Kiss Blarney Stone In Ireland
The views expressed are the author's own.