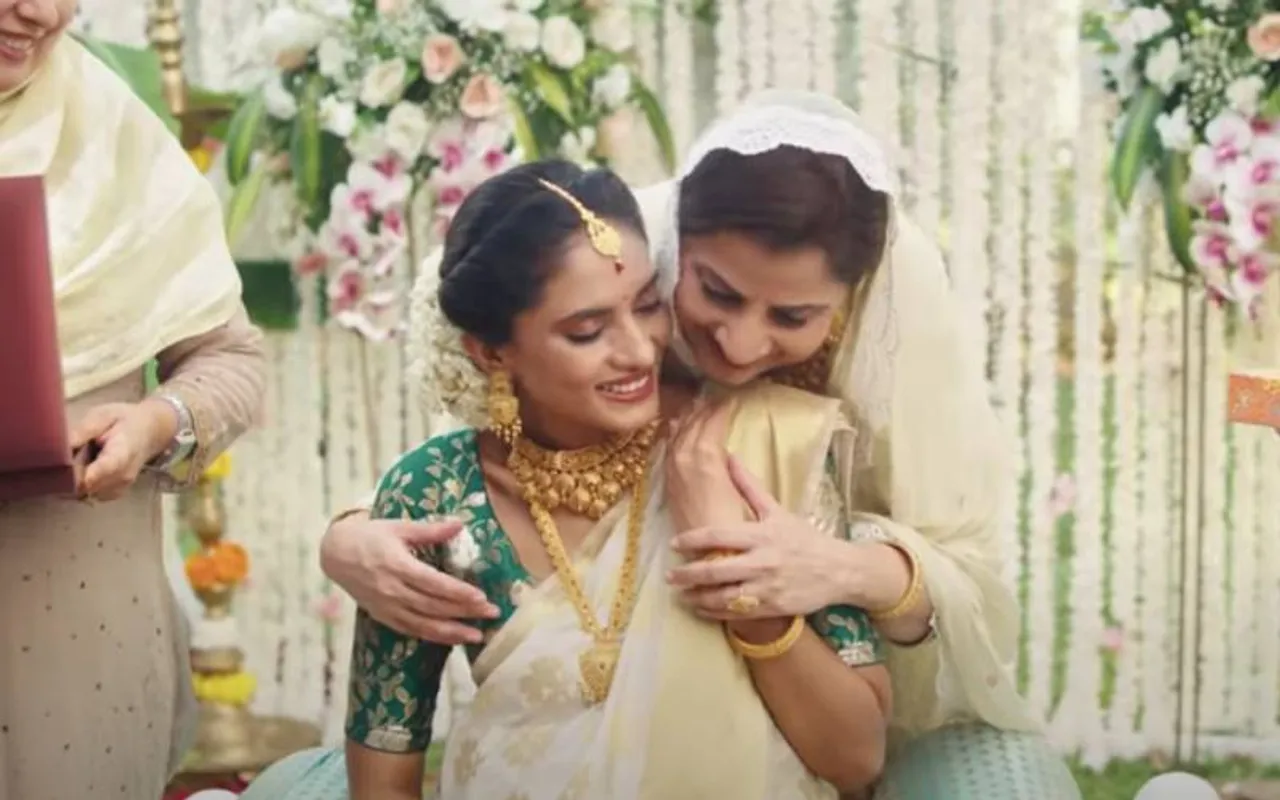 Following unprecedented public outrage against an advertisement that promoted communal harmony, jewellery brand Tanishq took it down from the internet and issued a statement addressing the incident. The ad, released October 9 was removed on October 12 after social media users threatened a mass boycott of Tanishq. Read more here. Latest reports suggest that a store manager at a Tanishq outlet in Gujarat was threatened as well. The company in its statement wrote they were "deeply saddened" by the "divergent and severe reactions" the ad film received and were compelled to pull it keeping in view the "well-being" of their employees and store staff. With the controversy the Tanishq ad seems to have stirred, one would think it showed something extremely offensive that drove people to protest against it in large numbers.
The tastefully made ad showed was love between a Hindu-Muslim family and an interfaith baby shower for a pregnant woman.
The ad was ready respite from the extravagant tomfoolery we see on the daily. More than anything, it projected hope for communal union and peaceful co-existence between the two religious communities in India amid recently mounting tensions. To see that it had to be pulled down by the company amid allegations of endorsing "love jihad", as right-wing trolls perceived it, is disheartening, disappointing, and downright scary all at once. Have we become so intolerant as to object to a simple ad preaching religious harmony? More so, how blinded are we by hateful bigotry that companies have to fear for the safety of their employees if their product doesn't sit well with a section of people?
Also Read: 8 Ads By Notable Brands That Were Taken Down After Public Outrage
Here is Tanishq's statement on the entire matter:
October 13, 2020
Have We Forgotten Tolerance?
For a country that prides itself on being one of the most culturally diverse, historically harmonious, and communally secular, does outrage over an ad endorsing peace suit the tone of India's longstanding identity? The hate speech took everyone related to the brand, into its fold, right from threats being issued to Ratan Tata (former Chairman of Tata) to mockery aimed at Deepika Padukone (who has endorsed Tanishq in the past).
Why do we not see enough outrage against home appliance ads that are replete with casual sexism?
Or against menstrual ads that mask the reality of blood behind blue liquid, misguiding the audience? Wouldn't rage directed towards those ads help bring better, urgent, and more necessary change to our social world?
What purpose did outraging against the Tanishq ad serve? What was it about the ad that bugged so many people, prompting them to (rather ironically) lead a hate campaign against a message that preached unity?
Do interfaith families not exist in India? Is it improbable to have a Hindu woman married into a Muslim family? Is cross-cultural love an otherworldly concept? They do exist, it isn't improbable, and it isn't an otherworldly concept.
But going by the tense climate, it looks as if these answers will sadly be turned on their heads soon.
Tanishq Brand Manager Receives Death Threats
When Tanishq first pulled the ad, many on social media, including myself, had a negative reaction to the supposedly weak will of a tall-standing company attached with the magnificent Tatas, both built on a longstanding legacy of consumer trust. But when things began clearing, what came to the forefront was uglier, and I felt that perhaps the brand may have been justified in removing the film if lives were at stake. Literally.
A twitter user pointed out that the brand manager behind the ad, a Muslim man, was compelled to withdraw his social media profiles after receiving death threats.
The Brand Manager of Tanishq got life Threats by Tolerant People. He was forced to even delete his Linked-in Profile. His Mobile Number was circulated. This was what forced the Brand to Withdraw their Ad pic.twitter.com/6YEWtC7Sk3

— Joy (@Joydas) October 13, 2020
Such was the bling rage against Tanishq that it even led critics to single out and target attacks at the employees of the company, reportedly right from the reported store manager in Gujarat up until the staff, which the brand mentioned as one of the reasons to remove the film.
The questions to ask following this episode are: Have we, as a country, become a bunch of bullies that will beat down anyone or anything that doesn't subscribe to a single ideology? Is the public now so impulsive as to engage in physical violence over and above reasoned arguments? Are we so intolerant that we don't mind encroaching an individual's privacy on social media and practically bombarding them with death threats?
Social Media Reacts To The Ad Removal
With the ad pulled, several on social media are now lamenting the removal, including actor Divya Dutta who gave the voiceover for it. Expressing sadness, she wrote: "Yes it's my voice. It s sad it's taken off air. I loved it." She even went so far as to engage with a naysayer with a reasonable retort:
But sir don't we all promote brotherhood?? We as India are all about that. That's our soul sir. Unity in diversity bachpan mein sunte the. Aise to kitne ads hote the. Koi kuch nai kehta tha.. par chalein sabke apne vichar! 🙏🏻🙏🏻

— Divya Dutta (@divyadutta25) October 13, 2020
Politicians too weighed in on the issue, with Shashi Tharoor and Vidya Chavan condemning trolls and hailing the ad for endorsing love and peace.
Kangana Ranaut, meanwhile, as is increasingly becoming her intonation towards messages suggesting harmony, strongly opposed the ad, questioning why the pregnant woman was so "meek" as the "woman of the house." She agreed with the troll army's claims of the ad promoting "love jihad", and went on to call the artists behind the film "creative terrorists".
As Hindus we need to be absolutely conscious of what these creative terrorists are injecting in to our subconscious, we must scrutinise, debate and evaluate what is the outcome of any perception that is fed to us, this is the only way to save our civilisation #tanishq

— Kangana Ranaut (@KanganaTeam) October 13, 2020
Here's the ad Tanishq created and took down. Decide for yourself: Was it at all deserving of outrage? 
Tanishq has officially withdrawn their ad after being trolled viciously. Here's why this is a very sad state of affairs, and context from other such ads that were trolled (and some, withdrawn) https://t.co/Nb0cSiTPHX pic.twitter.com/sn3IMBqdmC

— Karthik (@beastoftraal) October 13, 2020
Views expressed are the author's own.