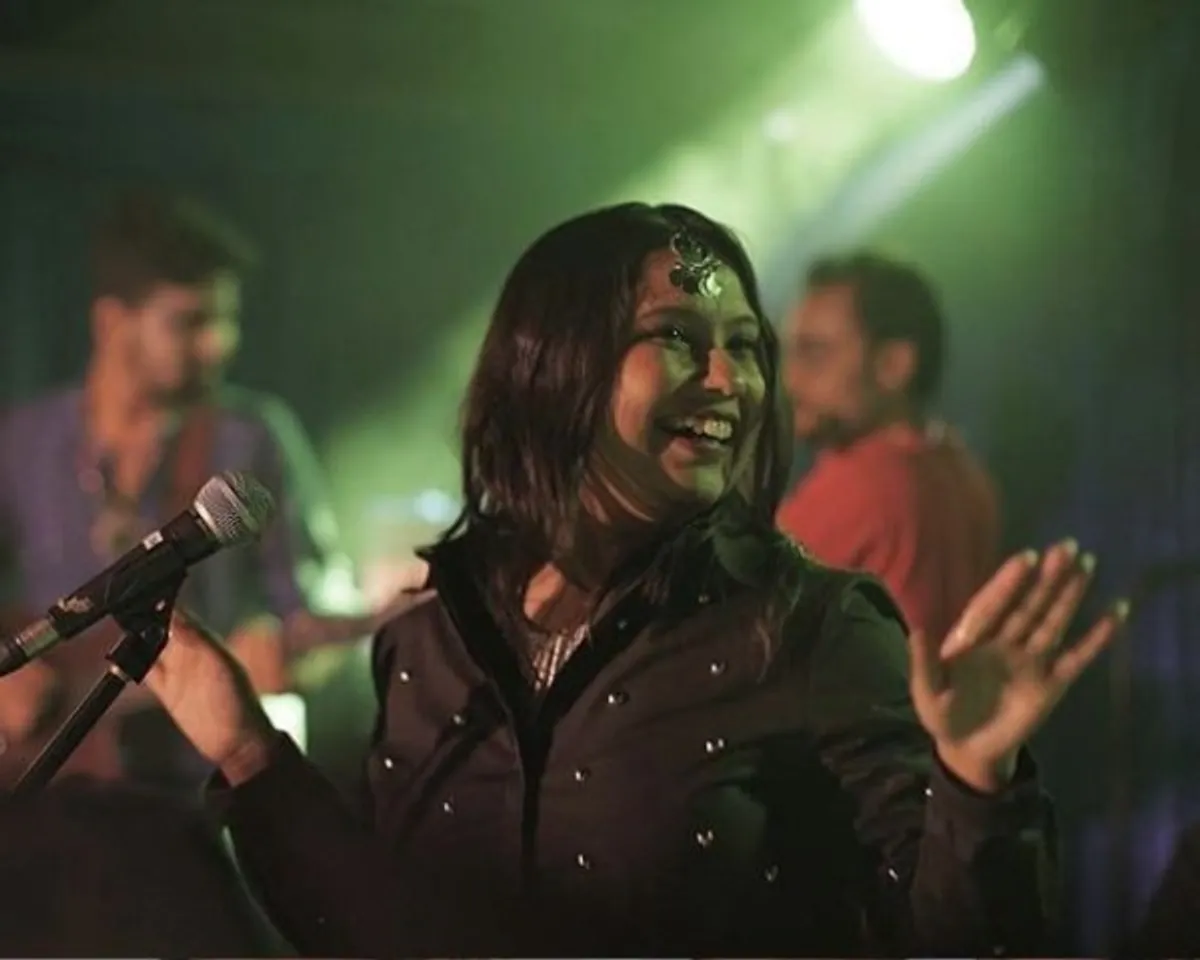 Aanchal Shrivastava recently lent her voice for a wedding song that celebrates same-sex nuptials. Her rendition of the popular Punjabi folk song  Din Shagna Da features Lisa Ray and Bani J in the show Four More Shots Please. 
Aanchal is a musician and Founder of Yatra with Aanchal - an Indie Band and Co-founder TAA Music Label. She chose to do music full time at the age of 30 when most women are expected to get married and have kids. Aanchal speaks to SheThePeople sharing her excitement over the overwhelming response to the song, how music is the way for her to communicate, why Indie music is the most democratic form of music and her struggle to carve a niche for herself in the music industry and much more. Some edited snippets.
Tell us about your song. What significance does it hold?
My version of this song is featured in a very heartfelt lesbian wedding - two brides enter to validate their love. And that is what makes my song more special.
Songs are not just about music today, they are much more than that. Right lyrics, right expression and the right reason is why followers would listen to us.
Being a musician and a supporter of empowering content in Indian cinema, how does it feel to lend your voice for something so progressive in modern culture? 
This is how I imagine my songs to be - compelling and telling a story. I am a storyteller. My originals, my poems, all tell some story. It is a very special feeling that the universe brings to you through the work you seek. I like to stand by and support humanity, love in all forms and my music is the only way I communicate. Same-sex marriage, especially for the couple is nothing but war. And the feeling of victory is unimaginable and getting to bring that out through my voice is a bliss.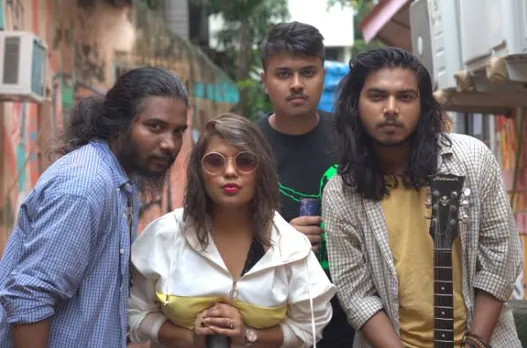 Aanchal Shrivastava and the band
Same-sex marriage, especially for the couple is nothing but war. And the feeling of victory is unimaginable and getting to bring that out through my voice is a bliss.
Is India ready to have an open mind about same-sex marriage yet? 
We better. And what is there to be ready? We are educated enough, we call ourselves the millennial generation, we choose our careers, our partners, plan our divorce, everything. There is no question of acceptance I think. They are born just like us, why do we need to validate anyone's existence? This is about time. We must evolve.
What emotions do you hope your music conveys to the listener?
I am on a yatra (journey). I am trying to tell a story of my journey to find solace. My songs tell the story of my yatra, my experience. My songs are like a book. Each song is a chapter. It is not whole until you reach to the last chapter and there can be a 'To Be continued' too.
Speaking of Yatra, a lead singer in an Indie band. What interested you in singing, and tell us in details about the journey that led you to launch the band?
I was born to sing and it took me 30 years to realize that. Both my parents love music. I remember being raised with music all the time. My dad sent me to my first guru when I was about three years old. I was very talkative and everyone used to say that when I speak it seems as if I am singing. My dad never realized that he is my first music teacher. He was the one who sang and talked to me. We would play antakshari most of the times around midnight. He would ask me to bring my instrument (steel plate and spoon) and we would jam. This is how, most of my childhood has been. From precisely three till about 17, I had been on and off learning music, singing, on stage, school competitions, college festivals, India Idol, Fame X, Fame Gurukul, etc.
I chose to do music full time at 30 when women are expected to enter the second phase of life with marriage and kids. Needless to say, I made my family members angry.
As a teenager, I have been absolutely crazy for reality shows and I think I cracked most of them. All happened and then I lost the craze. I come from a middle-class family where music is a passion and you have a typical 10-6 pm is a profession and I adhered to it always. As a girl child and the eldest in both sides of the family, mom said: "Every kid will only follow you". That was a lot of pressure. Probably this is the reason that it took me about 30 years to accept and realise that MUSIC is not my passion but my profession. I am lucky to have a younger brother who has supported me and agreed to co-found my Musical Yatra.
A singer is generally a singer by birth (basically referring to the voice, texture, tone etc) until they have recently become singers on Tiktok.
How do you feel about the representation and portrayal of artists in the modern era?
Art according to me is mostly brushed and nourished over the years. Bhagwanji has given it to you, it is not learnt. That would be called amateur singing. So nothing interested me in singing. It is just that I don't know anything I am better at than singing. As an RJ, I was singing, as a student in school/college I was singing, as a creative lead, I was still singing. Singing has always been there, I just didn't have the guts to take it up full time. Launching Yatra With Aanchal in 2018 was actually just a phase. Four years in Mumbai, playback, background score, singles, collaborations and multiple self-realizations finally took me there where I could say, let's do it.
READ: She drives an auto, aims for the IAS: Yellamma from Bengaluru
Why Indie music?
Looking at the current scenario, it is not about just the voice, it is more about popularity. It is easier for me to reach to my audience through social. I took the decision of not sharing my scratches and voice samples to music veterans and rather make my own music that brings the honesty of my voice to the world.
What were the initial days like - what kind of challenges you've faced and are still facing?
My biggest challenge was to get the right people for the team. From interns to help to co-workers, everything seemed impossible being a startup. Lakshya almost gave up one day and said "We will do it ourselves". And now we are about two interns, one band manager, one music producer, four dedicated instrumentalists. This is an improvement I think.
What does Aanchal like to do when not making music?
Netflix, pick up a fight with Lakshya (I hardly get to fight with him nowadays), clean the house as the kitchen is Lakshya's forte, call mom and dad sometimes anticipating they would not talk about my marriage plans! Sleep for a while.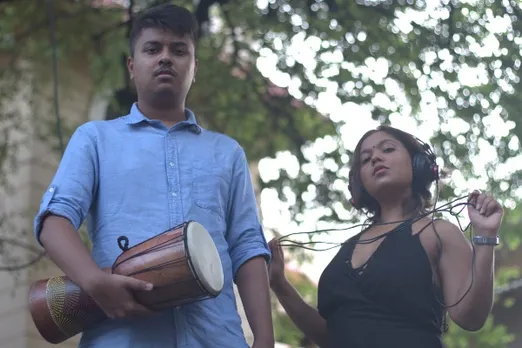 Lakshya and Aanchal
Any deterrents?
The biggest deterrents are our thoughts. The ability to say it aloud to ourselves first - Okay, fine. I am made of this, for this only. I can fight the world, because I am me. This is what lacks in us. We keep blaming our upbringing, society, opportunities, nepotism and what not. If you lie to yourself it's difficult to get anywhere and the whole life will be an obstruction.
My single with Haider Ali from Coke Studio Pakistan, Music fest feature in Nashik were some of the highlights of my music career.
The Indie music and the places it takes you?
It takes me to the World. Music travels faster than words. Indie music is the most democratic form of music and I get all the powers in my hand. You chose your style, your words, your music.
Which famous musicians do you admire? Why? 
Quratulain Balouch (Pakistani). She is an honest artist. She sings with the most simplicity and heart.
Your message to young girls to aspire to take up music.
Take it up if you feel you are made for it. Not because it is trending, cool and will make you famous. There is definitely that one thing that you are the best at, just figure it out and pursue it.
READ: These Three Techies Built Remote Mini ICU To Monitor COVID Patients