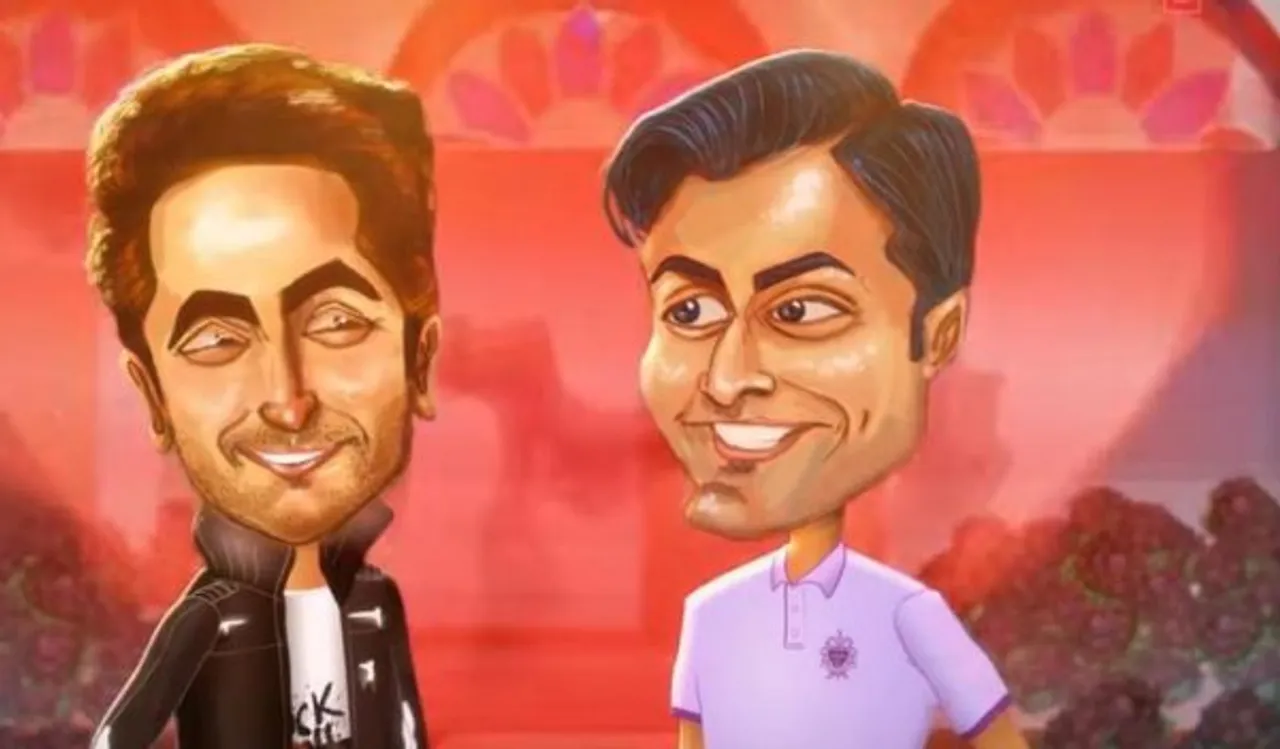 The makers of Ayushmann Khurrana starrer Shubh Mangal Zyada Saavdhan have released an animated cast introduction for the film and it has set the internet ablaze. From the looks of it, the film could be India's first same-sex romcom, and who better to champion a gay lead in a commercial film than Khurrana! Not only does the film promise to touch on the taboo that is same sex romance in India, but it also boasts an impressive supporting cast with the likes of Gajraj Rao, Neena Gupta, and Maanvi Gagroo. Actor Jitendra Kumar, famous for his roles in TVF sketches, is the lead opposite Khurrana in the film, which is written and directed by Hitesh Kewalya. Is it me or is Bollywood finally going to give us a commercial gay love story which we can watch "saparivar" and breaks decades worth of stereotypes the industry has endorsed?
KEY TAKEAWAYS:
Ayushmann Khurrana starrer Shub Mangal Zyada Saavdhan' teaser is out.
It looks like the film is a romcom around same-sex love.
Can the film take the conversation further from where Ek Ladki Ko Dekha Toh Aisa Laga left it?
Is romedy a genre not suited for this subject, or is it just a perfect fit?
Is it me or is Bollywood finally going to give us a commercial gay love story which we can watch "saparivar" and breaks decades worth of stereotypes the industry has endorsed?
The ripple effect of decriminalisation of homosexuality in India can be seen in Hindi cinema this year. While same-sex love isn't a new topic, it usually remained constrained to indie and offbeat films as of yet. No big A-listers have dared to take up LGBT roles, but all that changed with Sonam Kapoor starrer Ek Ladki Ko Dekha Toh Aisa Laga this year. While the film broke many stigmas for cinema, it was still a lukewarm take on same sex-love, giving it the quintessential Bollywood treatment, where women needed male saviours to fight their battle against the society. The narrative found its roots in commercial masala films, with just subtle hints to the romance that was at the core of the story. A hug, some giggles, and a few shots of the leads holding hands.
ALSO READ: Devdas And Our Soft Corner For Self Destructive Lovers
But then again, this was the very first commercial film on this subject, which in it itself was pushing the envelope of change to the audience. I think it was wise that Ek Ladki Ko Dekha To Aisa Laga merely tested the waters and just let the idea out in the open, rather than making it too "bold" and thus unpalatable for a large section of viewers. However, now that it is done and dusted with, one hopes that Shubh Mangal Zyada Savdhaan picks up from where the Sonam and Anil Kapoor starrer left.
Instead of giving it a Romeo-Juliet treatment, perhaps Shubh Mangal Zyada Saavdhan can raise pertinent questions about acceptance of same-sex love in average Indian households but with a dose of laughter.
A subject as relevant as this, which touches on the lives of millions of Indians, needs to be dealt with tastefully, that goes without saying. Bollywood is guilty of pushing stereotypes in the name of gay characters in films, which have done more harm than good to normalise same-sex love. Homosexual characters and same-sex love were and still are used for comic relief, in the worst possible homophobic way. Dostana and Kal Ho Na Ho anyone? Which is why one holds reservations about rom-com on this subject. Will it be able to do justice in terms of execution, to its sincere intent? Will it advocate acceptance of same-sex love among peers, or focus on their homophobia, and thus inadvertently ask us to face our own reservations? Or will just stop short of making an all-out effort and dance along the boundaries set by its predecessor?
The expectations one has from this project are very high and one can only hope that the film will live up to all the excitement that its teaser has built. The fate of portrayal of same sex love stories in Hindi cinema right now rests on this film. And if the lead's track record is anything to by, one can dare to hope for a happy ending.
Image Credit: YouTube Screenshot
Also Read: Why We All Love to Love India's New Favourite Actor, Pankaj Tripathi
Yamini Pustake Bhalerao is a writer with the SheThePeople team, in the Opinions section. The views expressed are the author's own.