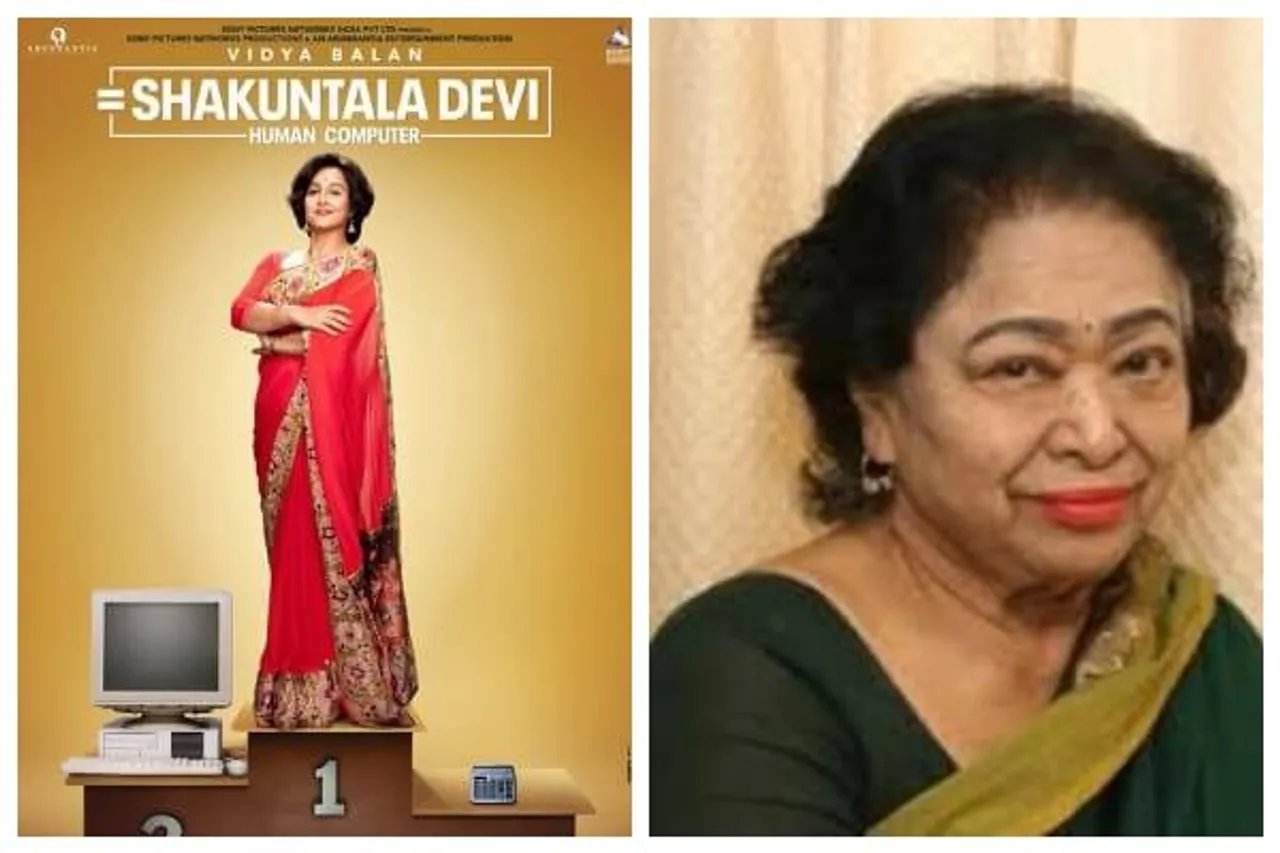 The much-anticipated trailer of Shakuntala Devi biopic, starring Vidya Balan, is here. Shakuntala Devi is directed by Anu Menon, who has also written the screenplay, alongside Nayanika Mahtani. The biopic also stars Sanya Malhotra, Amit Sadh, and Jisshu Sengupta. It is all set to premiere on Amazon Prime Video on July 31.
The Trailer
The trailer opens with a quirky Vidya Bala aka Shakuntala Devi charmingly introducing the viewers to her best friend 'math'.  We see a little Devi telling her father, "Mujhe bhi school jana hai" (I, too, want to go to school). To which he replies, "School tujhe kya sikhaega, tu ulta school ko hi sikha degi." (what will school teach you, you'll teach the school instead). The next moment, we see her solving a difficult Math problem within seconds, much to the amazement of her teacher. From here, the trailer traces Devi's journey to the moment where she finds a place in The Guinness Book of World Records.
In the trailer, we see Devi taking every onlooker by surprise with her knack of solving complex equations. She goes to London to pursue her ambition, and then comes back to India to get married. Keeping true to Devi's real-life whim of never wanting to marry, the reel-life Devi announces that she just wants an intelligent baby from a good-looking man, not a husband.
Also Read: Why Wikipedia often overlooks stories of women in history
The trailer also gives us a glimpse into Devi's complex relationship with her daughter (played by Sanya Malhotra) who is constantly at loggerheads with her mother. We see Devi struggling to juggle her love for math and bringing up her child. The bittersweet relationship that the mother-daughter duo share hints at the tonnes of drama that the film promises. And even Balan confirms at the end of the trailer, "We Indians are like that only. Drama or nothing."
What Works
Director Anu Menon, while talking about the film, said in an interview, "I've always been fascinated by Shakuntala Devi and felt hers is an incredible story that resonates with today's world. While most of us will be familiar with her natural ability for math, the film also explores the lesser-known personal story of a brilliant but vulnerable woman and mother who lived life ahead of her times and on her own terms."
And that is what I personally loved about the trailer too. It does not try to valorise Shakuntala Devi to an extent that we forget that Devi too was a human after all. The audience has been served with the quintessential goody-two-shoes biopic too many times now. The portrayal of Devi as a woman who isn't perfect is what, in my opinion, makes her quirkiness more likeable and relatable.
Also Read: A Suitable Boy Trailer Promises To Bring Vikram Seth's Epic Novel To Life
Shakuntala Devi was not only a world-renowned math genius but also a woman ahead of her time. She lived her life on her own terms and did so unapologetically. The trailer does not just show Devi as the math wizard, but also as the woman and the mother that she was— in all her brilliance, vulnerabilities and flaws. A genius mind can do no wrong is a myth that we have held on to for far too long, and this element of grey to Devi's character could perhaps work greatly in the film's favour.
Dyuti Gupta is an intern with SheThePeople.TV. The views expressed are the author's own.