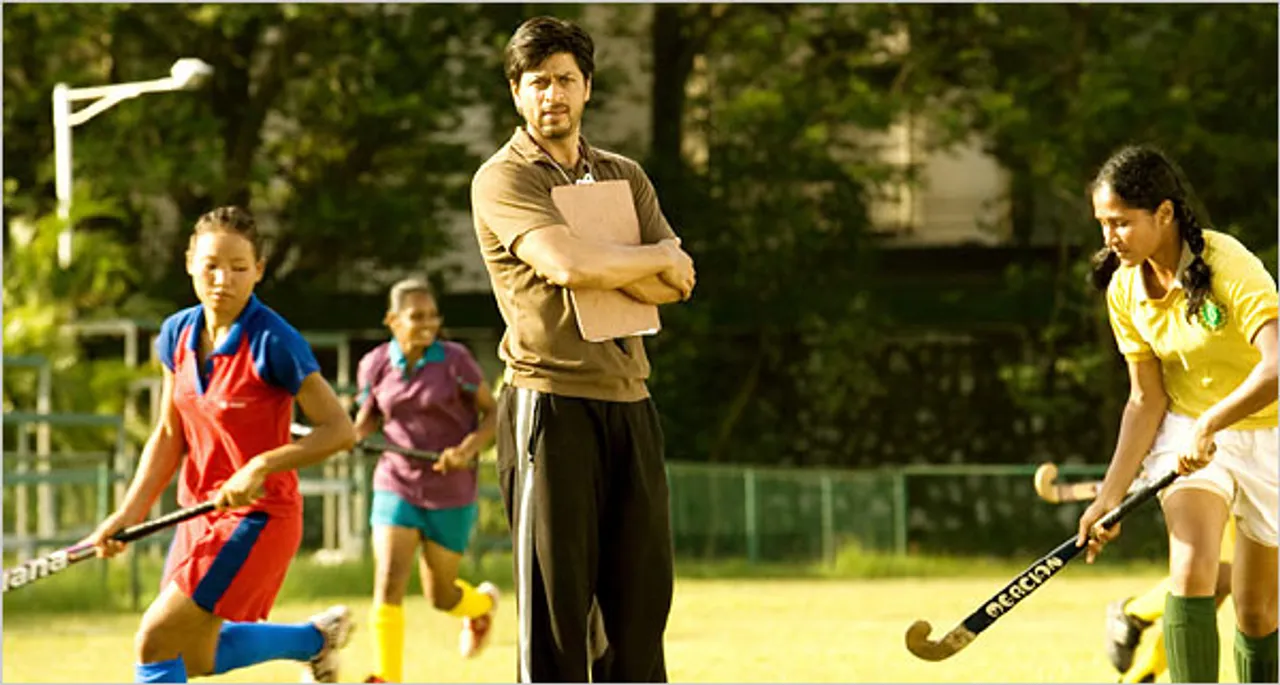 First thing first Chak! De India is not about women. Chak De! India is about a man trying to redeem himself in the eyes of his country. I feel though the director took a break from the run of the mill films, overall it remained highly amateurish with predictable noise about, Muslims getting a raw deal, women's bias and nationalism. It is a film that has some potential to be used as a pedagogical tool in a project of critically examining gender and sports, attitudes, values and practices that can support effective sports pedagogy.
The goal of preparing to play as one team for India, and overcoming differences in the process in order to achieve perfection in the sport, is an idea Chak! De India, strongly conveys. Even though, this has been received by many with suspicion of heralding the promotion of a nationalist agenda and fostering patriotism at the cost of pluralism and richness of diversity, the film has been able to generate a lot of discussions in the public domain which in turn has brought many issues to the forefront.
Also Read: Rewatching These Five Bollywood Blockbusters Made Me Cringe As A Feminist
Now coming to its good portions, my ambivalence towards team sports: the constant rah-rating about doing it for the country, the need to put group interests above individual interests at all times – things that go against the natural instinct for self-preservation that surfaces in an explosive situation (and there are so many such situations, on and off the field, in the politics-driven labyrinth of Indian sport). Also, I'm irritated by the automatic assumption that patriotism is a supreme virtue, so it was good that the film didn't overdo the jingoism act. The coach, Kabir Khan, does stress the need to be a Team Player, and makes a captain out of the girl who describes herself in terms of her national (rather than state) identity, but you can see that there's a practical, sporting context to all this; we aren't fed the self-important spiel about India being morally and culturally superior to the rest of the world. (This would have been difficult to do anyway in a movie about women struggling to assert themselves in the face of chauvinistic sports officials/boyfriends and traditional-bahu-demanding families.)
It's equally important to acknowledge the clichés that Chak De manages to sidestep. How easy it would have been, for instance, to slightly expand the role of the team's chaperone (the stout, dark-complexioned lady who watches quietly from the sidelines during practice and with whom Kabir Khan shares dinner and conversation), have her played by a popular young actress and turn her into a love interest (or a therapist/confidante) for Kabir. Thankfully, the screen time that could have been thus wasted is given instead to the talented cast of unknown youngsters.
Match between male and female hockey team is again too childish, I don't think at national levels, women's teams are sent only if they beat the male teams and dialogues before the match about women's skills, power and equality were again too laced with killing predictably. The question stands to why aren't the problems of women sportspersons not highlighted? By this I mean, the menstrual cycle. Just like every other girl, the cramps can be equally painful for them, to get over it and to keep exercising could be a topic worth discussion. We often hear, a woman can have a career extending up to limited years. When a woman thinks of getting married and settling down, it is considered equivalent to sacrificing her own career. When we expect a movie based on equality and women empowerment to rather focus on the primary issues that stalls a woman succeed to be comparable to men. Because however hard we try, we are biologically constructed to bear lesser physical strain than men so no point pitting one gender to another. As a sports film based on young women chasing their dreams, it should have rather touched upon becoming better than their previous version.
Also Read: Film Review: Portrait Of A Lady On Fire Is About Female Gaze And Female Body
The director doesn't give his viewers much clarity about the different elements that are involved in leading the life of a sportsperson. Most of the players who enrol themselves for the national team come from different parts of the country, and are accustomed to varied diets and clothing. The movie doesn't display any relevant information about what the typical diet of these players must be, and what is the kind of gear they must possess. Moreover, being away from family members for such a long period of time, the players are also not seen being given a stipend, so as to support the ones back home. These are perhaps certain essential elements of a sportsperson's life the film fails to discuss.
In so far as the sport is concerned, hockey itself isn't given much importance either. Tactics, techniques, and strategies in order to succeed in the game are only hinted at. A spectator watching the film, with no prior knowledge about hockey whatsoever, would probably not gain any further information about the sport itself after leaving the theatre. The movie, hence lacks relevant information about the sport itself.
Very little sugar-coating at the end. Sure, we have drumrolls and the improbable triumph, but there's no pretence that something has changed permanently for the better, that the protagonists' lives henceforth will be wine and roses. In his pep talk to the team just before the final, Kabir tells them that whatever else might happen in the rest of their lives, no one can take the next 70 minutes away from them. It's a statement laced with pragmatism and an understanding of the hard realities of these girls' lives. Despite Chak De's cheerful ending and the upbeat clips that play while the titles roll, it's possible to see that for most if not all of these girls, those 70 minutes probably will remain the high point of their lives by a long way; that nothing else that follows will be anywhere near as good. Has the Indian sports film grown up and smelled the coffee?
The views expressed are the author's own and not that of SheThePeople.