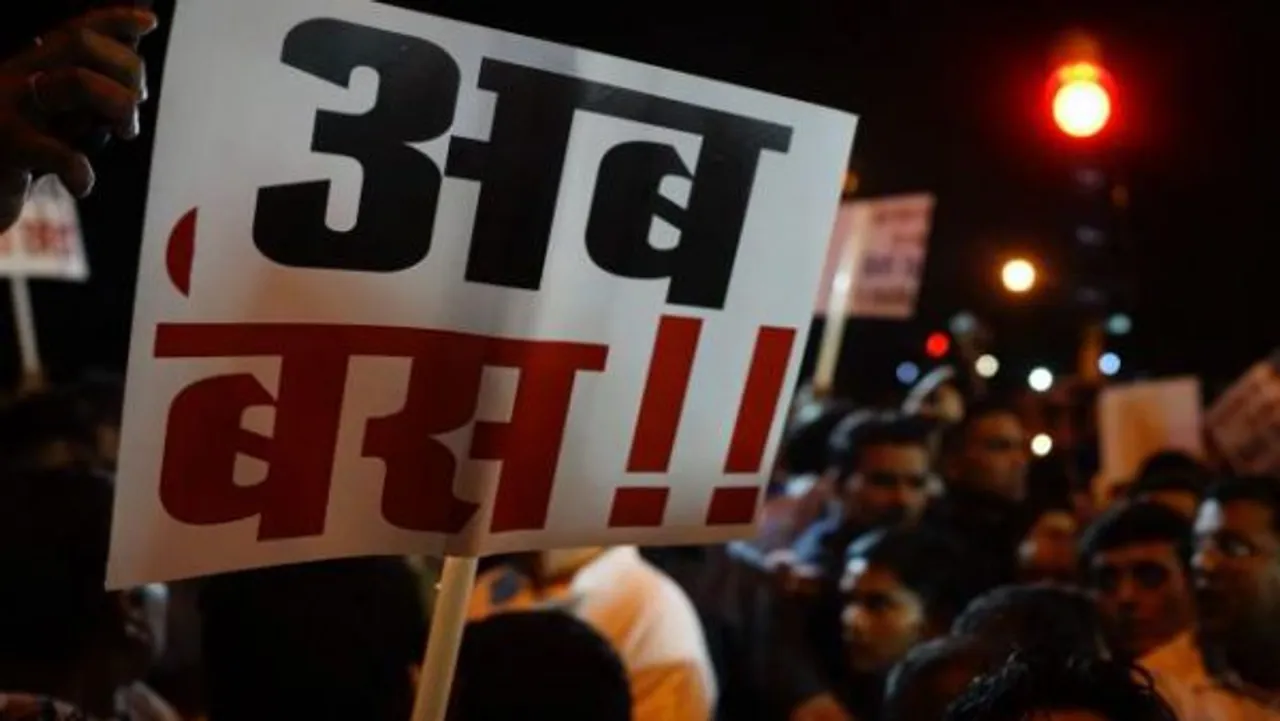 The 'Nirbhaya' gang-rape case was one which triggered enormous public outrage and brought forth a conversation about 'women's safety' to our living room. Looking back, a lot of Indian laws, company policies for sexual harassment or even conversations in mainstream media about these issues can be broken down to before and after Nirbhaya. The gang-rape of 23-year-old physiotherapy student, Jyoti Singh, committed by six men on a bus in Delhi jolted the Indian legal system into reconsidering its protections for women. Jyoti Singh Pandey passed away shortly after the incident and the rapists were hanged only earlier this year, after eight years. However, the cynosure of this movement, 'Nirbhaya' becomes more about a heroic figure to fight for rather than a woman who was a victim of sexual violence.
Why did we start using Nirbhaya?
The use of Nirbhaya in media reports and coverage around the case served two major purposes. Firstly, the law states that the victim's identity must be concealed until a judgment for the case is solved. Thus, all reportage adopted the name 'Nirbhaya' meaning fearless. Secondly, the tactics of adopting Nirbhaya transformed her into a martyr. A story woven around fearlessness, a rallying point for protests and a woman with dreams, hopes and aspirations, reduced to one heinous incident.
This patriarchy inferred names to a large extent dehumanise women. Also, the idea of 'fearlessness' shifts the onus of sexual violence on women, to fight and to avoid, rather than on men to simply not do. It is why a lot of action to reduce sexual violence is about self-defence classes for women and not educating men about consent. It is also voyeuristic and sensationalised and creates an image of rape as an exceptional, shocking case, rather than something which happens every 15 minutes in this country. These words also hide our complicity to this violence, the systematic violence against women and our guilt as a nation.
In the wake of her death, Asha Devi, her mother, said she wanted her daughter's name made public because she was "not ashamed to name her" and that victims and families of violent crimes shouldn't be made to "hang their heads in shame." Seven years later we still won't stop using the word.
Also Read: How Carceral Politics is Far from being a solution for Gender Based Violence
India's Daughter and Current Reportage of Rape Cases
Across the coverage of the case, many other names came up - Jagruti, Damini, Amanat, Delhi Braveheart, India's Daughter. All of them create a supercut of a woman as goddesses and much larger than life figures. India's daughter specifically draws from the Maa-Beti approach. The reason that women must be respected because they are somebody's (figuratively, a man's) mother, daughter or sister. They must be protected because they hold 'family honour' and must be protected from men, for men and by men.
Iconography around sexual violence must also be studied. Most articles around rape or any gendered violence carry images or illustrations showcasing the survivor. The women are shown as helpless victims, bend over, cowering, silent, with unseen perpetrators and their hands. These are usually triggering and centre the vulnerability of the victim rather than the cruelty of the perpetrators.
Let's remember victims and survivors for what they are, human first and violated later.
Views expressed are author's own