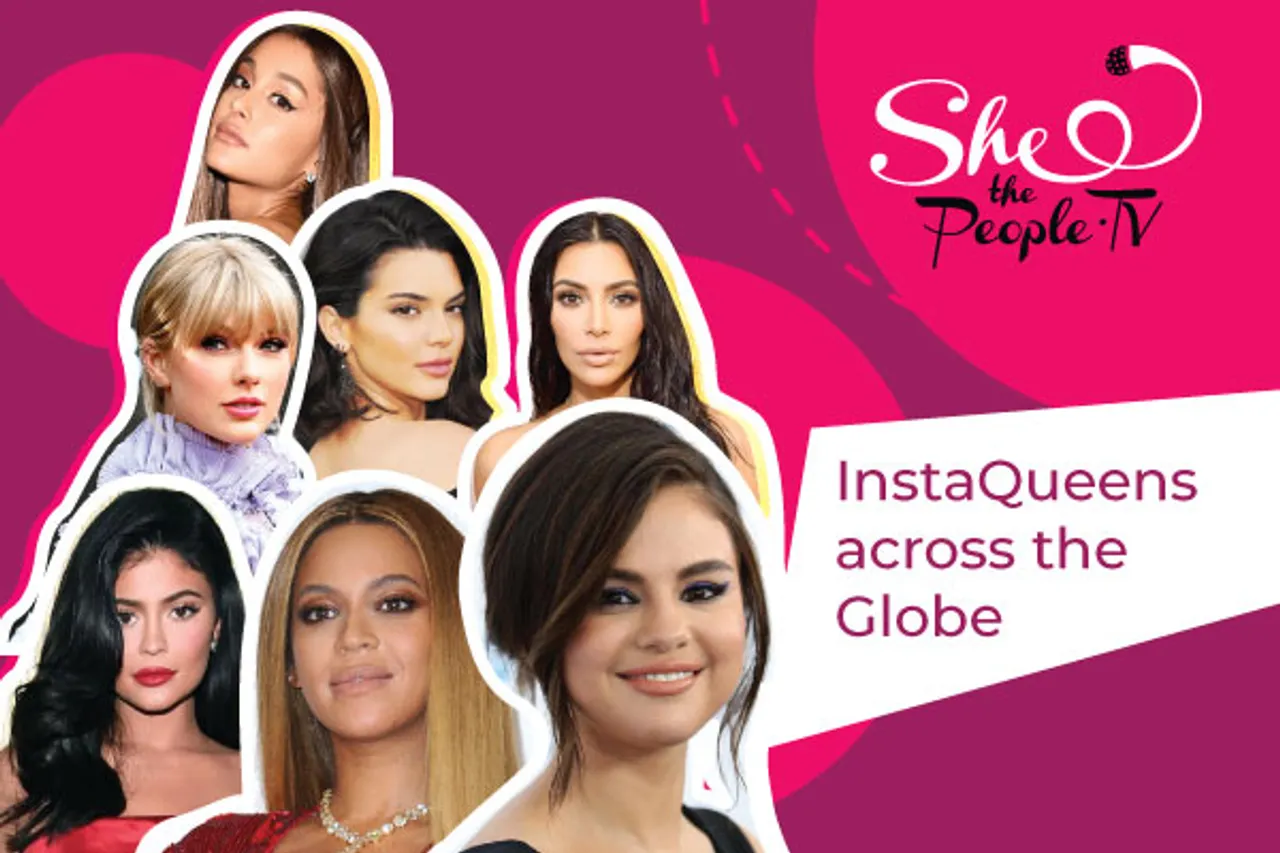 Today, celebrityhood is synonymous with not just fame, but a massive presence on social media as well. Instagram is one such social networking platform that is quite popular both among celebs and netizens. Everything from the number of followers they have to their posts matters. Which is why SheThePeople.TV has curated a list of the most followed female Instagram accounts across the globe, in case you have missed out on anyone. The below-mentioned list is as per first week of July 2019.
Ariana Grande - 158 million followers
https://www.instagram.com/p/BzLey3fFwI_/
Known for her wide vocal range, Ariana Grande is a Grammy Award-winning recording artist and has also featured at the top of US Billboard 200 charts several times. Grande has received various accolades, including one Grammy Award, one Brit Award, two Billboard Music Awards, and three American Music Awards. Time magazine named Grande as one of the 100 Most Influential People in the world in 2016 and 2019, and Billboard recognized her as the "Woman of the Year" in 2018.
In February 2019, Ari became the most followed woman on Instagram, dethroning Selena Gomez. Such is the craze for the "Sweetener" singer that whatever she shares becomes instantly viral.
Selena Gomez - 153 million followers
Singer, actor and producer Selena Marie Gomez has earned numerous awards throughout her career, including an ALMA Award, an American Music Award, an MTV Video Music Award, a People's Choice Award, two Billboard Women in Music Awards, and eighteen Teen Choice Awards. She was the most followed Instagram user in the world before being surpassed by athlete Cristiano Ronaldo in October 2018. According to reports, Gomez earns $800,000 for every single Instagram post she creates.
Also Read: Instagram Bans Graphic Self-Harm Images, A Measure Long Overdue
In 2016, Gomez held the title for the most liked picture ever on Instagram, which was just her sipping some Coca Cola! But it seems like Gomez shares a love-hate relationship with the website. In January this year the "Bad Lair" singer announced that she had deleted Insta from her mobile phone, calling it "unhealthy".
Kim Kardashian - 143 million followers
Who doesn't know Kim Kardashian West!  The well-known model is also a businesswoman, socialite and actress. In 2007, she and her family began to appear in the E! reality television series Keeping Up with the Kardashians. In recent years, West has grown an online and social media presence, including hundreds of millions of followers on Twitter and Instagram. Time magazine included West on their list of 2015's 100 most influential people, while Vogue described her in 2016 as a "pop culture phenomenon.
Kardashian has broken the internet several times with her Inst posts. Be it her infamous Paper magazine cover, which brought her, erm, bottom into the spotlight, or her first lady shot, Kim knows how to raise a storm with her Insta posts for sure.
Kylie Jenner - 139 million
https://www.instagram.com/p/Be3rTNplCHf/
Businesswoman, socialite and model Kylie Jenner is Kim Kardashian's half-sister. She has starred in the E! reality television series Keeping Up with the Kardashians since 2007 and is the founder and owner of cosmetic company Kylie Cosmetics. In 2014 and 2015, Time magazine listed the Jenner sisters (Kylie Jenner and Kendell Jenner) on their list of the most influential teens in the world, citing their considerable influence among youth on social media. As of March 2019, with over 129 million followers, she is one of the most followed people on Instagram. In 2017, Jenner was placed on the Forbes Celebrity 100 list, making her the youngest person to be featured on the list.
Also Read: MP Mohua Moitra Maiden Speech Goes Viral, Makes 7 Powerful Points
Kylie is a phenomenon on Instagram, who held the record for the most number of likes on an Insta post (18 million!) till January this year. The record-holding Insta post was of Kylie announcing the birth of her daughter Stormi Webster in February 2018. Did you know that she lost out to an anonymous account called world_record_egg?
Beyoncé - 129 million followers
Being one of the most adored singers in the world, it seems fitting that Beyoncé enjoys a massive fan following on social media. Queen Bey, as she is lovingly called, has performed in various singing and dancing competitions as a child. She rose to fame in the late 1990s as the lead singer of the R&B girl-band Destiny's Child. Managed by her father, Mathew Knowles, the group became one of the best-selling girl-bands in history. Throughout her career, Beyoncé has sold over 100 million records worldwide as a solo artist and a further 60 million records with Destiny's Child, making her one of the best-selling music artists of all time. In 2009, Billboard named her the Top Radio Songs Artist of the Decade and the Top Female Artist of the 2000s decade.
In April this year, Queen Bey posted #BeforeILetGoChallenge as her first-ever Instagram Story, which has obviously gone viral.
Taylor Swift - 119 million followers
Singer and song-writer Taylor Swift is as much acquainted with fame as she is with controversy. Her first album 'Fearless', released in 2009, became a best-seller in the US. The album won four Grammy Awards, with Swift becoming the youngest Album of the Year winner. She has appeared in Time's 100 most influential people in the world three times in the years 2010, 2015, 2019 and has featured in Forbes' list of top-earning women in music. She also ranked first in the Forbes Celebrity 100 in 2016 and was the youngest to be featured in the magazine's listing of the 100 most powerful women.
In a surprisingly political move last year, the singer took to Instagram to ask her fans to get registered as voters and make it count. "So many intelligent, thoughtful, self-possessed people have turned 18 in the past two years and now have the right and privilege to make their vote count," read her post. This photo alone scored 2,162,341 likes.
Kendall Jenner - 113 million followers
Another Kardashian sister who has found fame on Insta is Kendall Jenner. Like the rest of the clan, she first appeared in the E! reality television show Keeping Up with the Kardashians, and is now also a model in a movement dubbed "the Instagirl era". This is the place where models are chosen for their online presence and social media following. In 2017, Jenner became the World's Highest-Paid Model on the Forbes top-earning models list.
Long before her sister clenched the title of the most liked Insta post, it belonged to Kendall. In 2015 a simple photo of Kendall lying on the floor with her hair arranged in heart shapes broke the social networking site with 3,661,467 likes.
Read also: Model Starts Acne Positivity Movement On Instagram
Udisha Srivastav is an intern with SheThePeople.Tv