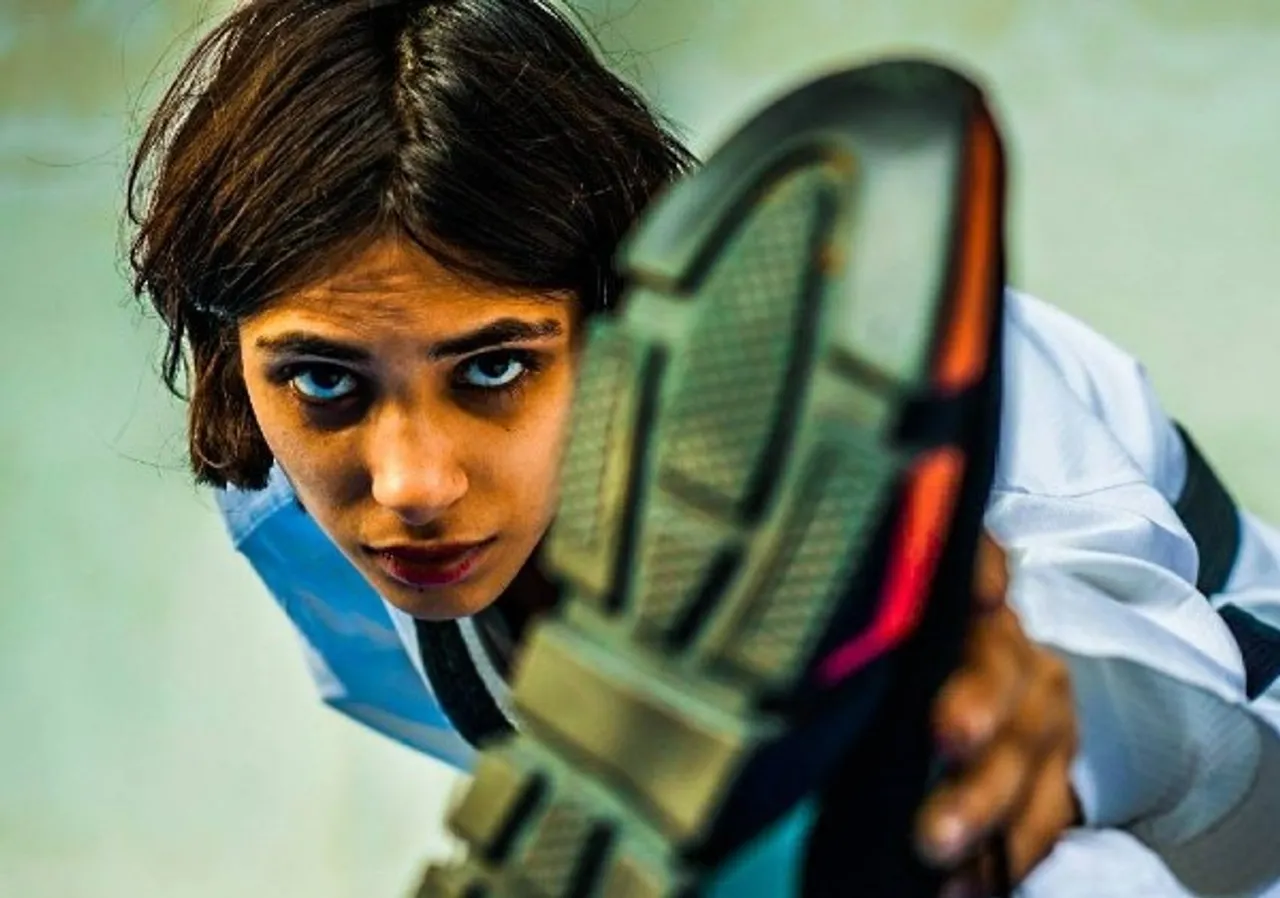 Delhi girl Kashish Malik has always been a fan of WWE and martial arts, but her dream was to become an IAS officer someday. At 14, she stood up against a bully in her school and guess who won the fight? That one altercation changed her life. She went on to become the youngest athlete to have won a Gold medal in South Asian Games 2019, Kathmandu, Nepal.
Nineteen-year-old Kashish also represented India at the Asian Games in 2018 and reached till the quarterfinals. Kashish has instilled the idea of empowerment in the hearts of many who wish to excel in the sport. SheThePeople.TV spoke with Kashish Malik to know more about her journey. Some edited snippets.
​What kind of social stereotypes did you face while growing up? What inspired you to take up Taekwondo?
I wanted to become an IAS officer but it didn't happen as I planned. While I was studying in school, one of my friends cracked a joke in an abusive manner which made me very angry. When I confronted he abused me and I cannot tolerate bad things being said even if it is coming from a friend. I got involved in a big fight with him where I beat him up and our school sports teacher (Taekwondo coach) had to intervene. He advised me to put my anger into Taekwondo and fight it out in the court. I accepted the challenge and in 2014 and started as an amateur but by the end of 2015, I was training as a professional Taekwondo fighter. I think nothing inspired me to take up Taekwondo. That one incident was the trigger and I found my calling. I sought out professional coaching under the guidance of World Champion Sayed Hassan Rezay from 2015.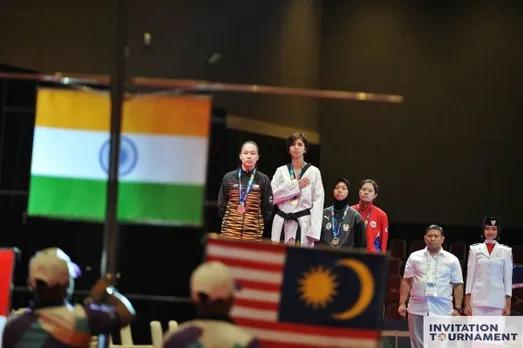 Bow down before the tricolour
Picture Credit: Kashish Malik
As a kid, I spent time watching sports and playing outdoors most of my childhood. Watching WWE with my brothers was my favourite pass time. I used to love watching WWE, UFC and all martial art sports. Among other hobbies, I tried skating and hockey and won many medals too.
But why Taekwondo?
Taekwondo is a non-conventional and male dominating sport in India. I was laughed at for choosing this action-packed sport. Many came to me justifying how this will affect my body, how I could get injured, and also how I will be regretting this decision. I was advised to stop practising, and continue with IAS preparations, focus on my studies and not to pursue a dangerous sport. They tried to brainwash my parents too. They told me it is good for self-defence or for physical fitness, but choosing it as a career was stupidity and a waste of time. But I was so connected with Taekwondo that I never got over it.
I have chosen a sport where I fight like a soldier and also I am representing my country.
How was your initial experience in Taekwondo? How has your coach helped you perform well overall?
Taekwondo is a martial art where you learn the value of discipline and punctuality, the value of blood and sweat. It seems like an individual sport, but beyond all rationality, it is all about team spirit.
My coach helped me in every aspect of training. He helped me with my weaknesses, he worked on my strength and made me more powerful, I am still learning and developing.
Also Read: 8-Yr-Old Kashmiri Girl Bags Gold In Kickboxing
What drives you towards the sport? What does it mean to you?
Taekwondo is an Olympic sport, also most loved in the world after football. I have goals to get an Olympic Gold medal for my country. The goal drives me to move forward with more focus and with more passion.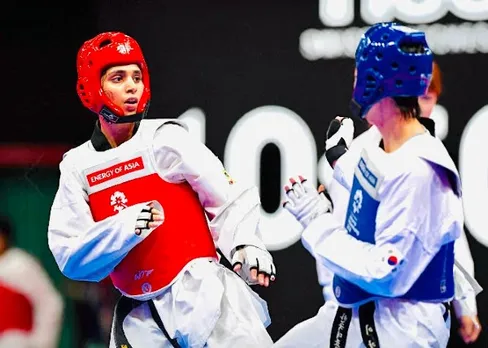 Kashish Malik in action in red gear
Picture Credit: Kashish Malik
Share your strategies before a game?
My opponents will get more scared if I reveal my strategies in advance.
How was your equation with the other players from India and abroad when you interacted with them?
When we are in the competition, we are opponents. Once we are off the podium the environment turns very friendly. It is my personal experience across the world; they are all very friendly and good souls.
What differences have you noticed playing domestic and international?
While playing in domestic circles, I witnessed very disorganized tours with no respect for punctuality and discipline. There are no strict rules and competitions do not start on time.  Athletes are not that experienced when competing in domestic. When playing internationally, the athletes come from across the world to compete and they are extra cautious.
What are your thoughts on industrial legends who competed with/against you? How can Indian players be inspired by them?
Their mindset and lifestyle is different and that inspires you. For every player, there is a different strategy. When experienced players compete with you, you need to first have the self-confidence and believe in your own strategies. I think Indian players are very hardworking and talented. We are quick learners and other countries can learn that quality from us.
You had a mixed year overall. How is the Taekwondo scene in India for women?  Why isn't it a popular sport among women in your state?
When I started in 2014, it lacked awareness. But today people at least know about this sport. As the rate of crimes against women rises in India, parents and families are being supportive of their daughters to learn this martial art form as a self defence tool. I would not blame the media for the lack of coverage in India as we need to make a revolution first, then things will change. Medals have the power to do that. One medal and the entire Nation knows you.
How have you modified your game for better results?
There are a lot of changes I have implemented in myself. After every tournament, I sit with my coach and team to scan my performance, check videos to analyse every move where I get to know my strengths and weaknesses. I also analyse my opponents by watching videos as they train and improvise.
What are you preparing for next?
I am preparing for 2020 Asian Championship which was to be held in Lebanon, Beirut in March but now has been postponed due to COVID 19. Also, I was preparing for the Asian Qualification Tournament for Olympics too has also been postponed.
How can Indian authorities improve facilities/infrastructure in order to sustain the culture of sports here?
India should start treating all kinds of sports equally. We should be given proper facilities. Athletes or coaches can guide the authority in making the right decision. They know what facilities we are missing out on and what infrastructural changes need to be implemented.
I would not blame the media for the lack of coverage in India as we need to make a revolution first, then things will change. Medals have the power to do that. One medal and the entire Nation knows you.
Taekwondo is considered a masculine sport. Do you think this norm is changing?  
Taekwondo is not a masculine sport, it is not old days WWE. It is more about mindset, strategies, plans, techniques, and tactics. It is all about flexibility, accuracy, speed and power. Making the quickest decision in a fraction of a second, planning strategies and thinking of what kick to use on the opponent, at the same time keeping the block – it is all about intelligence. Yes, the norm is changing, people now understand this sport better, this is not Judo or karate this martial art and is totally different.
Taekwondo is about flexibility, accuracy, speed and power.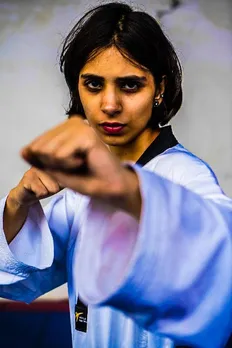 Mental health is very important for athletes: Kashish
Picture Credit: Kashish Malik
And lastly, Mental health is as important as physical health and one needs to look at both with regards to being fit.  What can athletes do on a regular basis to develop and maintain it?
Mental health is very important for athletes. They should do mediation to get peace, to get more focused and to expand their mind in a more relaxed manner. Athletes train themselves physically, but there are very few who work on both parts (mental and physical). Athletes should spend time with themselves to understand the connection between body and mind.
Picture Credit: Kashish Malik