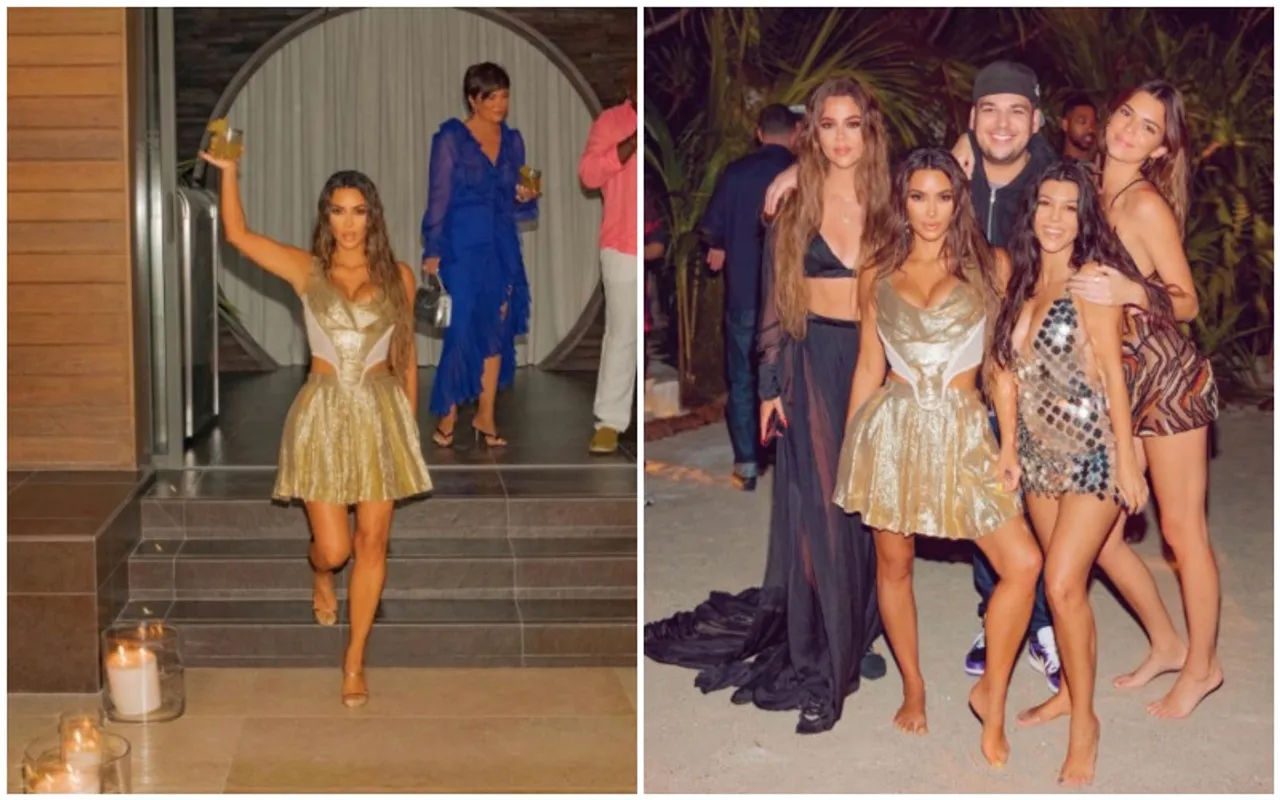 Social media influencer, businesswoman and socialite Kim Kardashian who recently turned 40, shared the pictures of her birthday celebration today, that are practically breaking the internet. Apparently, she "surprised" a bunch of her closest friends with a trip to a private island to "pretend things were normal just for a brief moment in time." Clad in a golden dress, and looking aptly like the million-dollar dream that she is, Kardashian gave the world a glimpse into her luxurious party at the beach, decked with lanterns and a three-tier birthday cake. It looks like a trademark 'filthy rich' Kardashian party that always manages to irk many and awe others. Except, this time around, it seems more people are irked than awed.
At a time when more than a million people across the world have succumbed to the merciless coronavirus and a million others scramble for proper healthcare, the general reaction is that Kim should have known better than to go full throttle on her birthday. Because right now, pictures of a private island celebration are almost equivalent to rubbing her wealth in people's faces. A sandy-toed, uber-rich crowd having the time of their lives swimming near whales while rest of the world grapples with its mounting coronavirus cases - isn't it all a bit too dystopian?
Have a look:
We danced, rode bikes, swam near whales, kayaked, watched a movie on the beach and so much more. I realize that for most people, this is something that is so far out of reach right now, so in moments like these, I am humbly reminded of how privileged my life is. #thisis40 pic.twitter.com/UYOcVBpytW

— Kim Kardashian West (@KimKardashian) October 27, 2020
Also Read: Priyanka Chopra's Self-Made Journey, From Small Town Girl To Global Icon
Kim Kardashian's Birthday Sparks Off A Debate
There was similar outrage in July this year when Kim Kardashian's step-sister Kylie Jenner bought her two-year-old daughter Stormi an exotic pony worth $200,000. Having a pony flown in from the Netherlands for the amusement of a toddler in the middle of a pandemic hadn't seemed like a tasteful idea to many.
The Kardashian-Jenner clan is often said to be representative of the wide class chasm that exists in the world. Louboutins and Pradas make up their everyday world and the rest of us online are all too content drawing vicarious pleasure from it all. While a lot of us love to virtually live the Kardashian life on some days, on other days, it's a reminder of the obscene class disparity worldwide that needs correction. And those who weren't on Kim K's guest list are doing just that with renewed vigour, by demanding reform in tax laws for the rich classes.
just want to thank Kim Kardashian for providing this excellent example for my talk tonight on why we need to tax the rich https://t.co/7d6O8YqOxs

— maura quint (@behindyourback) October 28, 2020
Also Read: Ten Times Women Proved They Were Heroes Despite All Gloom 2020 Brought Them
As I see it, Kardashian's 40th birthday is just one of the many instances of the rich exercising their whims, notwithstanding the pandemic. Do you think a desi crorepati won't purchase the latest iPhone 12, however hefty the price? Or that the rich, spoilt brat in your neighbourhood won't have a grand birthday? Tens of other middle-class people too have already begun hosting a string of their annual taash parties in lieu of Diwali. So, whom must the blame be pinned down on? Isn't it all just relative?
If there's money, it will be spent. People can swim near whales all they want. But there's a difference between doing and flaunting. Kardashian's bash, expectedly, falls in the latter category. It's not fulfilling a tangible purpose nor is it causing any visible damage, but it sure is giving off a sense of bad judgment and tone-deafness. Which is why people have, understandably so, jumped on her case to express their bitterness.
Also Read: Here's Why Detachment Is An Integral Part Of Motherhood
The Best Of The Meme-Fest
Kardashian's party pictures and almost naive statement, "After 2 weeks of multiple health screens and asking everyone to quarantine, I surprised my closest inner circle with a trip to a private island where we could pretend things were normal just for a brief moment in time," have sparked off a meme-fest as people poke satire at her.
We rounded up some of the best ones for you:
After 2 weeks of multiple health screens and asking everyone to quarantine, I surprised my closest inner circle with a trip to a private island where we could pretend things were normal just for a brief moment in time. pic.twitter.com/FRLaCSe11J

— MoMA The Museum of Modern Art (@MuseumModernArt) October 27, 2020
I love the idea that Kim Kardashian's closest friends quarantined for two weeks and THEN were surprised.

— Washington Post TikTok Guy At Sea 🏴‍☠️ (@davejorgenson) October 27, 2020
Kim Kardashian logging onto Twitter today pic.twitter.com/ux3nXpXp6w

— white woman w/ a yelp account (@blakeissweaty) October 28, 2020
Idc who goes where but to publicize it in this way while THOUSANDS of people struggle with COVID and making ends meet is disgraceful and disgusting not to mention out of touch. Vapid and self centered but nothing new. #KimKardashian https://t.co/zM1oYIiiWM

— Alexis Klumb (@alexisklumb) October 28, 2020
Happy birthday. I hope someone got you an alphabet book as a gift, so you can learn to read the room. ✨

— machine gun Kele (@kelechnekoff) October 27, 2020
Views expressed are the author's own.