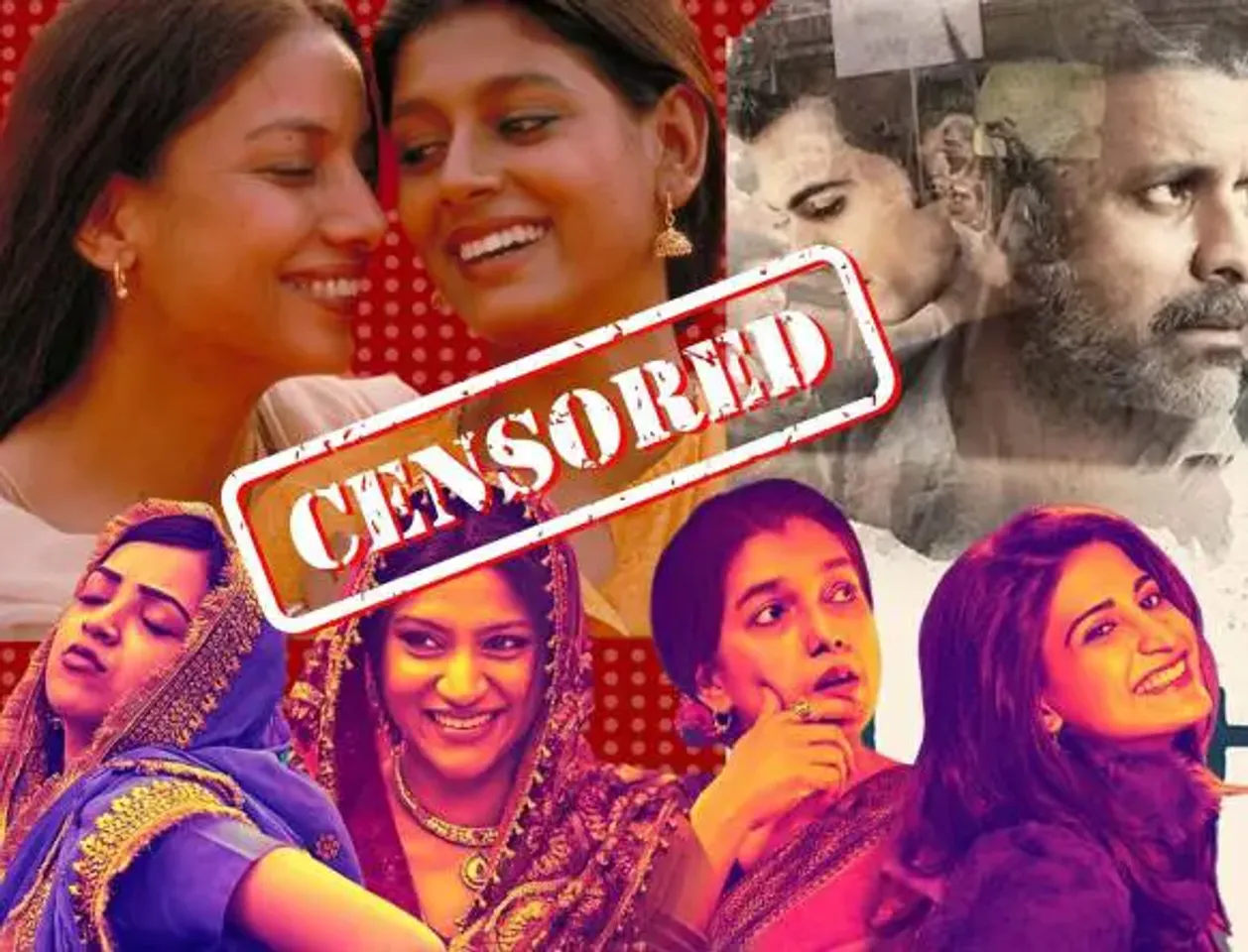 The media has had a very complex relationship with all things queer. In most situations, queer people have either been represented as caricatures for cheap laughs. However, time and again when a movie or two have tried to bring forth more sensitive discourse- they've been met by ruthless trims at the censor board office, banned or their directors and actors publicly ridiculed.This gaze of censorship is highly subjective and more about morality than rationality. Queerness is still seen as a 'western import', thus the 'morality laws' of censorship apply to it. Homosexuality is condemned on screen in the name of public morality. In television it meant non-airing of any content that even lean towards this before 9 pm, and for movies it meant a straight-A certification, regardless of whether any affection was shown. This is ironic to its heterosexual counterparts, that get away with these erotic scenes in most cases with a U/A certificate.
As Raqeeb, a Delhi based academic and photographer puts it, "It comes down to the adherence to patriarchy, the moment something does not adhere to the notions of patriarchy, it is deemed unfit for society. Queer bodies are not in sync with patriarchy, they aren't there with the shame and morality associated with patriarchy". A direct example of this would be Deepa Mehta's Fire which depicted a lesbian relationship. In the protests against it that ensued, several people believed 'lesbianism as collapsing of the institution of marriage, and harming reproduction of children'.
Also Read: Five Indian Movies With LGBQT Love Stories That Challenge Perceptions
The Screens and the Scrapping Off
One of the main reasons why this content is kept off screen is because sexuality is considered pervasive and for 'adults only'. However, sexuality and queer people at large are more than just sex. The same way movies are made with a mother, father and their kids, there can be a movie about two fathers and not one camera angle into the bedroom. The same way high school romances are shown as naive and innocent, these relationships can be presented queerly, without having an overtly sexual gaze. Hansal Mehta, the director of Aligarh was disappointed to receive an A certification for both the movie and the trailer. The trailer specifically has nothing explicit, and an A certificate narrows the audience that will even see the trailer to gauge interest for the movie. On most days, audiences and broadcasting agencies are more comfortable showing voyeuristic sexual assault of women than consenting homosexual relationships. "Why does India's mature democracy need a Censor Board? We need a certification board, but not a committee that takes away creative liberties from a filmmaker," said Mona Ambegaonkar, speaking at Advait-Pune International Queer Film .
Fire, when released in 1998 was met with violent protests that involved ransacking of theatres, burning of posters across the country including Pune, Mumbai, Delhi and Surat. The objections were centred around the portrayal of homosexuality and also the sexuality of women. The sexuality of women is a taboo subject, which is not even seen as being important. This was also seen in the outrage against 'Lipstick Under My Burkha' a story of four women that fulfil the desire they have. This discomfort also ensured that 'Ek Ladki Ko Dekha Toh Aisa Laga' adopted a much more subdued portrayal of any desire or affection. The movie, written by Ghazal Dhaliwal and released in 2019, presents female sexuality in more palatable forms albeit it is good break from otherwise hyper-sexualised portrayals on-screen.
Other notable cuts have been in Margarita with a Straw, where the protagonists kiss with her lover was asked to be trimmed before it's release in India. In 2003, India also banned 'Gulabi Aina' a movie on transgender people by Sridhar Rangayan. The 2016 play 'Fredy' by Bindhumadhav Khire was also cancelled for 'obscenity' and then allowed to run with restricted audiences and at a specific time. Love, Simon and Call Me Be By Your Name, which were both widely watched and celebrated movies with these themes were also never released in India despite high demands and receiving certification.
In this video, listen to the experiences of transwoman Trinetra Haldar on why pleasure and desires of queer people are reduced to a joke
TV Screens are not much Different
Indian TV also comes with its own set of overt restrictions. Broadcasting agencies have been notorious from bleeping words from 'gay', 'sex', to even 'beef' as seen in F.R.I.E.N.D.S broadcasts. Comedy Central, Star World and Colors Infinity, few of the channels that broadcast mainly western content do so only after several cuts mandated by the Broadcasting Authority. So even though these shows run 'Pride Specials' no homosexual kiss ever makes it to the prime time. Similarly, VH1 that streams ' non-Hindi' music, also cuts these acts from music videos, replacing them with other bits, like the sky or the floor.
All this put together to make a 'nanny state' of Indian content, where it is approved before due to morality and cultural sensitivity. This is also why streaming services or even third party sites are preferred. You get the movies and shows without the cuts and resultant gaps in the storyline. However, popular platforms like Netflix and Amazon have also come under scrutiny. According to Vice, Madhya Pradesh High Court recently received a PIL demanding censorship, due to 'sexual' and 'explicit' content.
Mainstream media doesn't want to offend its large audience which is mostly patriarchal and doesn't want to risk their business to be 'woke'. Censorship is a way to ensure that anything that goes against the notions of all pervasive patriarchy is deemed unfit.
Social Media - not as free as we'd like it to be
Instagram has been notorious for its crackdown on content about sexuality. It briefly banned the hashtags #gay, #lesbian, #bi. Raqeeb, runs the Instagram page @daintystrangerphotos, which is a beautiful curation of intimacy and desire. He recounts his rifts with Instagram's censorship guidelines. "When I started my page in 2018, I had no idea about social media censorship, because I never had to face it. But thereafter, I came face to face with censorship and how. In the first years, almost every month, one or two of my pictures were getting reported and removed, and I was almost on the verge of quitting the platform because, to begin with, it wasn't favourable for artists doing work in the genre such as mine. However, slowly it did get better before getting even worse. During this one period in November 2018, some 20-30 pictures of mine were removed within 2 weeks"
There is also the politics of colour, with the crackdown on queerness. He adds, " I feel when we talk about censorship in the Indian context, we need to understand that we are talking about coloured bodies. There is a bias between white and non-white bodies on Instagram. There are some accounts with pictures of white bodies which are deemed okay for Instagram, but when something similar pops up in respect to coloured bodies it is taken down immediately. So, the politics of colour has also made way into the way censorship works on social media."
Other platforms have also been common grounds for queer people to be delegitimised. Youtube's algorithms automatically demonetised queer content in 2019 after being rectified. Even Tik Tok, which now is one of the most honest places of queer expression, admitted to deleting queer content actively in the past few years.
For censorship across platforms to change, the gaze with which queer people are viewed must be questioned. The 'cultural sensitivity' often becomes 'moral policing' and leads to several identities just existing in the shadows.
Anureet Watta is an Intern at She The People TV