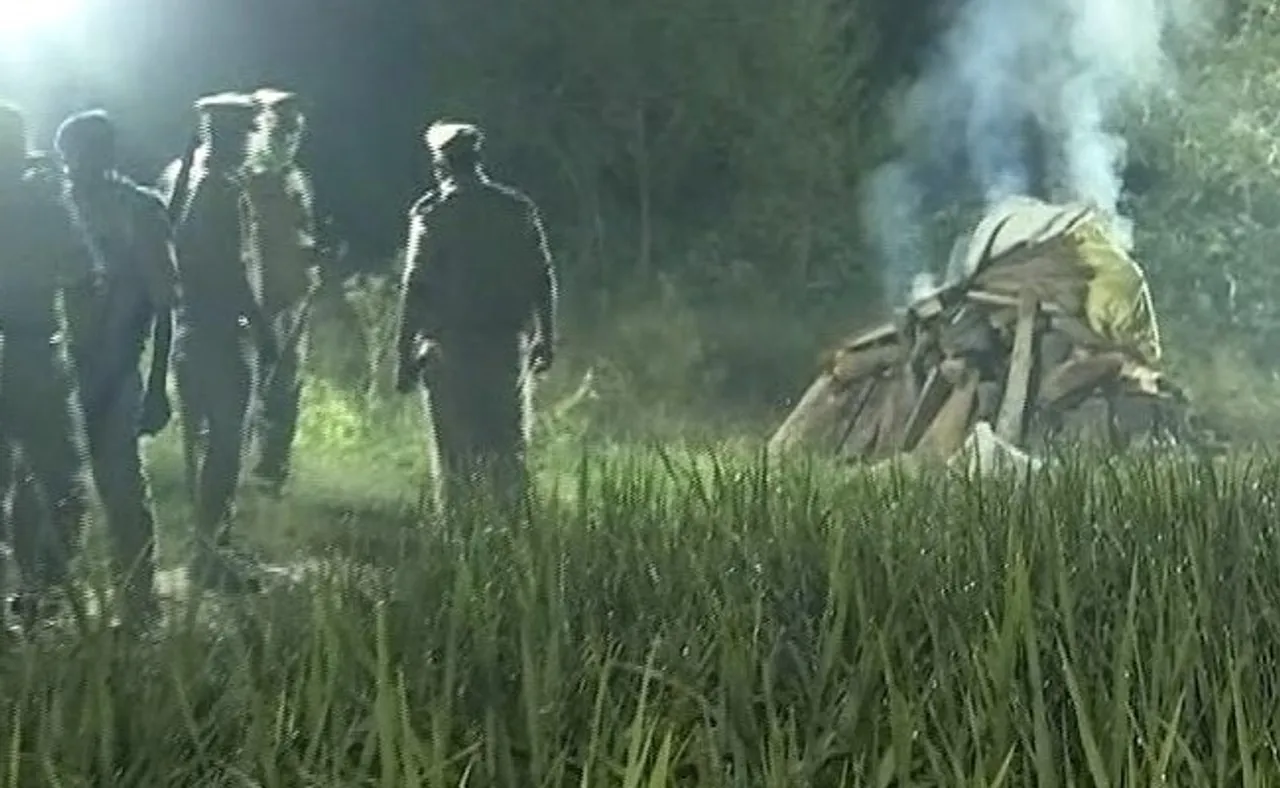 With every development, the Hathras gangrape case seems to be steering away from justice towards a warped game of power every day. In what can best be termed morally unprecedented, it is being reported that scores of people in Hathras have come out in support of the four upper-caste Thakur men accused of gang raping a 19-year-old Dalit girl who succumbed to her injuries on 29th September. Local communities, including women, have voiced solidarity with the accused rapists, demanding a thorough Central Bureau of Investigation (CBI)) investigation into the case. Some men from the Thakur community, meanwhile, have been captured on video issuing threats to those on the side of the Dalit family.
The women in Hathras, as depicted in a report anchored by journalist Shweta Singh of Aaj Tak, have questioned the Dalit family's stance on the case, asking why they are objecting to a narco test. In the video, one of women campaigning to support the rapists, can be seen saying that three of the accused are absolutely innocent, while another says as a woman she has never witnessed unseemly situations or felt unsafe in Hathras.
Also Read: How Journalist Tanushree Pandey's Reporting On Hathras Gang Rape Led To A Movement
These opinions must be scrutinised. Why are women of the upper caste communities defending the four accused Thakur? The villagers are saying the issue on September 14, which media reported to have been rape, was actually an instance of a physical altercation. Question to ask is : should this theory be given media space alongside the dying statement of the Dalit gang rape survivor who attested to being raped?
Are these protests by kin of the Thakur men moving the attention from bringing justice to the family of the dead girl?In the video clip, as put out by AajTak, some even went on to claim on camera that Dalits protesting against this incident were being fed money to protest. Must this rumour be allowed to even float on news channels without verification? Would this not hamper the route to justice?
Watch the video here: 
Also Read: Navika Kumar, You Disgraced Journalism by showing Rajput's Dead Body on Television
Shweta Singh's Reporting: Questionable Points
One thing that is especially objectionable about Singh's reporting in the video is the way she is totally foregoing the identities of the four accused men. Careful about the fact that she is surrounded by those doubting the rape narrative, Singh exaggeratedly brushes aside the accused's status as upper-caste men by framing her questions to the women as: "Ek beti ki jaan gayi hai. Jisne bhi jaan li ho... jisne bhi, uske saath kya hona chahiye?" (A daughter has died. Whomsoever has taken her life... whomsoever, what should be done with them?)
While this talk by Singh may seem like it doesn't imminently amount to much, especially as far as the official CBI probe is concerned, the question to ask is - could this be helping weave and propagate a parallel, subconscious conversation that casts doubt on the entire case itself? More specifically, it puts a big question mark on the caste-based angle of the case, almost immediately invalidating the testimonies of the Dalit family after their daughter died. Without questioning, highlighting the deep rooted caste linkage to this brutal gang rape case, are we veering away from the reasons behind the rape case?
A journalist's job is not to appease those standing nearby, is it? Should she not have been more objective in her line of questioning?
Also Read: Hathras girl was in touch with the key accused says news report
Further, by quoting some bystanders who say they would like justice for the victim but not at the cost of "falsely" vilifying other men, Singh says more than once, "It would be wrong to say that the villagers are standing for the rapists, instead of justice." The veracity of this statement is doubtful, since NDTV reported earlier, "The upper caste men of the village, who held meetings of the Rashtriya Savarna Parishad, have accused the woman and her family of falsely blaming the four men who were arrested after her statement." Some Thakur men have even been caught on video issuing threats to Bhim Army chief Chandrashekhar Azad who stood in support of the Dalit victim's family.
Sensationalist Headlines To Fuel Conspiracy Theories
The sensationalist headline on video that reads - "Who is spoiling the situation in UP?" - also indicates an implicit affirmation of the narrative being floated by authorities that caste issues are being highlighted to stoke unnecessary fires in the state to escalate tensions. The government has also claimed an "international plot" to defame CM Yogi Adityanath and fan the flames of caste, as per reports. Should the news channel not report with restraint at this time? Must it not keep its reporting adrift of hints towards conspiracy theories?
Also Read: Coverage of Rhea Chakraborty Signals New Low for Indian Media
A male bystander even goes on to say to Singh in the video that Dalit families are being sponsored at a rate of Rs 500 for protesting against the system. When asked how he knows, he goes on to say, "I saw it on a news channel." These careless remarks by people could cause serious damage to the way TV viewers are perceiving the Hathras case. What if this remark is blown out of proportion, like the embarrassing Shaheen Bagh fiasco about free biryani and money later fact-checked to be fake? Would it not create false doubts in the minds of spectators outside of Hathras? And what if more people begin standing in support of the rape accused before the investigation reaches an end? Who will be responsible for this moral trip-up - Aaj Tak, Shweta Singh, or the villagers of Hathras?
There is a lot of understandable rage surrounding the Hathras gangrape case. It has brought to light many issues that must be dealt with sensitively and tread on lightly, whatever the concluding evidence of the CBI may be. A heinous gender-based crime has taken place against someone from the Dalit community. It is a multi-layered situation, one that affects the socio-cultural-legal make-up of India and may hold potential consequences for all of us. This time, we simply cannot afford the TRP-race brand of journalism news channels ran during the Sushant Rajput case. We can't.
Views expressed are the author's own.