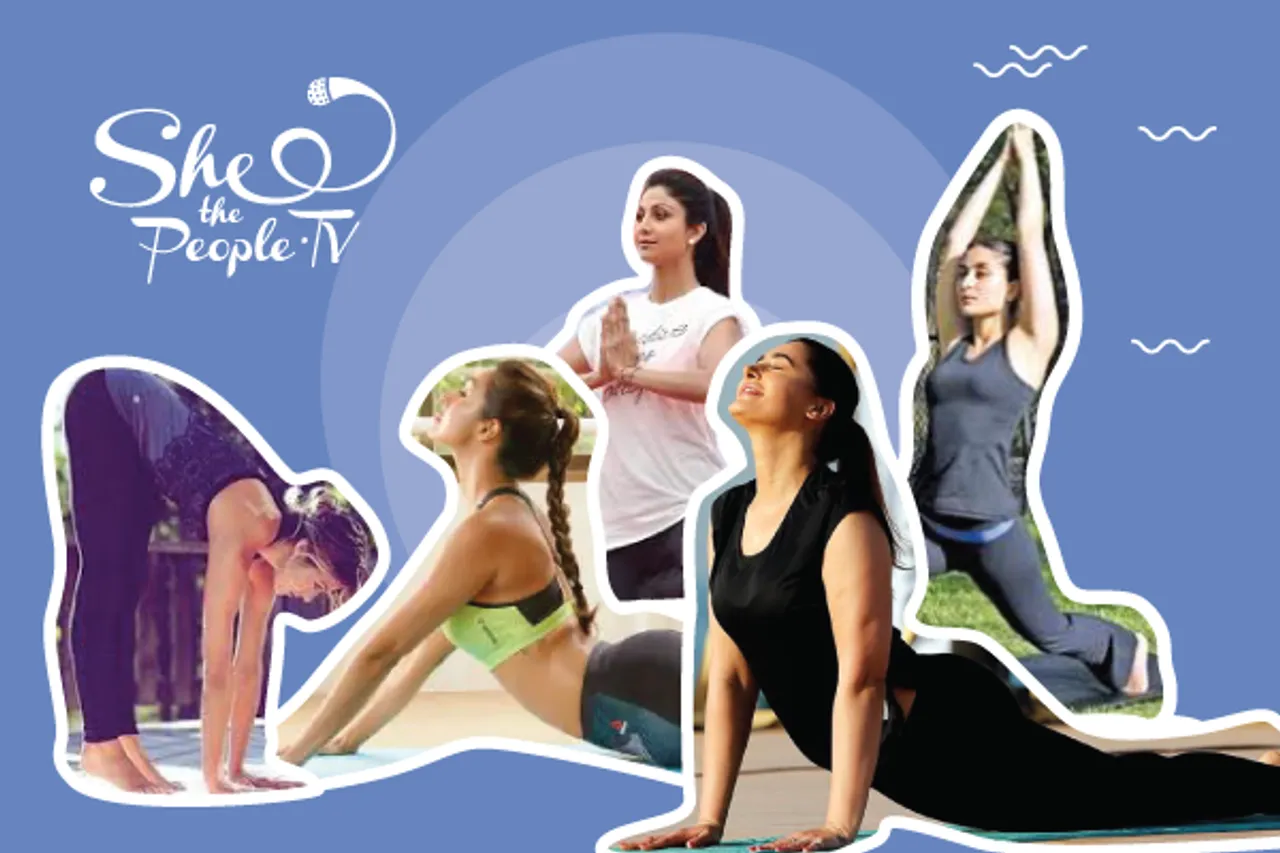 Us Indians have inherited the most essential mantra to fitness i.e the art of yoga. Now popular worldwide, yoga has always been taught as the way to harmonize and be at peace, all the while being physically fit too. An encompassing art that heals our mind as well body, yoga is a magic tool that when one uses, attains wholesome health. Famous celebrities these days have realized the importance of exercise in their day-to-day hustle. They have chosen to ditch gym and openly embraced yoga.
On this yoga day, SheThePeople.TV brings you five celebrities who swear by yoga.
Shilpa Shetty Kundra
Known for hit fims like Dhadkan and Baazigar Shilpa Shetty Kundra has proven her mettle in the film industry. However, with the release of her book The Great Indian Diet, she further established herself as a fitness icon. We have seen her teach yoga with Ramdev Baba and also post yoga tutorials on YouTube. A celebrity and fitness icon, Shilpa Shetty swears by yoga, and it shows.
Kareena Kapoor Khan
Kareena Kapoor Khan is one of the genuine followers and disciples of Yoga.  According to her, yoga is an effective tool to gain coordination among body, mind and health. She likes to devote one to two hours daily for yoga practices. Khan posts about her workout routine every now and then on Instagram and judging by what we see, Yoga forms a big part of her routine. Her smooth weight loss happened because of a concoction of yoga, cardio and strict diet.
https://www.instagram.com/p/BynLVGklt_O/?utm_source=ig_embed
Jennifer Aniston
Who doesn't love Rachael from the popular sit-com FRIENDS? As much as Jennifer is known for being an incredible actress, fans also marvel at her perinnealy toned physique.
YOGA PRACTICE WITH JENNIFER ANISTON
http://t.co/0iFrCINHA5 pic.twitter.com/s71LMSaCg9

— ESPIRITWORLD (@ESPIRITWORLD) August 25, 2015
"When I started doing yoga with Mandy, I noticed many things. My legs getting leaner. My arms getting stronger, and most importantly, I noticed an inner strength." - Jennifer testifies.
On her sessions with Aniston , her yoga teacher Mandy Ingber told Healthista, "She loves practicing yoga and how she feels when she does it. In the beginning her body changed and she felt strong and healthy. She's felt like her muscles are getting leaner and stronger. I know that she wants to be working with me right now – she just wrote to me and said she wants to do yoga with me so badly. I love her for that."
Malaika Arora
Malaika Arora is an icon when it comes to fitness and living a healthy lifestyle. Instagram pictures of her nailing the most complex yoga asanas give us major fitness goals.
Just two days ago, The Telegraph reported that Arora has now invested in a yoga start-up and has also opened a yoga studio in Mumbai. "We decided to do studios for women predominantly, and that's why it's called Diva Studios — so that you can come here and feel like a diva yourself," she explained.
Speaking about her fondness for yoga in the same interview, Arora said, "Some people turn to meditation, others to writing or singing. Everybody has a different outlet, for me I found that in yoga. It really helped me at a very precarious stage in my life and I'm grateful."
Everybody has a different outlet, for me I found that in yoga. It really helped me at a very precarious stage in my life and I'm grateful. - Malaika Arora
Nargis Fakhri
The Rockstar actress is known as a yoga freak and has been practicing it for quite some time now. She credits her fitness to this art.
"Yoga has been a big part of my life for over a decade now — it helps me stay centred, focused and positive throughout the day," said Fakhri in a statement.
She will soon be seen participating in 'Xyoga Dubai Festival'
"It is not just about flexibility and fitness but also about will-power, mental strength and finding common ground with others," she added. "As a devoted practitioner and student, I am really looking forward to learning from Deepika, who is one of the most innovative and inspirational yoga trainers. I'm also looking forward to immersing myself in the practice with yogis in Dubai." wrote gulfnews
Read Also : Unlike That Crazy Weight Lifting At The Gym, Here I Was Enjoying Yoga
Snigdha Gupta is an intern with SheThePeople.Tv