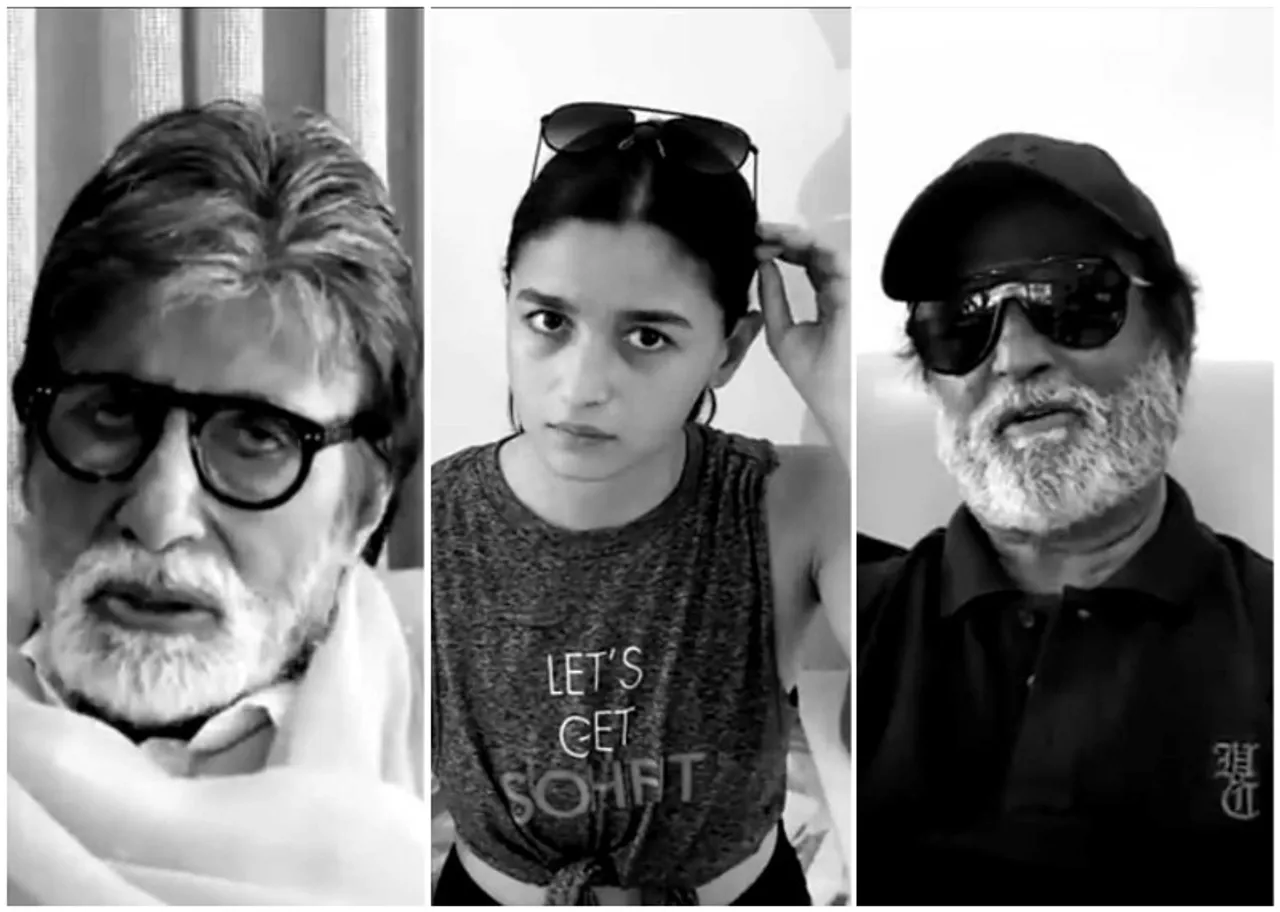 Who would have thought that the likes of Amitabh Bachchan, Rajinikanth, Mammootty, Mohanlal, Priyanka Chopra, Alia Bhatt, Daljit Dosanj  and Ranbir Kapoor would collaborate on a short film in 2020? And yet these cinema giants and many more worked from home to give us a short film Family, which underlines the importance of social distancing. With a very simple plot, but a smart execution and a timely message at its heart, Family is a short film catered at the masses of this country that revere their superstars and hang on to every word they say.
Family has a pan India feel to it since it features many regional bigwigs such as Chiranjeevi, Shiva Rajkumar, Prosenjit and Sonalee Kulkarni as well.
Let us be honest, you cannot watch Family with expectations of a dense plot or creativity. This is a linear story with the sole goal of packing in as much star power as possible. Amitabh "uncle" loses his sunglasses and Dosanj and Kapoor are tasked to find them. As they run around searching for the sunglasses, they interact with various supposed members of the household. When the sunglasses are finally tracked down Bachchan is asked why did he want them. To this Bachchan replies that he needed them because he didn't need them now, as one is not supposed to step outside the house and he may end up misplacing them. He didn't want to bother his family.
Presenting 'Family', a made-at-home short film featuring @SrBachchan, #Rajnikanth #RanbirKapoor @priyankachopra @aliaa08, #Chiranjeevi @Mohanlal, #Mammootty, @meSonalee @prosenjitbumba #ShivaRajkumar & @diljitdosanjh.
Supported by #SonyPicturesNetworksIndia & #KalyanJewellers. pic.twitter.com/menuDz808H

— sonytv (@SonyTV) April 6, 2020
Also Read: Ghar Ki Murgi: Who Takes Care Of The Caretaker, This Short Film Asks
Family has a pan India feel to it since it features many regional bigwigs such as Chiranjeevi, Shiva Rajkumar, Prosenjit and Sonalee Kulkarni as well. This will perhaps increase the reach of the short film, beyond the Hindi speaking belt. What is noteworthy is the execution. Each star has shot their portion of the film in their own homes and then this film has been stitched together. And yet we get the impression that all these people live under the same roof.
Now one may be nit-picking, but if only the short film featured more female superstars apart from Chopra, Bhatt and Kulkarni.
Please stay indoors
In the end, Bachchan informs the viewers that no actor stepped out of their house to make this short film. Every actor shot their bit inside their home. He then urges the viewers to not step out of their homes as well, because only then can we all stay away from the deadly coronavirus.
Also Read: Social Distancing: A Perfect Time To Rethink Lifestyle Choices
Bachchan further says that while the entire film fraternity is like a family, there is another large family which supports them and works with them; the workers and daily wage earners, who are in a very difficult situation due to the lockdown. The industry has raised money along with sponsors and television channels and this fund will be distributed amidst film industry workers and daily-wage earners across the country.
If there was one time when it was imperative to listen to our film stars, then it is this. Please stay indoors and try and help out those in need. After all, we are one big family.
Image Credit: YouTube screenshot