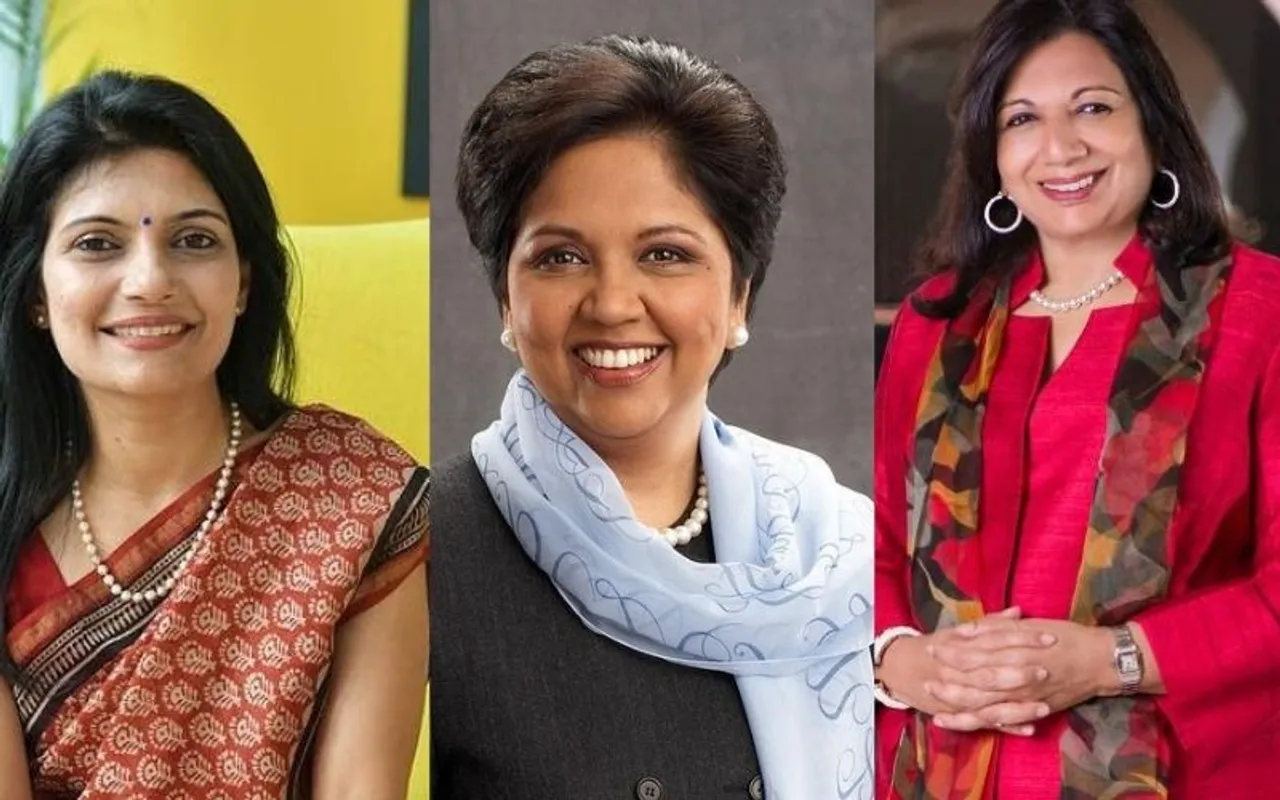 The year 2o20 showed us how women lead with empathy, leadership and a deep understanding of their people. In politics, many women led the COVID battle around the world. Equally, in corporations, we saw many female leaders take their organisations to the next level by engaging with employees when the business environment was most challenging. We bring you inspiring leaders who are a must-follow for 2021.
Divya Gokulnath- Co-Founder of BYJU's
As a teacher at heart, Divya Gokulnath focuses on children and education via her posts. She inspires her followers with her moving thoughts and musings. For women who wish to build a career in science and education, Gokulnath is a true role model. At the age of 21 when most people are just out of college figuring out their career path, Gokulnath had started shaping careers of about 100 students who were just four years younger to her. By now Gokulnath has imparted her knowledge and guidance to millions of youth. In 2020, her learning application BYJU's was reportedly downloaded by about 64 million people. Divya Gokulnath also had her name listed in Femina Power List in 2020.
Sindhu Gangadharan-MD and Senior Vice President at SAP Labs India
The first female to lead the German tech-giant, Sindhu Gangadharan has a lot to offer in terms of inspiration, advice, musings and well-wishes. On her LinkedIn page, she posts about her company's social and business initiatives and along with some wholesome content for her followers to feel motivated. In the past 20 years as professional, Gangadharan has not only broke one glass ceiling after another but also has contributed to making other young women rise higher. In partnership with UNICEF, she and her company SAP Labs aim to help young professionals get industry level skill training and aids for education.
Ritu Anand-Chief Leadership & Diversity Officer at TCS
Ritu Anand makes sure to keep her followers motivated and always pushes them to aim higher. She often talks about diversity and implicit discrimination that hinders that. She once wrote, " I believe as leaders we must invest personal capital and actively role model the desired behaviours to build a more open and accepting culture. This must be done with courage, empathy and an open mindset."Anand believes that leaders must be close enough to relate to others but far enough to inspire them, this is precisely the kind of leader she has been so far. Apart from leading important conversations on diversity and inclusion as professional, she has also encouraged young women to take up leadership roles.
Rekha M Menon- Chairperson and Senior MD at Accenture India, Vice Chairperson Nasscom
Menon shares posts on technology, innovation and everything about inclusion in workplaces. She also posts a lot of assistive technologies for persons with disability to reduce the inaccessibility faced by such persons in the workforces. She also imparts her knowledge of the technological field to help others enhance their business goals. She has made to Most Powerful Women In Business List in Fortune magazine and Business Today. She was also featured in the list of top 10 LGBT Ally Executives in business. This speaks volumes of her push for making the tech world truly inclusive.
Anamika Sirohi-Vice President Marketing at Amway India
Sirohi via her posts sheds light on mental health, health and wellness and keeps highlighting the issues of the current times. He recently posted a picture of a toymaker and shared his story with her followers. She also shares creative contents such as films, craft items and short videos made by other people that intrigues her. Her powerful skill of public speaking has made her one of the greatest influencers. Her first-hand knowledge of business and marketing has enabled her to make speeches at many conferences. She is an MBA from India's renowned Faculty of Management Studies, University of Delhi. In the last 20 years, she has led giant organisations such as Hindware and Nestle India.
Dr Sangeeta Reddy-Joint MD at Apollo Hospitals Group
From healthcare, organisational development, eco-innovations to motivational speeches, Dr Sangeeta Reddy shares all things important on her page. Her posts on healthcare during the pandemic have been data-driven, technologically informed and sensitive to different social circles. She was also the President of Federation of India  Chambers of Commerce and Industry( FICCI). In 2019, she became the recipient of the Best Female Healthcare Leader Award given by the Indian Medical Association (IMA). Other than she has been presented with many prestigious awards. She was also featured in the LinkedIn 'Top Voices 2019 India List'
Kiran Mazumdar Shaw-Executive Chairperson at Biocon
Self made and driven, Kiran Mazumdar Shaw is a must-follow for more than her business acumen. Being the chairperson of the biopharmaceutical Biocon, Kiran Mazumdar Shaw not just built a multinational born in India, she is also one of the country's most public and astute citizens who regularly gives feedback to government and industry. During COVID, she talked about important issues, from vaccine development to citizen movements to curtail spread. Apart from sharing her knowledge on business strategies, innovation and healthcare, she also makes sure to give visibility to upcoming female entrepreneurs of India. Her lengthy list of achievements makes it difficult to point out the best ones of it. She is a woman who has received not one but two of the highest honours any civilian in India can get. She was awarded a Padma Shri award in 1989 and a Padma Bhushan in 2005. In 2014, she won the Othmer Gold Medal and she also became the first woman to get the United States National Academy of Engineering Award in 2019. Read her best entrepreneurship lessons here.
Indra Nooyi- Former Chairperson & CEO of Pepsico
From book recommendations to worldwide occurrences, Indra Nooyi's LinkedIn is filled with inspiration. Being one of the most successful women in leadership roles, she makes sure to highlight how women are faring in the industry. She also makes space for several women whom she finds inspiring. She also keeps sharing her favourite motivational quotes by other writers from time to time. Last year, she was awarded the Outstanding Woman in Business Award and that follows by her numerous honorary doctorates and many renowned recognitions all over the world. She is also a Padma Bhushan recipient and has been named the 'Best CEO In The World'.
Leena Nair- Chief HR Officer at Unilever
In one of her posts, Leena Nair hit the crux of gender equality at workplaces and about how dads should be given parental leaves just like moms get. She regularly keeps sharing her newsletter names 'Learning with Leena' in which she imparts the knowledge she has acquired through the years with advice on leadership. She also gets invited to many global conferences which she posts on her timeline, She is the first and the youngest female ever to become the CHRO of Unilever. The Queen of England, Queen Elizabeth II herself recognised Nair as one of the most accomplished Indian Business Leaders in the United Kingdom.
Smriti Handa-Regional HR Director at Reckitt Benckiser
Smriti Handa, the South Asia Human Resource Director at Reckitt Benckiser, has her name in LinkedIn Top Voices 2019-2020 for all the right reasons. As a hiring professional, she posts about inclusion and diversity laced with her own experiences. She also motivates her followers to take part in creating equal opportunities for everyone "without bias, without counting the odds". One of LinkedIn's Top Voices for 2019-20, she has set a precedent for HR executives in India on all things management and leadership. Before taking her role at RB, she has been the head HR at Phillips health systems for entire South East Asia and Airtel India.