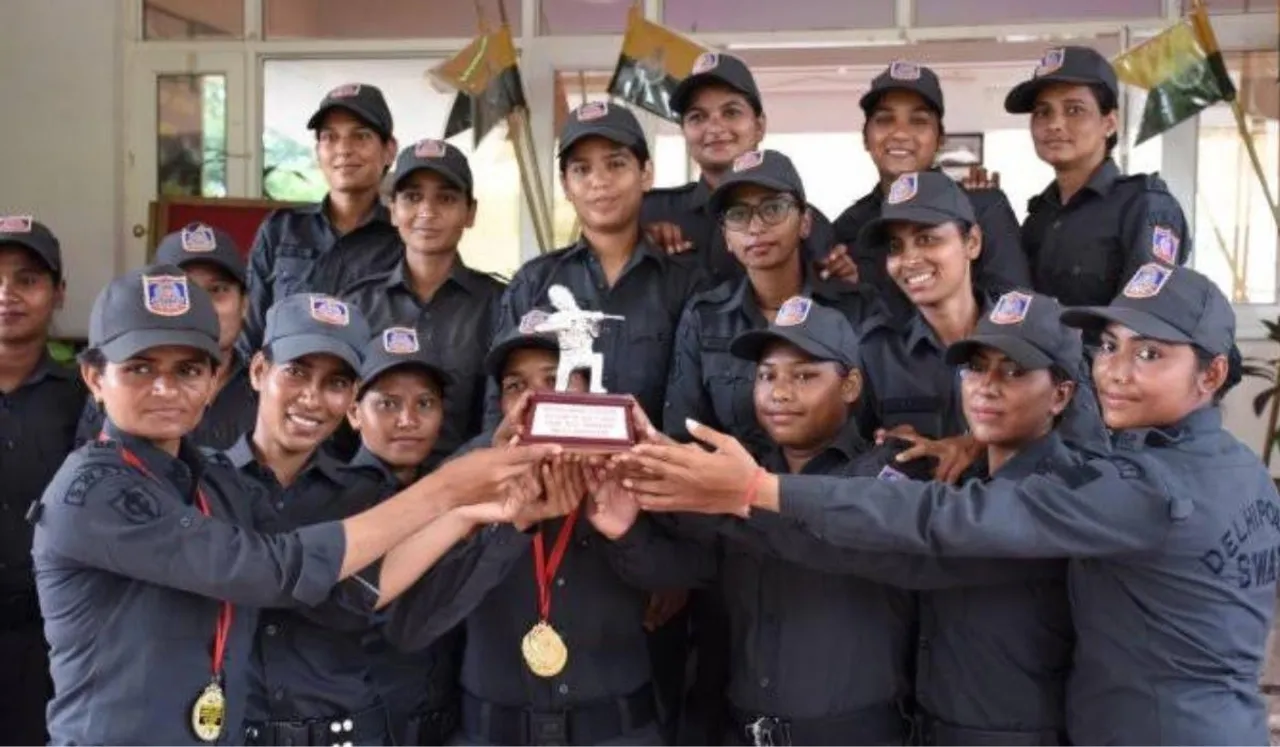 As Delhi gears for the approaching G20 Summit on September 9-10, there are nineteen women commandos who are parallelly gearing up for one of the biggest moments of their lives.
Now known as 'Markswomen', these women SWAT (Special Weapons and Tactics) commandos and officers from Delhi Police have been given training by the Delhi Police Special Cell over a period of four weeks. The first batch of nineteen women, who have been imparted special training in shooting, will now be instated as frontline shooters at the upcoming G20 summit. The commands are trained by the Indo-Tibetan Border Police (ITBP) team.
Markswomen Commandos Sharpshooters At G20 Summit
Special Commissioner of Police for Special Cell HGS Dhaliwal said that this "first batch of trained women will act as frontline sharpshooter commandos of the force. In view of the upcoming G20 summit, we are committed to providing the utmost security to the visiting delegates."
The Special Cell tweeted photos from the ceremony celebrating the success of the first batch's training. The Commissioner further added that keeping G20 in mind, the SWAT commandos were imparted with a specialised training schedule as well. 
The four-week course was specially executed under the guidance of the training team of the ITBP Force, RTC, Karera and Madhya Pradesh.
"In this course, 19 women commandos of SWAT and the Delhi Police were trained in the basic principles of firing and groomed as markswomen. Constable Kiran stood first by securing 95 per cent marks, constable Vaishali secured second position with 77.5 pc marks and constable Kavita stood third with 75 per cent marks," the officer said.
The officer proudly shared that the best female SWAT commando can hit a target 4 cm from a distance of 100 yards.
"Delhi Police will provide utmost security to the visiting delegates. So we are giving training to our women commandos." 
The G20 Summit in the national capital of India is all set to take place on September 9 and 10, 2023. The Special Cells Commissioner reiterated that to ensure the security is up to date, and specialised in every way possible, having women commandos on the force is a proud choice they have made, a moment the country should be proud of. 
Earlier this week, PK Mishra, Principal Secretary to India's PM, chaired the Coordination Committee on India's G20 Presidency's sixth meeting. He called on all stakeholders and agencies to work collectively in making the G20 Presidency a success at all levels.
Netizens called this move a proud moment for all women officers who choose to serve the country. It indeed serves as an inspiration for not just aspiring young girls who aim to join the forces but also for the people of India who are working towards creating a more equal, and just environment across sectors.
<blockquote class="twitter-tweet"><p lang="en" dir="ltr">First Batch of 19 Women (SWAT) Commandos of Delhi Police trained as "MARKSWOMEN" by a trained ITBP team.<br><br>Will act as frontline accurate sharpshooter commandos of Delhi Police.<br><br>Best "MARKSWOMEN" able to hit a target of 4cms from a distance of 100 yards.<a href="https://twitter.com/LtGovDelhi?ref_src=twsrc%5Etfw">@LtGovDelhi</a><a href="https://twitter.com/DelhiPolice?ref_src=twsrc%5Etfw">@Delhipolice</a> <a href="https://t.co/3Koi5xqGwk">pic.twitter.com/3Koi5xqGwk</a></p>&mdash; Special Cell, Delhi Police (@CellDelhi) <a href="https://twitter.com/CellDelhi/status/1681205379924103169?ref_src=twsrc%5Etfw">July 18, 2023</a></blockquote> <script async src="https://platform.twitter.com/widgets.js" charset="utf-8"></script>
---
Suggested reading: Labour 20 Summit: Time To Prioritise Women's Future In Workforce