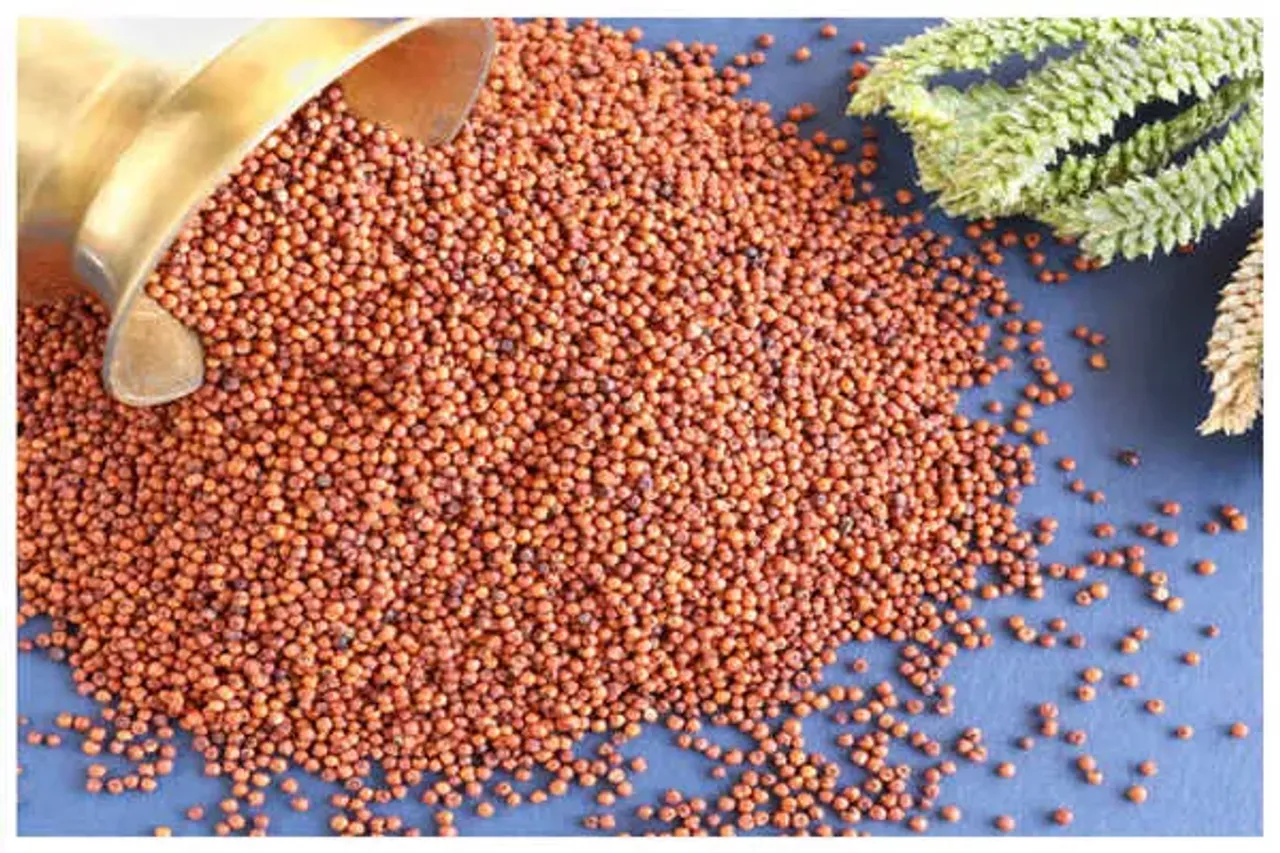 In modern food, Ragi is one of the cereals which has made a big comeback. Not only is it a wonder cereal, it has protein, anti-aging properties, roughage, and calcium. It's been eaten in many of India's states for centuries. In some parts of north India, it's called mandua, in Andhra Pradesh it's called Taidalu, it's called Mandia in Orissa and neighbouring regions and Kodra in Himachal Pradesh. In South India, making ragi dosa, vermicilli or idiyappam is very popular. It's made a comeback as the millet movement became widespread and Indian once again started exploring cereals other than wheat and rice.
Ragi is a very rich source of minerals than other cereals. It is rich in Calcium, Phosphorus, Potassium and Iron. It is a healthier option for people who might be at risk of osteoporosis or low haemoglobin levels and it also controls blood glucose levels. It has a high amount of fibre which helps in weight loss. Ragi is also good for hair and skin due to its richness in protein and vitamin E respectively.
Now that you know Ragi has various benefits you must include it in your diet. Dosa is one popular way to use the cereal even if you are unfamiliar with it. 
Quick ragi dosa with yogurt: The first way is an instant way to make ragi dosa in just a few minutes. Just mix Ragi flour with curd and water, you can also use buttermilk. Just gentle whisk this mixture and let it sit for five minutes. The recipe is similar to oats dosa. You can enjoy it with your favourite south Indian chutney or any dip of your choice. A pro-tip is to keep the tawa hot and wipe it with water and not put oil. That way the dosa will not stick. You can put some ghee once it cooks.

Grain route to the dosa: The second way to make ragi dosa is to soak the whole grain Ragi and then blend it. This requires putting it aside for a while for fermenting. For this the recipe is:
1 cup urad dal
2 cups whole ragi
1 teaspoon salt
2.5 cups of water
Soaking urad dal and ragi millets separately in water (the water should be well above the grains) for at least three to four hours. Then you add 1.5 cups to the urad dal to grind and another 1 cup to millet to grind. You need a thick flowing liquid - not too thick but not too runny. When both are ground separately, you then mix the two and add some salt and leave it to rise. Depending on the temperature it will take 6 to 10 hours to rise. It will start frothing out from the utensil or would have risen significantly indicating that the batter is ready. Now you can use this to make your dosas. Another alternate way of making the dosa from scratch is below.
The third way, and this is very popular, is to just mix some Ragi in your normal dosa batter. That ensure the crispness of the ragi dosa as the rice batter keeps it firm and also add flavour.
---
Suggested Reading : Siddharth's Apology To Saina Nehwal: Accountability Is Best Without Ifs And Buts
---
The recipe you can use for making your ragi dosa is here:
Servings For 3-4 People
Ingredients :
Rice - 1/2 Cup ( any rice )
Urad Dal -  1/2 cup
Salt to taste
Ragi flour - 4-5 tsp / 1 cup / 100 grams
Butter / cooking oil for drizzling - 2 tsp
Fenugreek seeds (Methi seeds) -1/4  tsp - optional
Recipe :
Step 1: Take rice and dal and soak them for a while, then mix them and make a batter.
Step 2: Allow it to ferment.
Step 3: Stir in 4 teaspoons ragi flour and 1 teaspoon salt.
Step 4: Add water and stir to achieve the ideal pouring consistency. For crispy dosas, make the consistency a little thicker.
Step 5 : Grease and heat a pan and then spread a thin layer of ragi dosa batter on it like you spread for your normal dosas.
Step 6 : Drizzle some oil, and turn the dosa once it starts leaving the pan on its own. Then flip it and cook till the dosa changes its colour to slightly golden.
Your ragi dosa is ready to eat . Enjoy it with chutney or sambar. You can enjoy the ragi dosa with podi (spicy lentil powder) also.