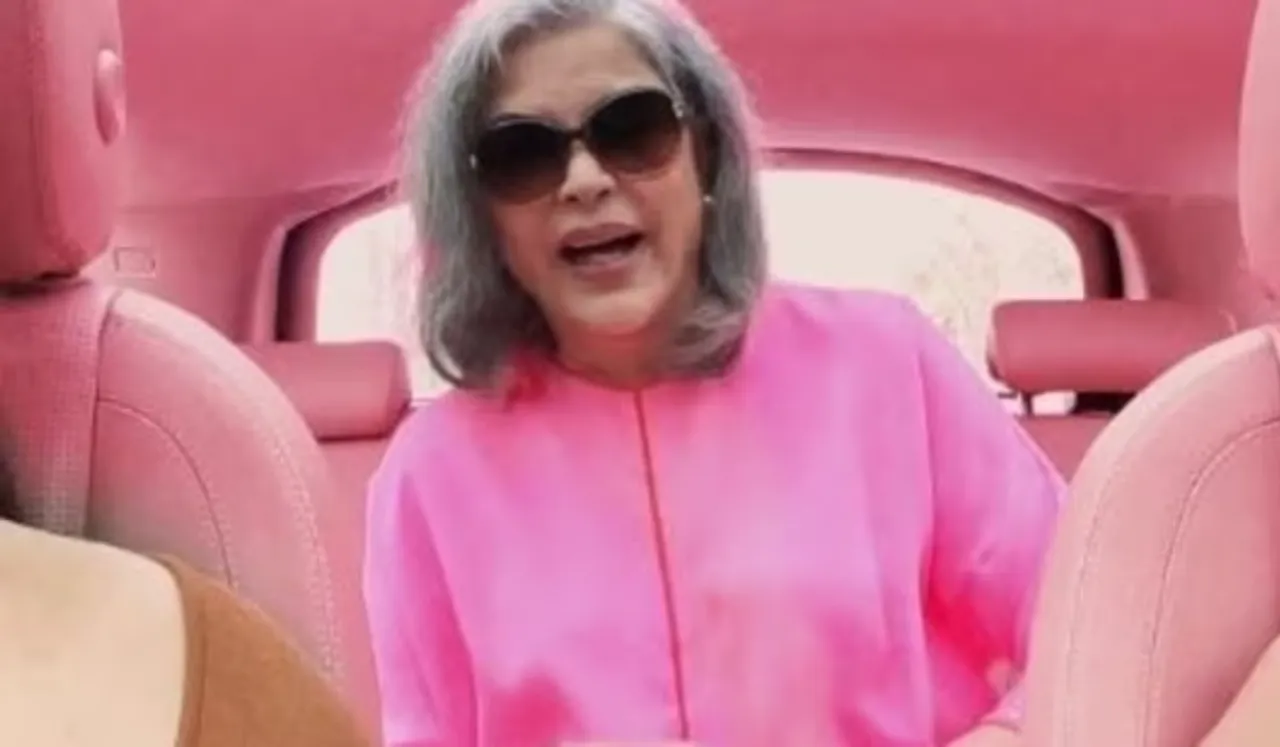 Zeenat Aman recently discussed the importance of women being financially self-sufficient during her conversation with Kusha Kapila on the chat show Swipe Ride. She asserted that it is essential for every woman to have the capability to support herself financially, as it enables them to make informed and independent decisions in their lives.
Aman emphasised that every woman should have the confidence and capability to financially support herself. This empowerment enables women to exercise autonomy over their lives and shape their own destinies. 
Zeenat Aman On Women's Financial Independence
"Every woman should be confident and capable of financially supporting themselves. This allows them to make choices for themselves and control their own future," said Aman.
She explained with access to financial resources and opportunities, women can surmount challenges, follow their passions, and make decisions in alignment with their aspirations. Financial independence extends beyond mere wealth; it symbolises the liberty to lead life according to one's terms, devoid of dependence on others. It serves as a means to attain equity, exercise autonomy in decision-making, and progress towards becoming the best versions of themselves.
Ever since actor Zeenat Aman made her entry into social media, she has been winning hearts for keeping it real and raw! The Hare Rama Hare Krishna actor made her debut in the Bollywood industry at the age of 19 years. Her Instagram handle, which she started in February 2023, has been nothing short of an inspiration!
Her Instagram page is a visual treat for all generations as they get a glimpse of Indian cinema in the 70s and 80s. Her posts out as unique at a time when social media is often filled with trends, reals, filters, etc.
Here are five times Zeenat Aman got very real on her social media handle.
Zeenat Aman on Parenthood
On Monday, Zeenat Aman shared an old picture of herself with her two sons and spoke about raising them as a single mother and about unconditional love and acceptance. The photo shows Zeenat Aman holding her two sons, Azaan and Zahaan, in an embrace. The veteran actor wrote, "There's no guidebook in the world that can really prepare you for parenthood. It's exhilarating, overwhelming, joyous, and yes, challenging. Once my children were born, they became my sole priority. And as a single mother of two boys, I felt doubly responsible for my babies. More than anything, I wanted to protect them and shape them into kind and loving men."
She shared how her approach to motherhood always rested on the bedrock of unconditional love. "I believe this is what each one of us who chooses to become a parent owes our children." She expressed how it angers and saddens her when parents reject their children based on their sexual orientation, choice of partner, or desired profession. "We must accept our children for the individuals they are and support them to meet life as they choose to."
She further added, "My boys are strapping adults in their thirties now, and it feels as though their childhood zipped by before I could catch my breath. So, here are some optional pearls of wisdom for any new parents. Enjoy every moment that you can with your babies, and don't beat yourself up over the small things. A broken plate here or a teacher's note there hardly signals the end of the world.
"We don't owe our children perfection; we owe them love, support, and guidance."
On Dog Adoption
Aman is one of the actors who has promoted adopting rescued pets. She wrote about how her sons initially wanted to foster Lily, their pet dog, but later couldn't bear to part with her, so they adopted her. "I know there are people in the world who prefer to buy pedigrees, but I am not one of them. Our indie dogs are brilliantly resilient, good-looking, and smart. It makes so much more sense to me to adopt a dog from a shelter or the streets than to buy one."
On flaunting silver strands
Zeenat Aman is one of the few actors in Bollywood who flaunts her silver strands with pride. The actor took to her social media handle to reveal how women are told that their social worth lies in their physical beauty and youth, especially in the entertainment industry. "I was initially reluctant to stop dyeing my hair and was strongly advised against it. Some well-wishers even said it would negatively impact my work opportunities. It was only once I contemplated my own hesitations that I realised I really don't care to buttress our society's idolization of youth. Being young is beautiful, but so is being old." Aman expressed that it thrills her to see more women challenging the status quo.
On Sisterhood
Expressing gratitude to the older women in her life, Aman wrote about how she missed the absence of the women who have anchored her. She mentioned her mother, friends Kadija, whose inner strength inspired her, Sartaj, who always made her laugh and stood beside her during tough times, Kavi, who cradled their friendship even when she was neglectful, and her stepmother Shamim, who was devoted to her sons. "It's not something I thought about when I was young, but now that I myself am silver-haired, I feel their absence. It's a puzzling phenomenon, simply because older women mould, protect, and nurture us in so many ways worthy of celebration. There is just no substitute for the wisdom of experience and years."
On Boundaries
Aman shared how she was surprised to be spotted by fans despite being incognito given her sunglasses and mask. However, she had to decline their request to take photos because she was "just about recovering from the flu and had endured a tedious day of bureaucracy. Neither of which left me in the mood to socialise or pose. I was sorry to disappoint these lovely fans, but there are boundaries that I find important to draw for myself. I am happy that they respected my response, as it's not always the case."
---
Suggested Reading: Silver Wisdom: We Can't Stop Appreciating Zeenat Aman's Unfiltered Instagram Avatar
---