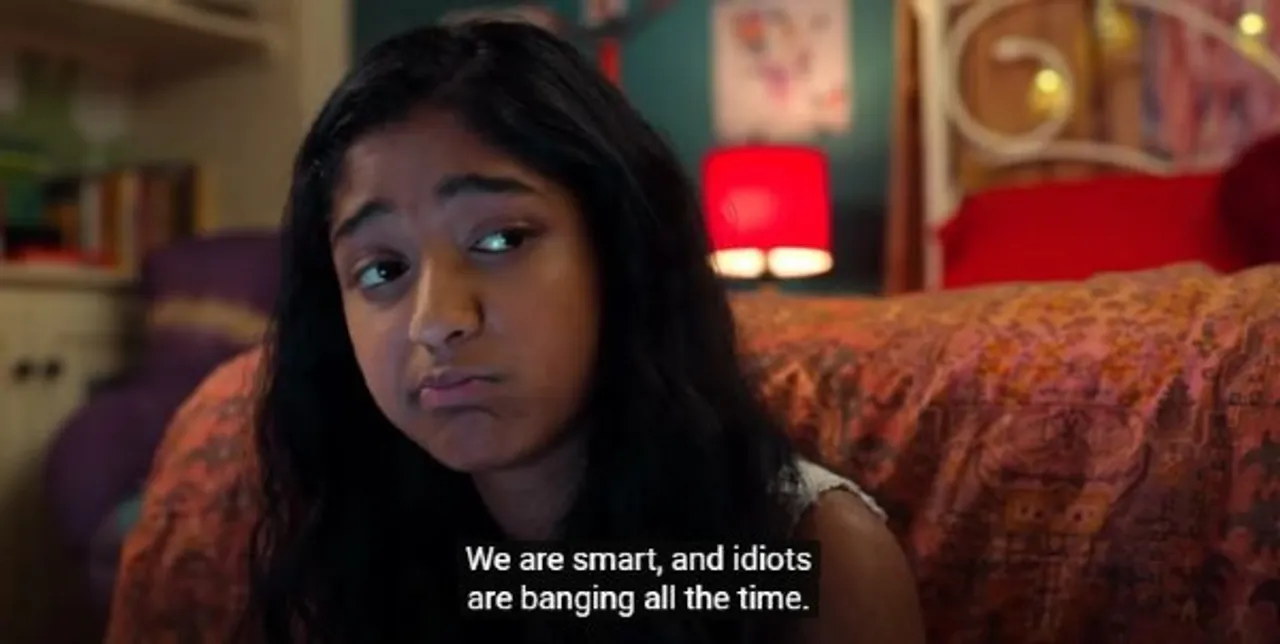 In bagging the role of Devi Vishwakumar, a Hindu-Indian high schooler in California, newcomer Maitreyi Ramakrishnan beat almost 15,000 actors during the audition. Devi is the lead character in Mindy Kaling's debut Netflix series Never Have I Ever. A new-age teen drama, talking about school-life baggage, coping with academic rivalry and unresolved trauma, it ticks all the boxes to make it to your to-be binged list. The 18-year-old Ramakrishnan stands out as Devi, a role she never expected to act in. Here is all you want to know about Devi aka Maitreyi:
How Ramakrishnan was discovered by Mindy Kaling?
Ramakrishnan's acting experience was limited to high school theatre where she played Velma Kelly in Chicago. At 15, she performed in a school production of Footloose. Born and raised in Mississauga, Ontario, this Canadian teen went to high school there, and today, if you ask her about her acting stint she would openly say that she followed her best friend, Shaharah Gaznabbi into the audition room.
Initially, Ramakrishnan, who is of Tamil ethnicity, just wanted to hang out with her best friend and together they ventured into a casting search, last April. She jumped in to go for the audition Mindy Kaling was holding for a South Asian teen actress to play the lead in a new Netflix series. Following two auditions in LA, Ramakrishnan stood out among 15,000 participants and became the face of Never Have I Ever, and the rest is history. She now considers Mindy a mentor and refers to her as her "fairy godmother" on social media.
"There are elements of similarity ," the actor told  Teen Vogue. "But I'm a couple years older, so I'm not as naive, but I can still look back and remember what it was like to be fifteen. It's like a sweet spot," said Ramakrishnan, whose parents who moved to Canada to escape the war in Sri Lanka.
"You can still be your own person by accepting your culture and understanding it rather than being ashamed of it."
Playing Devi and the authenticity of it
Ramakrishnan says her character, a sophomore high schooler, is not perfect. She makes mistakes and is excited to become a part of this story that finally puts a first-generation Indian American teen (Devi) at the forefront.
READ: Golshifteh Farahani: Who Is This Iranian Born Extraction Actor?
"I brought my own experiences into this and staying true to that helped create a really authentic, fleshed-out character," she said. "I just didn't grow up really seeing anybody that looked like me who wasn't the butt-end of the joke or the sidekick. Like a lot of people from underrepresented communities, I started to see myself instead in the characters that are portrayed, who are usually just white and straight."
"That becomes dangerous because when you're not seeing yourself, you start living your own life in the shadows."
Having strong ties with her culture and heritage, in an interview with Now Magazine, she said that her ethnicity and nationality – Tamil-Canadian – was correct in the Netflix announcement. "My identity isn't Sri Lankan," she says. "That's not my country. My country is Canada. But my culture is definitely Tamil."
Talking About Mental Health
As a teenager living up to everyone's expectations could be harder. In the series too, we see Devi seeking counselling from her therapist. Talking about projecting such serious issues on screen and how the stigma surrounding mental health in any society is roughing up on her too, Ramakrishnan expressed, "In this day and age, I think the South Asian community is becoming more accepting of mental health. Everyone is very open to telling people, 'Hey, I think you should go talk to somebody.'"
"Everybody is ok if somebody goes out to get help for their mental health, but they still feel shame for their own. It's this mentality of, 'Oh if you need it, you can get help, but I'm totally fine. I'm ok. I don't need anybody. I hope it starts a conversation honestly'," she claimed.
She's a very talented artist
The actress often showcases her talent as an artist on her Instagram profile. She's also quite handy with a paintbrush.
According to Tricity News, Ramakrishnan was accepted to York University's theatre program, but she focused to finish her education first.
Feature Image credit: Trailer screenshot from Never Have I Ever