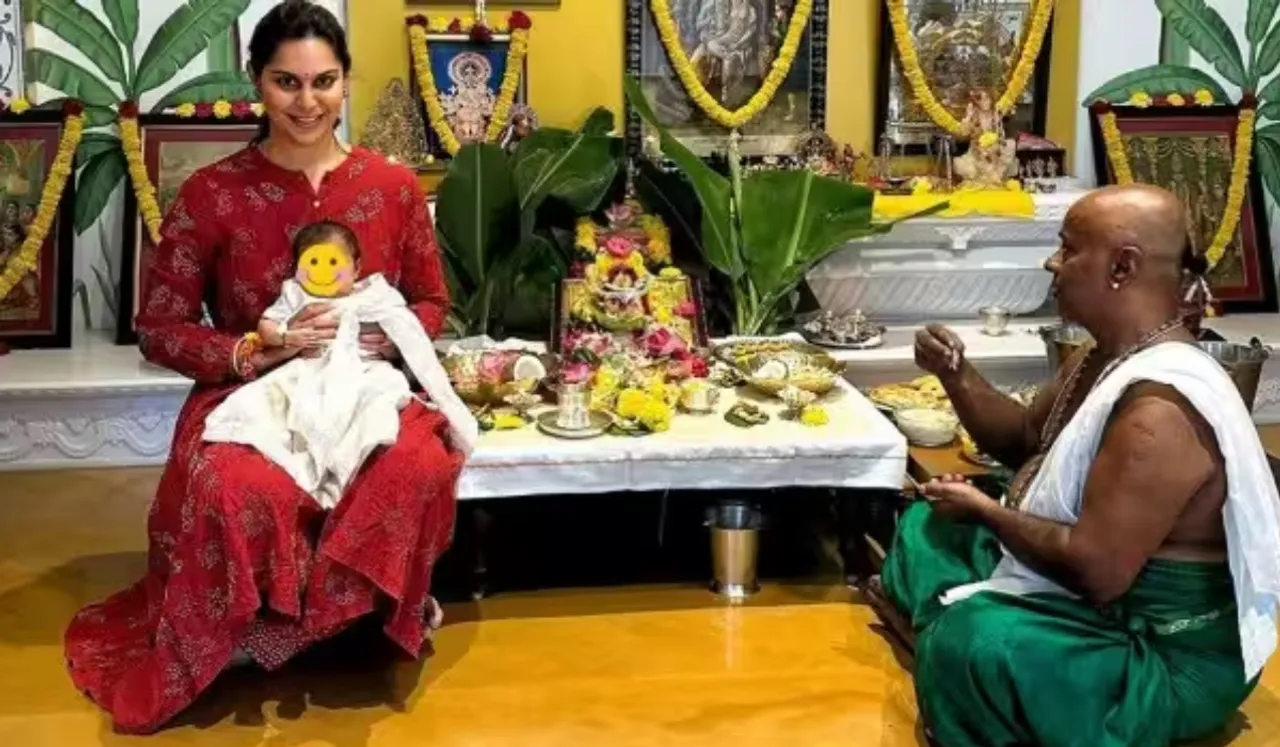 Time flies in the Konidela household, and it's hard to believe that Ram Charan and Upasana Kamineni's daughter, Klin Kaara Konidela, has already reached the tender age of two months. 
Recently, Upasana Kamineni took to Instagram to share her happiness with her fans, disclosing that she observed Varalakshmi Vratam with Klin Kaara.
Upasana Celebrates First Varalakshmi Vratham
In an Instagram post, she exclaimed,"Couldn't have asked for more. My first Varalakshmi Vratham with my Klin Kaara" accompanied by a heartwarming picture of herself and her daughter in the puja room, joined by a pandit. In the image, Upasana is seated amidst a collection of idols, cradling Klin Kaara in her arms. An emoji has been used to conceal the baby's face.
See the post here.
Varalakshmi Vratam is a significant tradition observed primarily by women in the southern states of Tamil Nadu, Karnataka, Andhra Pradesh, and Telangana. Married women undertake this vratam (fasting) to seek blessings for the well-being of their families, husbands, and future generations. It is believed that worshipping Goddess Varalakshmi on this auspicious day is akin to invoking the blessings of Ashtalakshmi, the eight goddesses representing wealth, earth, learning, love, fame, peace, pleasure, and strength.
Just a week ago, Klin Kaara charmed netizens as Ram Charan and Upasana shared an endearing photograph of her cradled in the arms of her paternal grandfather, Chiranjeevi. The megastar, who celebrated his 68th birthday, radiated sheer happiness and pride in the picture, adding another heartwarming chapter to their family's story.
Prior to this delightful celebration, Upasana had given a glimpse of the nursery they designed for Klin Kaara in their home. 
Ram Charan and Upasana celebrated the arrival of their first offspring, a baby girl, born on June 20th in Hyderabad And now, in the Konidela household, each passing day is a testament to the love, joy, and traditions that shape their lives, and Klin Kaara Konidela is undoubtedly at the heart of it all, filling their home with happiness and warmth.
---
Suggested Reading: Tamannaah Revisits 18-Year Entertainment Journey, Shares Memories