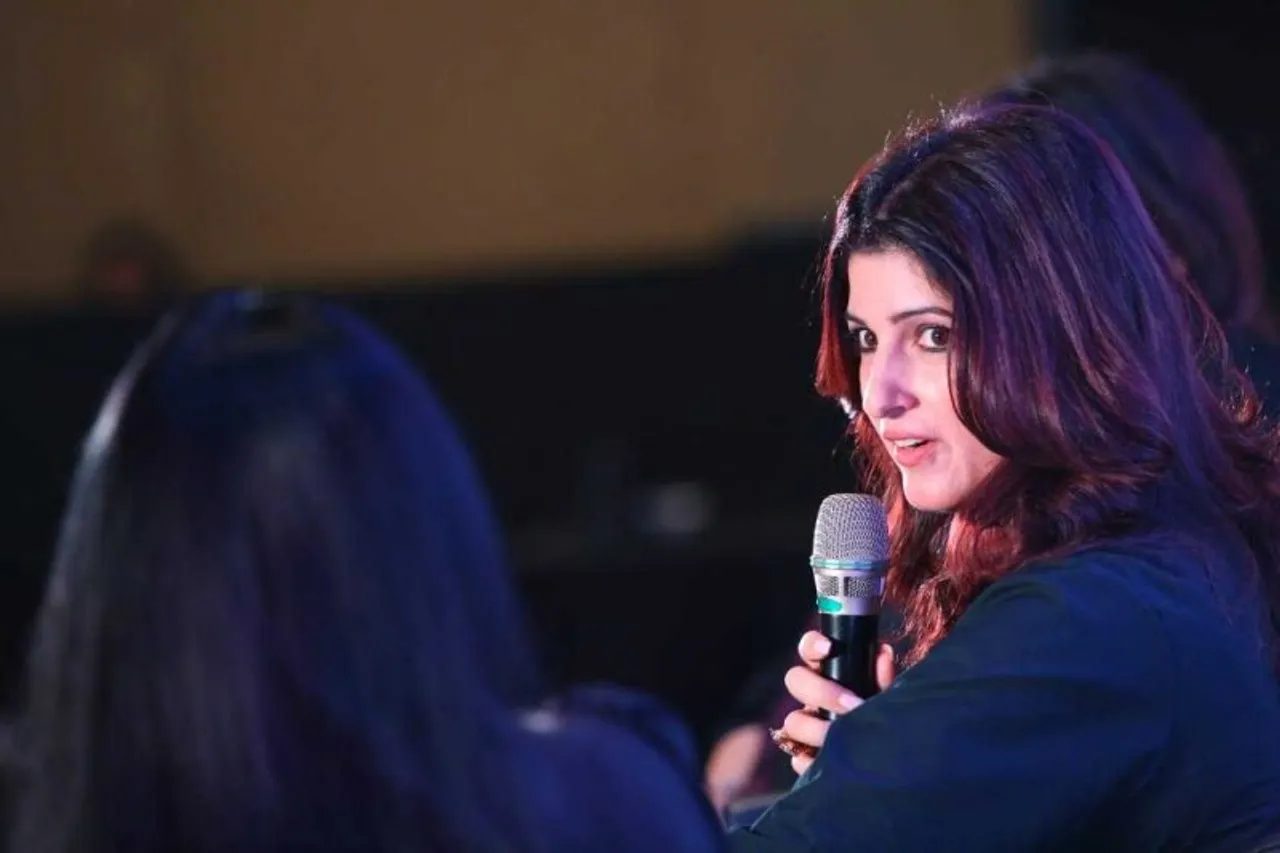 Twinkle Khanna recently weighed in on the controversy surrounding Deepika Padukone, who faced intense online criticism for her comments about casually dating individuals before tying the knot with Ranveer Singh.
Following Deepika Padukone's mention on Koffee With Karan 8 about being in an open relationship with Ranveer Singh in the initial phase of their romance, she became the subject of widespread trolling across social media platforms. The remark stirred a backlash, with even college students mocking her past relationships during an event. Despite the uproar, there was a notable absence of support for Padukone during this period of scrutiny.
Twinkle Khanna Defends Deepika Padukone
Amidst the ongoing controversy, Twinkle Khanna stepped forward, breaking the silence and voicing her perspective on the matter. While Padukone has yet to address the trolling, Khanna chose to defend the actor. 
She expressed that Padukone's approach might actually be a means to empower women and prevent them from entering into unsuitable marriages. Khanna's words highlighted the potential for Padukone's approach to shield many women from ending up in unfavourable relationships, utilising a metaphorical phrase that emphasised the potential benefits of such an approach for women.
In a blog post for Times of India, she wrote, "On Koffee with Karan Season 8, Deepika managed to outrage uncles, aunties, and an entire lot of India's not-so-eligible bachelors by confessing that, unlike her reel self, she did not swoon and fall at the feet of the first moustached suitor hanging around her. Instead, she had dated other men while also dating her future husband. The trolling she has received because of her admission is baffling."
While we wait for the day when legislators stop barking up the wrong tree and legalize same-sex marriages, I suppose Deepika's idea of making an informed choice may save a lot of women from marrying dogs, and more commonly, frogs in princely robes.
What Deepika Padukone Said
During a segment on Koffee With Karan, Padukone discussed the initial phase of her relationship with Singh. She revealed that she initially refrained from committing to Singh due to her previous challenging relationships. Preferring freedom without attachments, they mutually agreed to see other individuals, yet they continuously gravitated back to each other.
I wanted to be single for a while because I had come from difficult relationships. I was going through a phase where I said 'I just don't want to be attached, don't want to be committed'. And I had fun! And then he came along so I didn't commit until he proposed to me. There was no 'commitment as such. Even if we were technically to see other people, we would just keep coming back to each other.
Our past experiences significantly influence our future relationships; that's how we learn and adapt to find what works best for us in the long run. In a similar vein, Padukone's perspective highlights the importance of understanding her own needs and desires, shaped by her previous experiences, before committing to serious relationships. Doesn't this notion strongly support the idea that women should have the freedom to explore, learn, and choose what's most suitable for them before entering into long-term partnerships?
---
Suggested Reading: Watch: KWK 8 New Promo Unveils More Celebrities Making It To Couch