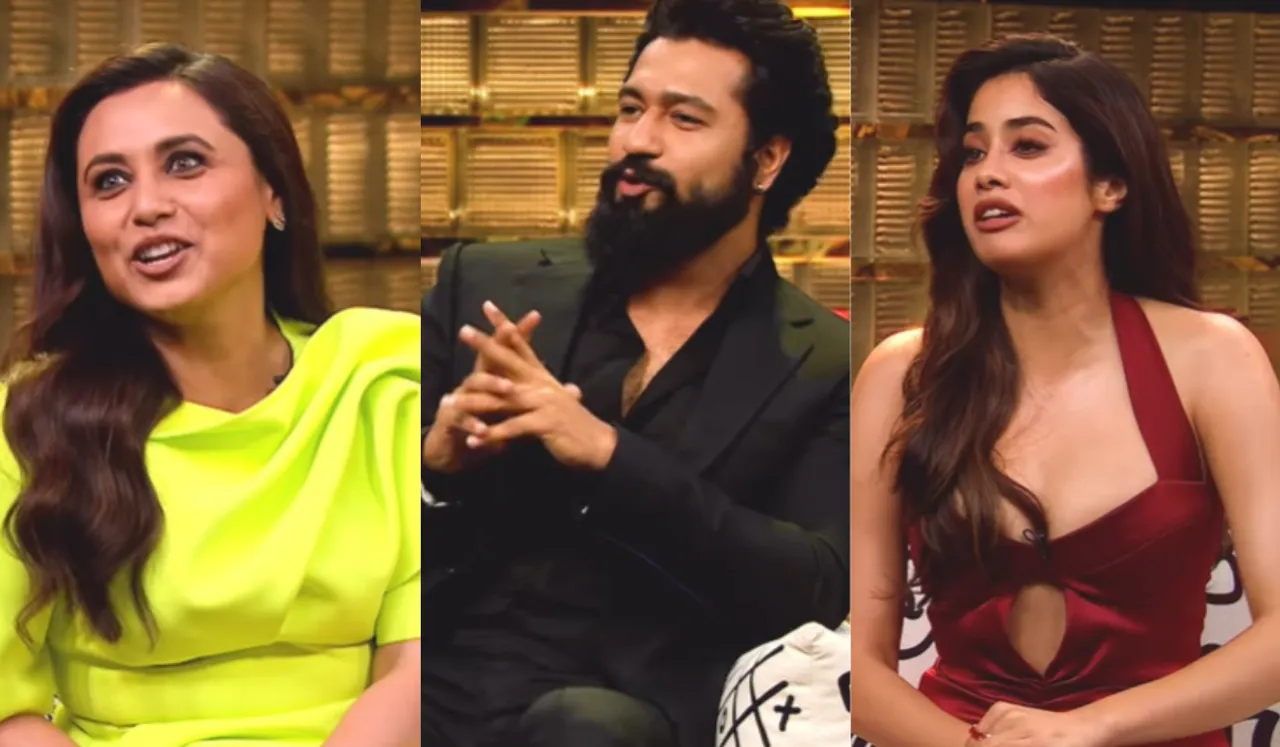 Koffee With Karan Season 8 is out with four episodes already sparking conversations and gossip among fandoms. It seems like not all guests were revealed in its "Big Guests Reveal" as the latest promo announced some more names set to grace the couch in its upcoming episodes. 
Karan Johar prepared his audience with a dialogue, "Brace yourself for the Koffee beans 'to be spilled' as there is a lot more brewing left." The host of the show dropped a new promo on Sunday unveiling a new set of guests. However, Johar has been accused by the internet of bringing the same sets of celebrities repetitively especially after Kareena Kapoor Khan revealed to have appeared on the talk show every season.
While we already knew the Kuch Kuch Hota Hai Tina-Anjali pair would be on the show without their Rahul, there are many celebrities yet to embrace the couch. 
Varun Dhawan and Siddharth Malhotra
"The Kens without their Barbies" The new promo clip opens with Karan Johar's "students" Siddharth Malhotra and Varun Dhawan where the stars are seen in nasty bromance as Malhotra in the promo answers to "What Varun has? that you don't" to which he jokingly replies "An ass like his" Dhawan also continues to reveal some labels glued to them as Dhawan is heard saying "Yeh Dharma ka hero hai, bahot nazuk hai." (he is a dharma production's hero, he is very fragile). 
Rani Mukherjee And Kajol
As Bollywood's iconic film Kuch Kuch Hota Hai recently completed its 25 years, Johar seems to be compassionate about bringing reel-to-real-life friends, and also cousins, sharing interests. After Ananya Panday and Sara Ali Khan's episode 3, Bollywood's Tina and Anjali are expected to be unapologetically loud and fun on the couch. 
Vicky Kaushal
While reports have claimed Kiara Advani and Vicky Kaushal recently shot a fun episode of Koffee With Karan 8 at YRF studios on November 16, the latest promo gave us glimpses of Vicky Kaushal in black attire declaring "Hum Karan yaha shuddhi karne aaye hai" (We are here to cleanse, Karan).
Janhvi Kapoor
Another Dharma debutant, Janhvi Kapoor could be seen in the first few minutes of the latest promo clip as introduced with bold letters "Sizzling hot temperatures" and later can be seen saying "Vo hi toh centre point hai tumhari film ka" (That is what the centre point of your film is). Janhvi's partner in the show was not revealed. She had earlier appeared on the talk show twice once with her workout buddy Sara Ali Khan and in another season with her brother Arjun Kapoor. 
Ajay Devgn
Post Deepika Padukone and Ranveer Singh coming together as a power couple, Johar will now be inviting couples separately. The 'Ishq couple' Ajay Devgn and Kajol had earlier appeared on the couch in a fun episode of season 6. However, season 8 will have Devgn embrace the couch with his friend and filmmaker Rohit Shetty.
---
Suggested Reading: Koffee With Karan Promo: Why Is Ananya Panday Feeling 'Coy Kapur'