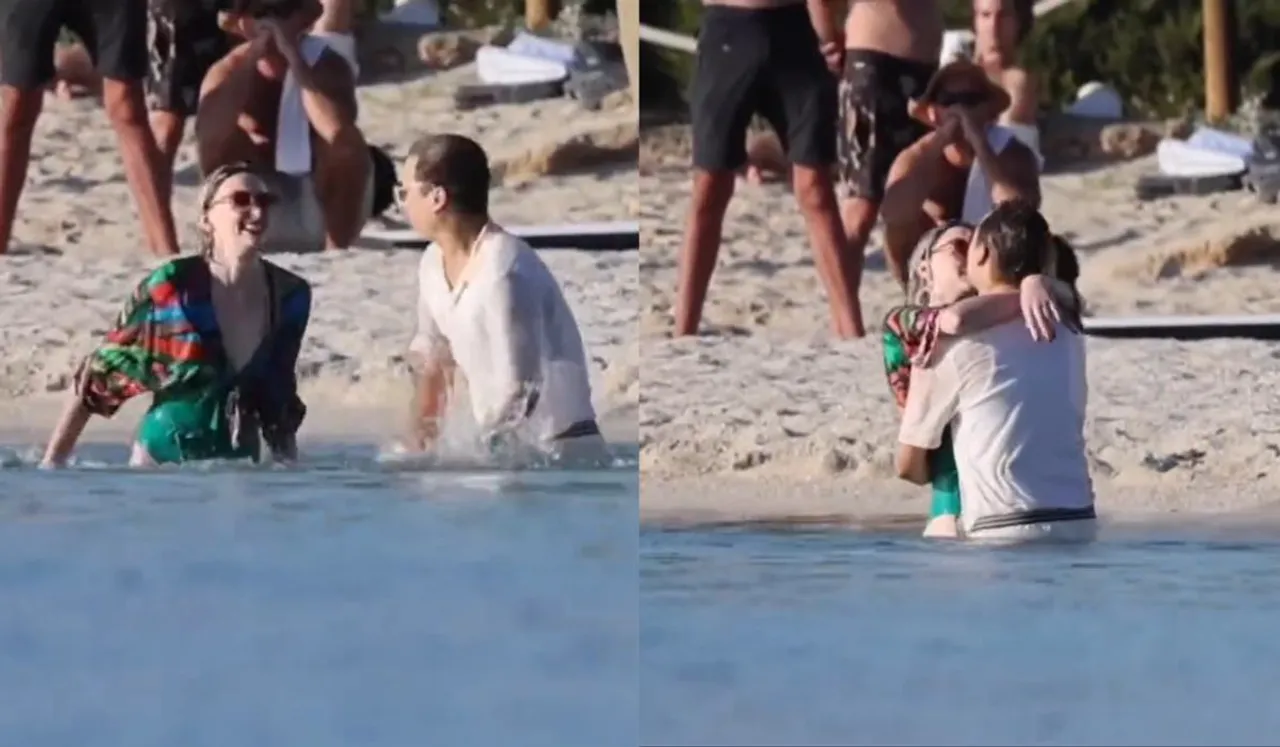 In Joan, Sophie Turner plays the role of British jewel thief Joan Hannigton, while Frank Dillane portrays the role of her husband, Boise Hannington. While filming, the two were spotted filming a fun, intimate scene for the show.
The two were photographed on the sets in Spain, and a video of them went viral amid Joe-Jonas-Sophie-Turner-divorce reports earlier this month.
Sophie Turner Returns To Work:
English actor Sophie Turner, who recently filed for divorce from her singer-husband Joe Jonas, has returned to work. She was seen filming for her upcoming show, which co-stars Frank Dillane. Several photographs and videos of the duo shooting surfaced on the internet from the sets in Spain.
Turner is trying to focus on her work as she returned a few days after filing for divorce after four years of marriage and two kids with Joe Jonas. 
In a clip shared on X, Turner and Dillane were spotted frolicking in an ocean, smiling ear-to-ear, while filming a beachy scene. The two were seen splashing water on each other and having fun as Dillane wrapped his arms around her and picked Turner up as the two kissed. Turner was spotted in a teal swimsuit with a colourful cover-up paired with pink glasses and silver hoops, while Dillane was in a white polo shirt.
Frank Dillane and Sophie Turner spotted filming at Joan's set in Spain!

via splash! pic.twitter.com/EOeAmNlfay

— Frank Dillane News (@dillanedaily) September 15, 2023
About The Show:
Joan will feature Turner playing the titular role of Joan Hannington, which is the real-life story of a housewife who turned into a criminal mastermind in the 1980s in London. Dillane is reportedly playing the role of Joan's husband, while the show consists of actors like Laura Aikman, Alex Blake, Harry Pittard, Lankesh, Gershwyn Eustache Jr., and Kirsty J. Curtis in its cast.
The show has already garnered buzz, especially for Turner's transformation into the titular role. The filming of the show started in May this year in England, and as the show completed its Burma portion, the shooting was held in Spain for some scenes where the actors were photographed in an intimate scene.
Turner is a prominent English actor infamous for her role in Game of Thrones. The 27-year-old actor has a successful career and has been seen in many films like X-Men Apocalypse, Dark Phoneix, Do Revenge, and many more. While Frank Dillane is known for his roles in Fear the Walking Dead, Half-Blood Prince, Harry Potter, etc.
Joe Jonas and Sophie Turner Divorce
Joe Jonas and Sophie Turner, according to their statement, decided to "amicably end their marriage" after four years of marriage and sharing two daughters born in 2020 and 2022, respectively. The two first met in October 2016 and started dating in December. The two announced their engagement in October 2017 and were wed in an intimate ceremony in Las Vegas in 2019.
Joe Jonas, a member of the 2005 music band Jonas Brothers, is currently on a music tour in the United States.
---
Suggested Reading: In Yet Another Divorce Story, We Jump To Call The Woman 'Bad Mom'