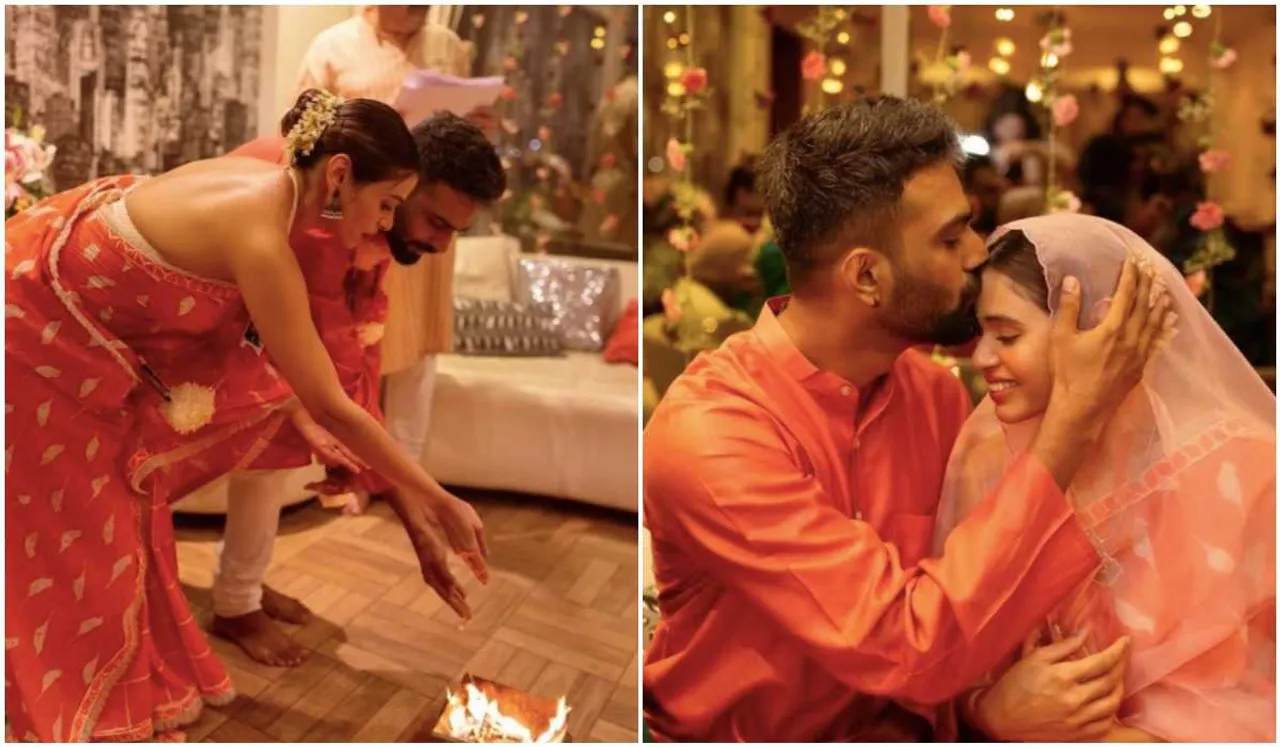 Bollywood playback singer Shalmali Kholgade took to social media Tuesday to share snaps from her wedding ceremony with long time boyfriend Farhan Shaikh. The couple tied the knot a week ago on November 22 in the presence of family in Mumbai. A reception party for friends and colleagues from the film industry is set for December 1.
Photos show Kholgade and Shaikh's wedding was a simple one at home. The theme appeared to be orange, with Kholgade draped in a saree and Shaikh donning a kurta of the colour. Netizens were all praises for the non-showy celebration. What left people gushing the most were the couple's garlands, made of flower decorations and polaroid photos of the two.
Kholgade and Shaikh have been together for the past six years.
Calling her wedding day the "most precious" one of her life, the 31-year-old singer wrote, "We had precisely the kind of wedding we had hoped to have.. In the living room of our home with our parents and siblings, a few aunts and cousins!"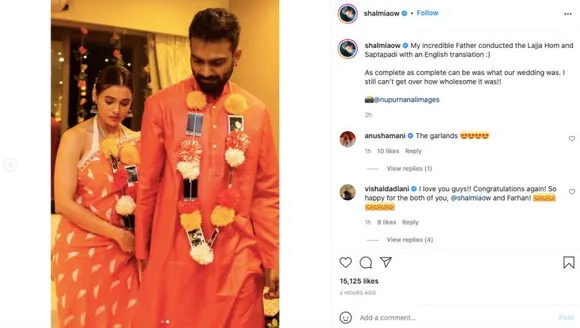 Image: Shalmali Kholgade / Instagram
Earlier this year, actor Yami Gautam's wedding ceremony with film director Aditya Dhar too received similar applause as Kholgade's for its minimalistic and authentic nature; more here.
Shalmali Kholgade's Wedding Snaps Go Viral, Netizens Gush Over 'Simple' Ceremony
As per Times of India, which quotes a source, the couple initially planned on having an even simpler registered wedding but performed some rituals at home "for the convenience of their parents."
"They also exchanged rings on the same day," the source said, adding the couple would likely wear their "simple" wedding outfits in the future as well.
"We wanted a Hindu and a Muslim ritual at our wedding," Kholgade wrote on Instagram.
"Farhan's brother-in-law... was kind enough to recite a Dua, conduct an english translation of Nikaah and then did recited Al-Fatihah... My incredible Father conducted the Lajja Hom and Saptapadi with an English translation :)" she added.
Kholgade has lent her versatile voice to multiple Bollywood hits, including her debut Hindi song Pareshaan from the 2012 film Ishaqzaade and Balam Pichkari from the 2013 film Yeh Jawaani Hai Deewani.
---
Trending now:
&t=1s