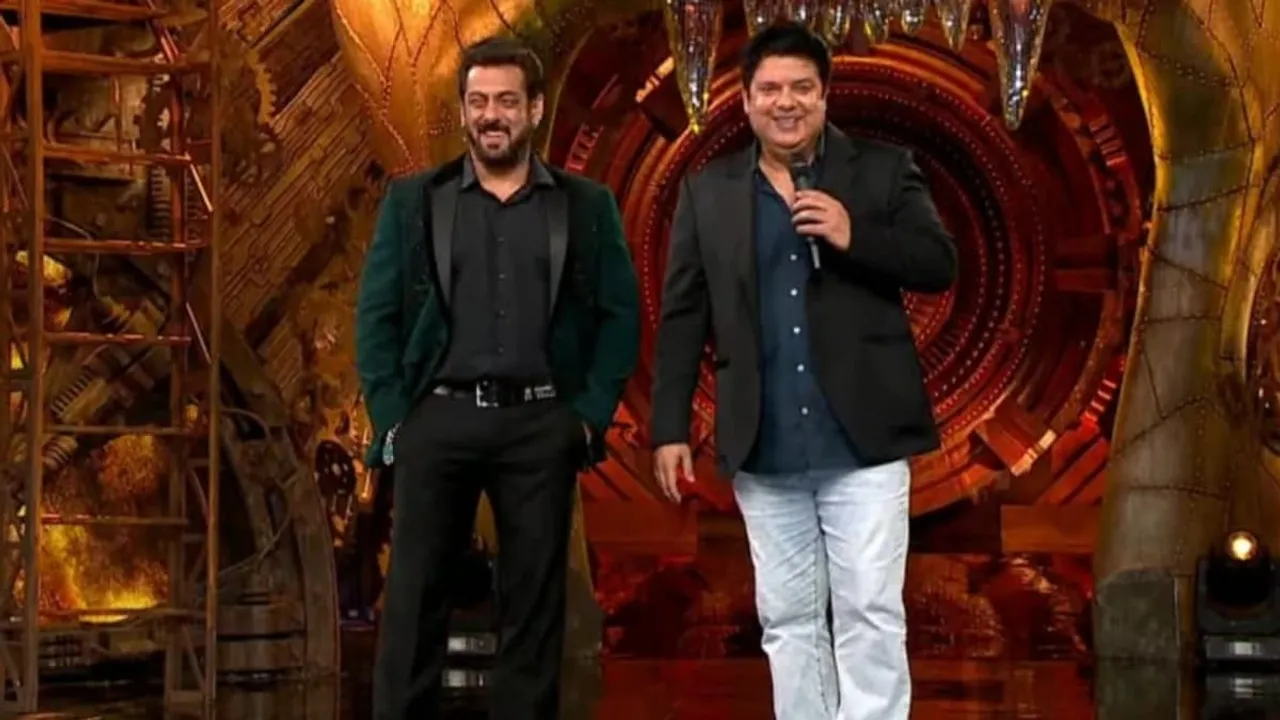 Social media has been brimming with outrage ever since filmmaker Sajid Khan was revealed to be a participant in the latest season of the reality TV show Bigg Boss. The filmmaker, who was accused by multiple women of sexual harassment during the #MeToo movement in India, entered the Bigg Boss house on Saturday. His return to the limelight makes us wonder, have we already forgotten about the #MeToo Movement?
At the premiere of the show, Sajid spoke to the host of the show Salman Khan and shared how he has been out of work for the last four years. "I have seen many ups and downs in my life and been very low in past four years." When Salman interrupted to say Sajid only saw one low while it has been all an upside ride, the filmmakers added, "And that one low was a huge one."
Salman also reminded him of the A-list actors that Sajid has worked with and then they began naming them all. "It is said that failure destroys people. But in my case, my success destroyed me. I became very arrogant with three back-to-back hits. So, I thought I had become infallible, I can never make a wrong film," said Sajid.
Earlier this year, Tanushree Dutta made some startling revelations in an Instagram post, sharing how she continues to face "severe mental, physical and psychological harassment from Bollywood mafia" presumably for kickstarting the #MeToo movement. Meanwhile, men accused during the movement, like Sajid Khan, Vikas Bahl, Nana Patekar are now busy resurrecting their careers. How is it that the women who came forward with sexual assault allegations continue to face repercussions for standing up while the accused creep back into the workspace?
Sajid Khan In Bigg Boss 16: The Men Of #MeToo Go Back To Work
Women on Twitter are miffed at the channel, show producers, and industry professionals for allowing Sajid Khan in the show.
Some are angrily listing down the things he is accused of, others are just plain sad to see the state of the #MeToo movement. "What do you tell the girls that when you finally muster the courage to call someone out, he is rewarded rather well because of his "controversial personality" while you will have to go through the trauma of seeing his face in the show or in the news every day?" a Twitter user wrote.
The rewards aren't just reserved for Sajid Khan. Director Vikas Bahl, whose name was initially removed from the credits of the hit movie Super 30 following a sexual misconduct accusation, was reinstated after being cleared by an internal committee, which reportedly did not involve the survivor. Filmmaker Subhash Kapoor, on trial for molestation, was initially dropped from a movie produced by Aamir Khan, but the star backtracked, saying only a court could establish whether or not he is guilty -- a process likely to take years in India's legal system.
On the other hand, women are frequently chided for speaking up. A defamation case was filed against Tanushree Dutta. And singer Chinmayi Sripada was ousted from South Indian Cine Television Artist Dubbing Union citing non-payment of subscription fees because she spoke up against Radha Ravi, president of the organisation.
The industry's dramatic double standard mean its moral high ground on matters of sexual abuse is partial and hypocritical. It may be making strides on-screen with feminist narratives, but can't grapple with the idea of changing the status quo and frequently discredits a survivor's abuse claims.
Earlier this year when Hollywood producer Harvey Weinstein was jailed for sexual assault, #MeToo founder Tarana Burke said it was far from the end of the movement.
"Harvey Weinstein is a symbolic case. To see a high profile, rich white man be convicted of a crime, in general, is always astonishing, but seeing a celebrity go to jail or not, is not sustainable as a movement."
What Tarana sees as a victory for Me Too is helping people not blame themselves for sexual violence committed against them and lead fuller lives. "We need to talk about the systems that are still in place that allow that to happen," she added.
Amid the torrent of accusations levelled against powerful men in the frenzied first few months of the #MeToo era, survivors received sympathy,  but wetenot shunned. However, five years after the movement, the accused are back on their feet after a brief time-out and a few memory-cleansing news cycles, carrying on with their careers unaffected. Perhaps we have forgotten, or Indian film fraternity has, or maybe the cancellations did not materialise. At some point, the culture may take another turn, in another form of revolution.
---
Suggested Reading: Tanushree Dutta Robbed Of Work: Women Continue To Pay Price For Speaking Up
---