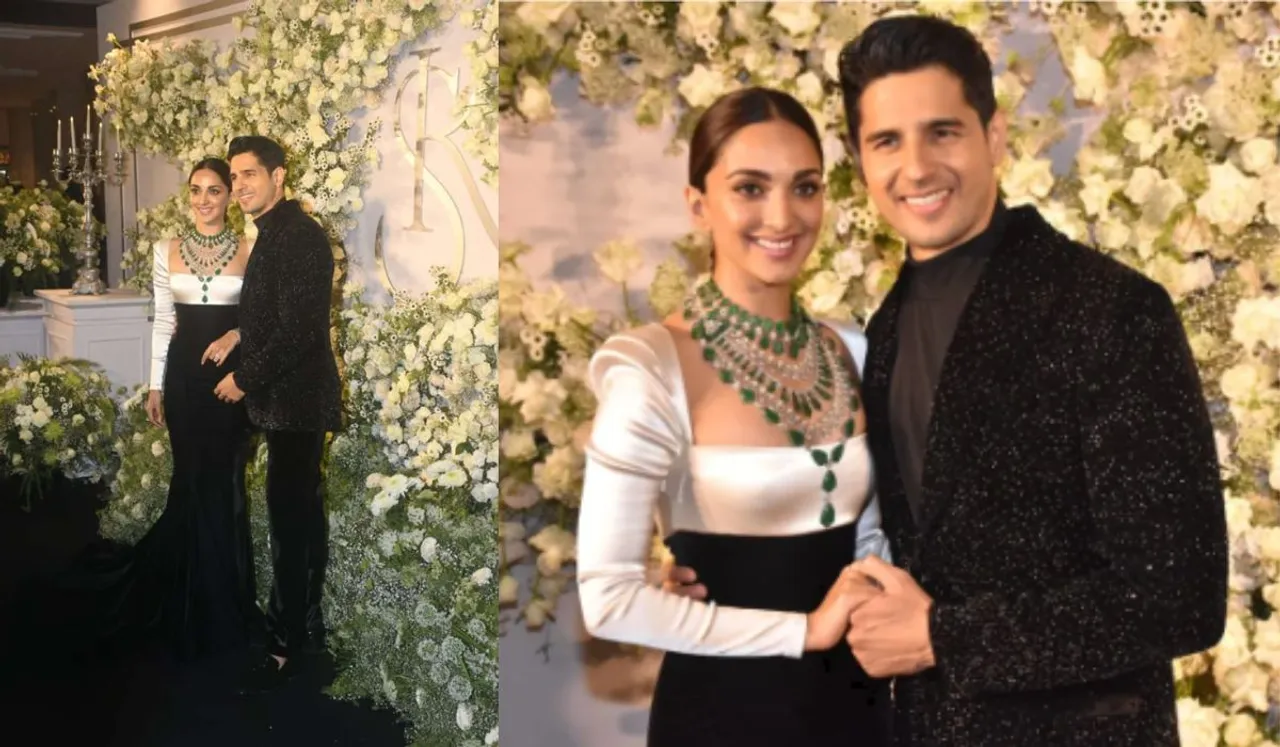 Bollywood's newlywed couple, Kiara Advani and Sidharth Malhotra, who got married on February 7 in Rajasthan, hosted their wedding reception yesterday in Mumbai. While Malhotra wore a black suit with a glittery coat, it was Kiara's outfit that garnered attention. Advani opted for an unconventional black and white gown designed by Manish Malhotra. The mermaid-cut gown had a white satin bodice and a black velvet skirt. She accessorised the outfit with a statement emerald and diamond necklace. Yes, Kiara Advani broke stereotypes with her elegant reception look!
For ages, the choice for Indian bridal wear has not experimented beyond red, yellow, green, or combinations of these colours. Over time, brides have started opting for pastel shades and minimalistic looks, but still, the colour black has always been kept off the list of acceptable colours for Indian brides.
Kiara Advani Reception Look
Despite its chic and classy appearance, black is associated with mourning, evil, bad luck, and negativity and is therefore avoided during auspicious and happy events. But how long are we going to let outdated social beliefs hold us back from experimenting with colours and style?
Today's generation doesn't view black as a colour of negativity but as an evergreen and flattering colour that suits everybody. Women are breaking stereotypes in all fields, so why should brides wearing black be any different? Black has been avoided at all auspicious and happy events like birthdays, festivals, or any celebration. However, in recent years, black has gradually made its way into various events. With Advani's reception look, black has officially made its grand entrance into the wedding world.
However, this is not the first time black has been incorporated into a bridal collection. Eminent fashion designers like Ritu Kumar, Kanchankuntala Das, and Reeti Arneja designed black bridal outfits last year to break the stereotype and experiment with fashion statements. Kumar designed a simple black lehenga with golden embroidery that could be worn for pre-wedding functions like mehendi or sangeet. Talking about the designs, she said, "The relationships and roles that traditionally defined people have changed, and so has how we express ourselves. The change encompasses fluid and androgynous fashion."
Kanchankuntala Das said she believed in the unique choice of independent-minded brides who love black and want to establish a fashion statement on their wedding day. "I respect the Indian customs and the sensitivity of the rituals. But I don't see any harm in experimenting with new concepts for the sake of art. Creative things know no boundaries," said the designer. She also added that she had come across many brides who wanted to experiment with black on their special day, but societal norms suppressed their unique ethnic choices.
Reeti Arneja, who is well known for her Indo-western festive wear, designed a black collection for brides that could be worn for haldi or reception.
Black and white is a timeless and universal combination that looks great on everyone. Black is a go-to colour among many Indian women as it is comfortable, classy, chic, elegant, and flattering. Today, there are many women who want to break stereotypes and irrational social norms. Fashion is a form of art that deserves to be experimented with. In today's modern world, women seek to be progressive in every aspect, and an age-old norm associated with black cannot hold them back from expressing themselves.
As designer Das stated, many brides want to unleash their fearless selves and experiment with black at their wedding. Traditionally, black is associated with sadness, and people don't want to start their married life with a colour that symbolises sadness. But how can a colour determine the fate of a marriage? Isn't marriage about compatibility and love between the couple? Let's be honest here: are all brides who wear red or any other colour except black on the wedding day guaranteed a happy marital life? No, right? So, why not let the bride choose what she wants to wear on her wedding day? After all, it is her big day!
---
Suggested Reading: Dreamy Wedding Video: Song For Kiara Advani's Wedding Video Was Rewritten
---