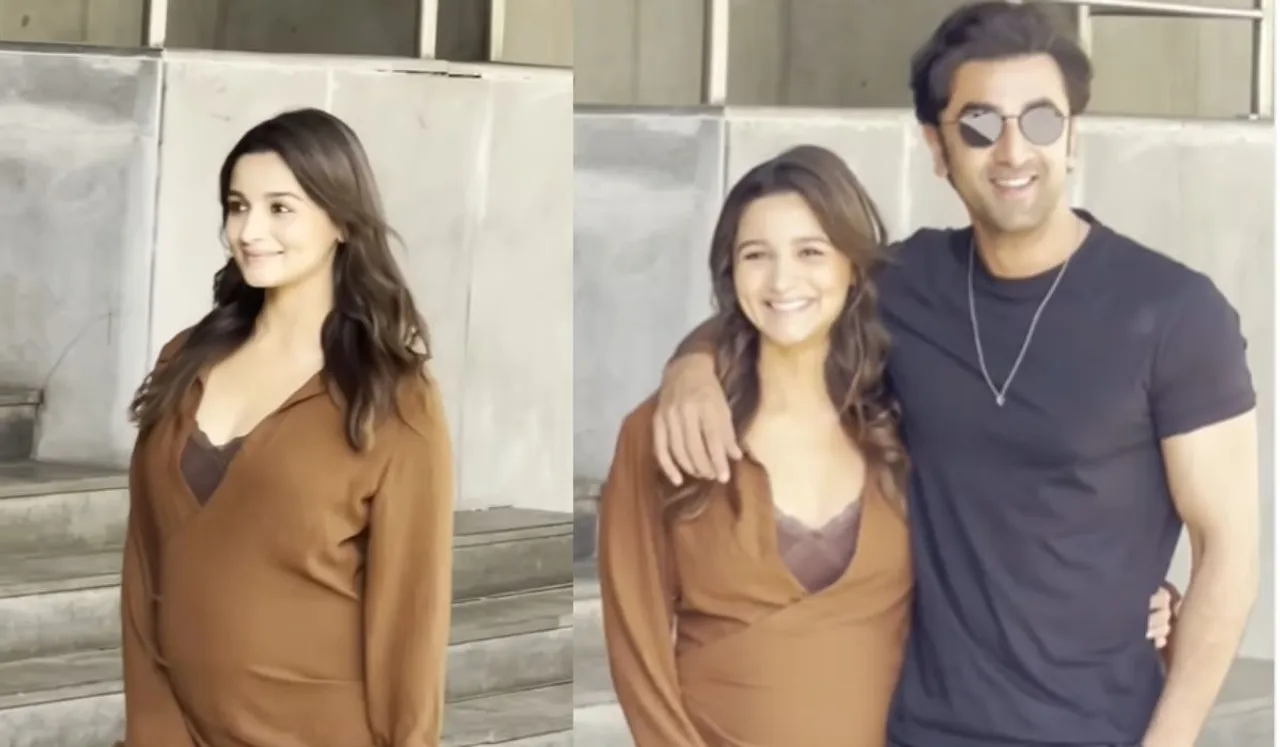 It was not long ago when Ranbir Kapoor was called out over an old interview where he called Anushka Sharma 'anxiety queen.' The video sees Kapoor speaking over Sharma, and revealing her medication on a public platform despite her asking him to stop. "She has to pop a pill even before making a conversation", Kapoor can be heard saying for Sharma in the video. The Wake Up Sid actor is in trouble once again for  this time he has mocked his own wife Alia Bhatt over weight gain due to pregnancy.
The couple is gearing up for their upcoming release, Brahmastra. In a recent YouTube live, the duo was talking about the promotional activities of the film, alongside director Ayan Mukerji, and answering queries on why they are not promoting their film Brahmastra extensively.
Ranbir Kapoor Fat Shames Pregnant Wife Alia Bhatt
The clip sees Bhatt speaking, "If the question you are asking is why we are not phaeloed (spread) everywhere, right now our focus is…" Right then, Ranbir interrupts her by saying, "I can see somebody has phaeloed" looking pointedly at her baby bump. She is left stunned for a moment as she looks down at her baby bump, and then looks at Ranbir in shock. He then covers up his statement, laughed and patted her shoulder as he said, "Joke… in a cute way."
People are calling out Kapoor over his 'insensitive joke' and coming out in defense of Bhatt. One comment on the video reads, "Most women already have a hard time accepting the changes pregnancy brings to their bodies, joking about it is just insensitive." Another read, "poor attempt at a joke but husband wife hain to chalta hai."
The couple got married in April 2022 in a close knit ceremony at their residence in Mumbai. They announced their pregnancy in June on Instagram.
Speaking about the supposed impact of motherhood on her career, Bhatt has earlier said, "Of course, I am young, but why does that have to change anything? Why does having a family or a child have to change my professional life? They are two completely different things. I would continue to and prefer to lead by example and action as opposed to giving any attention to nonsensical things. To me, the people having those opinions show where they are in life. It doesn't say anything about where I am. In fact, a lot of decisions that I have made in my life — singular, not in any relation to anyone — have happened when it was least expected."
---
Suggested Reading: When Ranbir Kapoor Called Anushka Sharma 'Anxiety Queen', Outed Her Medication
---