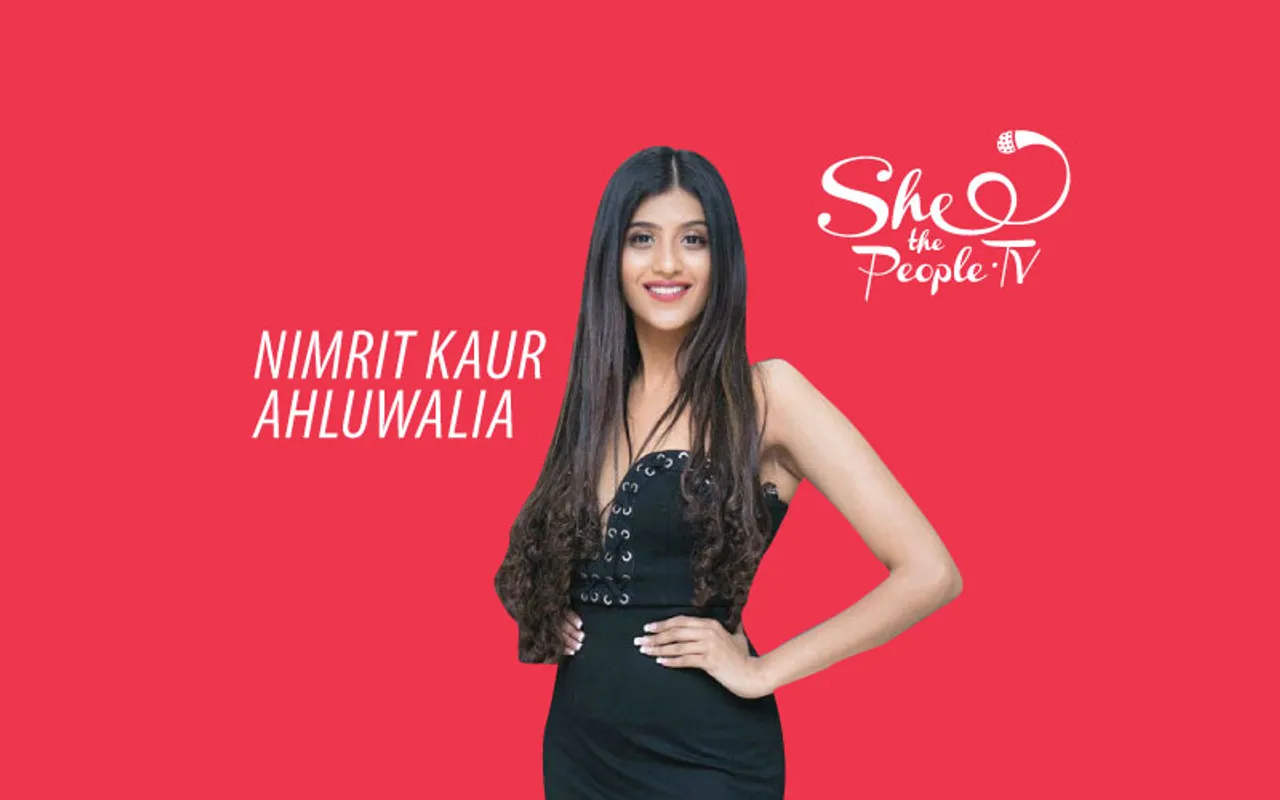 Nimrit Kaur Ahluwalia better known as 'Choti Sarrdaarni' on ColorsTV started as a model and has become a small screen big star with this role. She also won the title of Femina Miss India in 2018. She talks to Shaili Chopra, founder, SheThePeople about her journey, how she is spending time during quarantine and why she will never get on to TikTok. With so many people consuming entertainment to keep their minds off coronavirus and the lockdown, Nimrit Kaur says "entertainment industry is one that has been striking off boredom since the beginning." She adds, she was fed on a stable of many of these. "I have grown up watching so many serials like ' Dil Mil Gaye' and having these crushes making scrapbooks about them."
"Definitely people can Netflix and watch series on the internet but then right now with internet trafficking increasing I think the best source is the small screen."
Nimrit Turns To Cooking
Currently, with so much time on Nimrit's hands, she ays she has been baking, and making pudding. She made chia pudding as well as a pizza. Not surprising all celebrities have time to keep up with the engagement on their insta handles. So Nimrit is no different, pretending that she is on a vacation and dressing up accordingly and clicking pictures for the gram. This is therapeutic for her as it gives her some positivity through this tough time.  
https://www.facebook.com/SheThePeoplePage/videos/1083404238701865
Also Read: SheThePeople Summit ONLINE: Click Here For Live Sessions
Enjoying the time, stuck in quarantine
"Well although this is a good way to spend the time. I am a workaholic and I am missing my work and the sets miserably. She goes on to say as much as I might crib about not getting days off but the kind of happiness that I seek from the work done is incomparable. For me " work is worship" and doing that is all I want right now."
Journey of Nimrit
"After I won the title of Miss India, this happened after I finished law school. Right after that I started getting songs and I was still figuring out and so I asked my parents to give me six months to figure things out and so I shifted to Mumbai. Acting was something I always wanted to do but the TV was never on my mind and 'Chotti Sarrdaarni' I just stumbled upon it and so here I am."
When asked about how does she relate to her character in 'Choti Sarrdaarni', she advocated that the script stuck with her and she related to the character very much in the sense that Mehr was a girl who was deeply rooted in her religion, culture and had a mind of her own. "Also, I wanted to play challenging roles and the emotion of grief in this sort of attracted me and was something I really wanted to do. She said that the character reflects me and I am that kind of a person. The first poster which was released was with me being 7 months pregnant but I was fearless and I actually admired it."
For actors it is a very good time as you can switch platforms and operate on various platforms with no judgment being passed on by the people.
Changing mediums
Another thing which was talked about how social media and different spaces are providing opportunities to actors. To this Nimrit asserted that for actors it is a very good time as you can switch platforms and operate on various platforms with no judgment being passed on by the people. "Today people are very accepting and the only thing that is judges is for you. As well as before you were accepted on your looks but now every look is acceptable if it fits your character."
Also Read: Lockdown Listicle: 8 Women-Centric Films And Series Worth Watching
Trying to stay Fit
"First 10 days I had a lot of food but after seeing the weighing scale. After that, I started a diet and started eating on the same schedule that I used to and started working out alternate days."
At last, when asked about the other programs Nimrit watches, to this she said, "I would love to but with everything going on I was quite busy. In fact, for some time I didn't watch my show also but I do watch the little clips and pictures on Instagram which are posted of shows."
In the end, she ended with one of the dialogues from her show.
Shreya is an intern with SheThePeople.TV