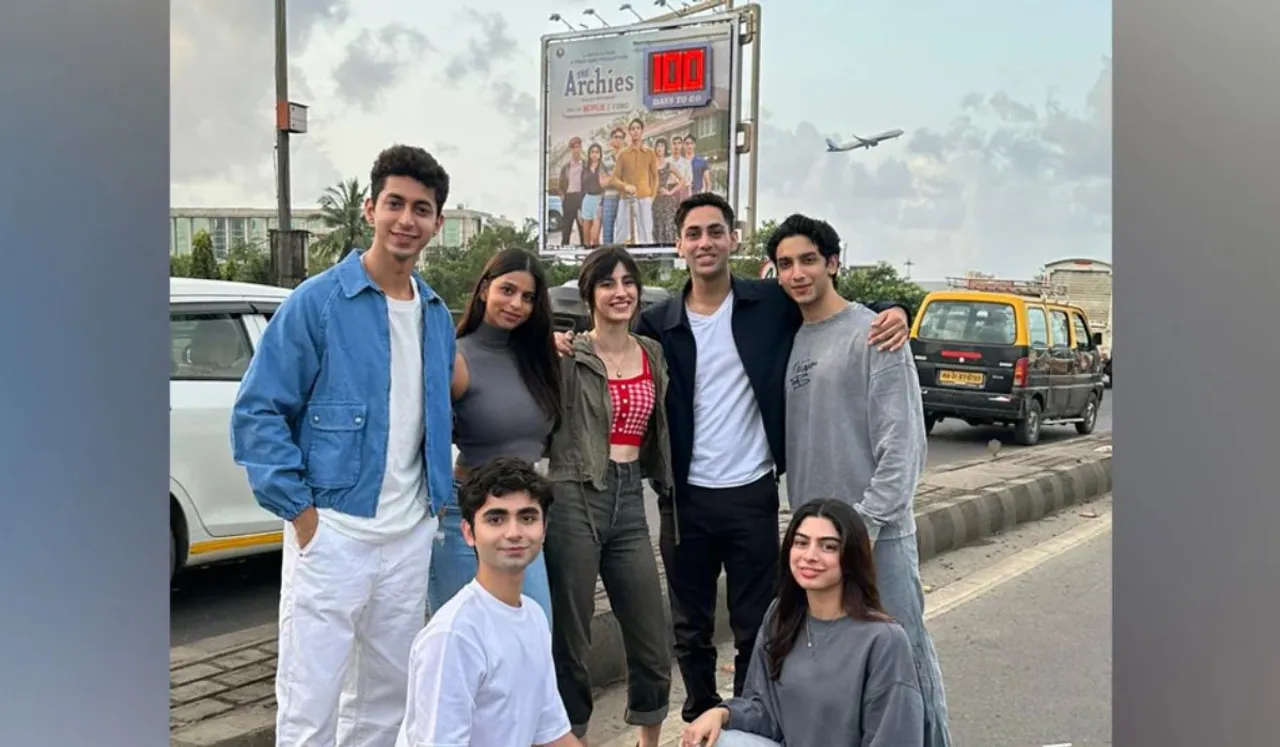 The release date for Zoya Akhtar's highly anticipated film, The Archies, has been revealed by the cast themselves through an innovative live billboard on Mumbai's Western Express Highway.
This billboard includes a countdown timer, indicating the days remaining until the film's premiere. As the release date was unveiled, they engaged in conversations, posed for pictures, leaped in excitement, applauded, and exchanged hugs, showcasing their joy and camaraderie. The cast members took to Instagram to share videos about this exciting announcement. 
See the post here.
The Archies Indian adaptation is set to premiere on Netflix in December 7. Earlier, the maker, Zoya Akhtar, has introduced the cast. In the reveal, Akhtar unveiled the first look of each character on August 5, shedding light on the casting choices. Suhana Khan takes on the role of Veronica, while Khushi Kapoor steps into the shoes of Betty. Notably, Agastya Nanda assumes the character of Archie, and Mihir Ahuja portrays Jughead.
Meet The Archies Cast
 Archie Andrews, portrayed by Agastya Nanda
"Meet Archie Andrews ♥️ The heartthrob of Riverdale who isn't sure where his heart belongs 😍"
Ethel Muggs portrayed by Dot
"Ethel Muggs knows how to keep things quirky, witty and crafty! 😍Whipping out sweetness is her superpower."
Jughead Jones portrayed by Mihir Ahuja 
"The only food Jughead Jones share with you is food for thought 🤣 Hide your burgers and milkshakes."
Dilton portrayed by Yuvraj Menda
"Meet Dilton, Riverdale's own walking library 😊 When he isn't hanging with the gang, he's inventing to make the world a better place."
Veronica Lodge Portrayed by Suhana Khan
"Sassy to classy and everything in between, the world better watch out for Veronica Lodge 'cause here she comes 🛼😊"
Reggie Mantle Portrayed by Vedang Raina
"The only thing Reggie loves more than himself is himself winning. Beware, he'll charm his way through your heart 😎"
Betty Cooper Portrayed By Khushi Kapoor
"She might be the girl next door but she's not one to be taken granted for 😏 Meet Betty Cooper on The Archies"
This upcoming teenage film holds particular significance as it marks the debut of Suhana Khan, the daughter of Shah Rukh Khan; Khushi Kapoor, the daughter of Boney Kapoor and the late Sridevi; and Agastya, the grandson of Amitabh Bachchan, among other talents.
Recently, the entire The Archies ensemble gathered at the TUDUM event in Brazil, unveiling the much-anticipated feature film's trailer.
Centred on themes of camaraderie, romance, liberation, and emotional turmoil, the forthcoming movie delves into The Archies universe. This coming-of-age musical staged against the backdrop of 1964, is scheduled to debut on Netflix in November.
---
Suggested Reading:  Who All Graced Aaliyah Kashyap's Engagement Party? See Here
---