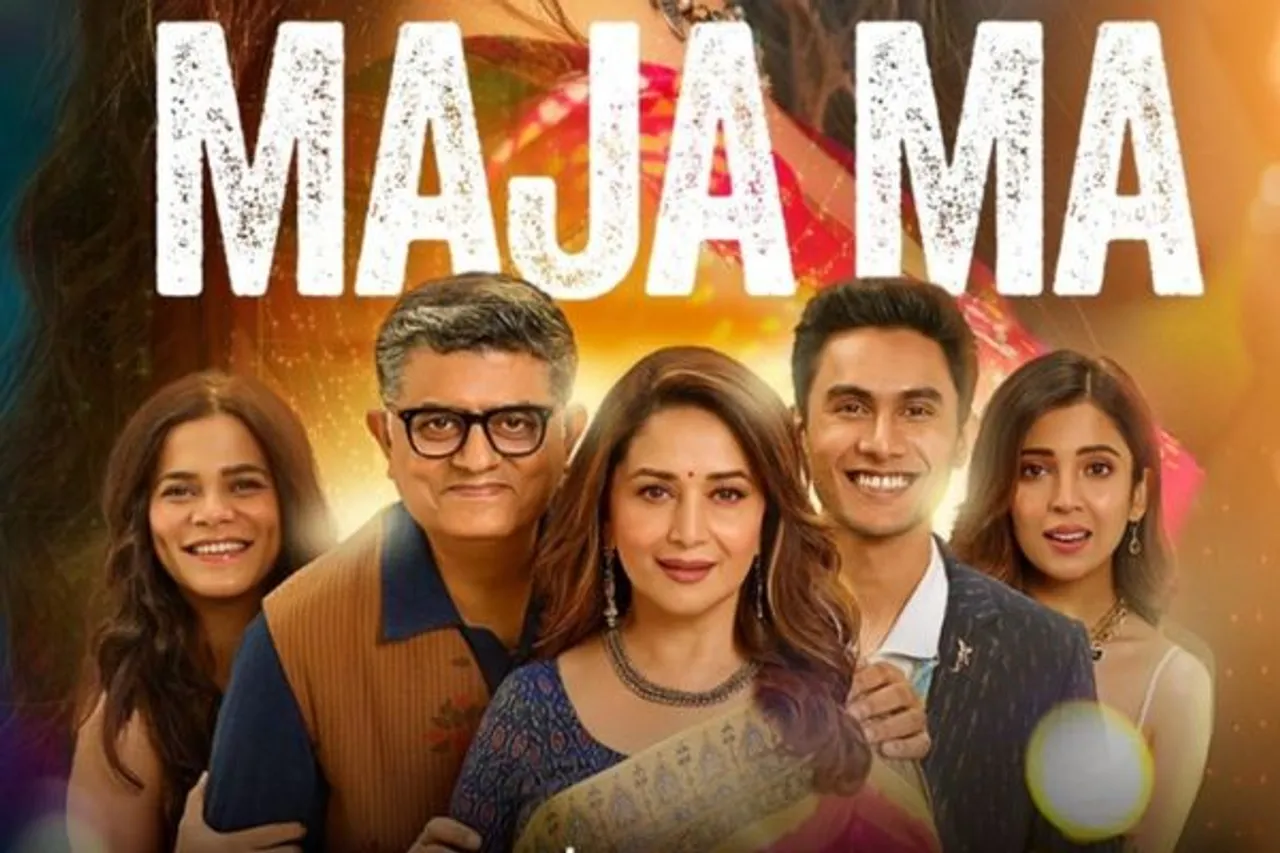 Maja Ma is a story that needs to be told, and once isn't enough. Madhuri Dixit starrer Maja Ma sure did surpass the expectation one had after the trailer release. The film is a story of two families completely opposite, one based in Gujarat and the other in the US respectively, the narrative deepens when a mother of two in Gujarat grapples with her sexuality following an unwanted revelation. Maja Ma, in its way, manages to deliver the message and makes sure the audience receives it.
Maja Ma is not all Garba, it's a significant exploration into a social issue that uncovers a revelation. It is followed by an acknowledgement of a mother's journey, who loses herself in the quest to be the perfect family woman. A mother of two is coming to terms with her sexuality, which she kept hidden for decades, but what will happen when it all comes out in the open, in a society which is still struggling to accept the choices of the young generation, leaving alone an Indian mother?
---
Suggested reading: Revisiting Some Of Madhuri Dixit's Most Powerful Performances
---
Maja Ma Review
(This review contains spoilers)
The way movies are made now, and the way the audience receives it has both changed for the better. Good storytelling, the craft, performances of actors, climax, everything together makes for a great cinematic experience, but when films also deliver a social message without overdoing the preaching, it makes for a complete social entertainer. ">Maja Ma manages to do that.
The plot opens with a super pumped Tejas (Ritwik Bhowmik), a Gujju lad living in the United States who is preparing for a meet-the-parents moment, after his girlfriend Esha's (Barkha Singh) parents with heavy accents (Sheeba Chaddha and Rajit Kapoor) suggest a lie detector test to check whether he is in it for love or money. Well, as abrupt as the idea sounded and looked, Tejas manages to pass. There's a scene where Esha prepares Tejas for the meet, explaining to him how her "parents are not bad people, they just think differently". Well, ironically, the different thinking comes across as unaware and insensitive for people who believe they are the certificate holders of what class, status and dignified societal behaviour mean.
It's from the 'families ko milwao' note that the film picks up the pace. Tejas's father, a simple society president (Gajraj Rao) and multitasker dancer-instructor-and all-rounder mother (Madhuri Dixit) make for a refreshing pair especially now that we've almost set our eyes on the Neena Gupta-Gajraj Rao pairing on screen. Teja's gutsy sister Tara (Srishti Srivastava) leaves no stone unturned in not only fighting for LGBTQIA+ rights but also later for her mother's. There's an unspoken strength that Tara gives to her mother at a time when the stacks are against the latter.
Tara's mother-in-law Kanchan (Simone Singh) brings a new twist to the story and while she plays a role as important as Dixit, it served as a pleasant surprise watching her on-screen performing the role of a friend and chilled-out mom-in-law, especially after there wasn't a trace of her in the trailer. Just when the families start to bond and the 'Rishta pakka samjho' moment arrives, a viral video becomes a huge roadblock in the union. Heating arguments, confrontations, a deeply sensitive flashback, a trip, and the final nail in the coffin - a lie detector test - bring several twists and turns uncovering stories of not just one but several dysfunctional families.
Performances
Maja Ma is significant because it has a great lineup of female actors, who stand out with their performances. Madhuri Dixit plays a woman grappling with her sexuality with so much nuance that you believe her when she talks about her past love, her sacrifices, and her quest for a life she could have had. She is the perfect mother, a dutiful wife who never forgets her husband's medicines, and a lovable member of her society, but - sparring her daughter - they all fail to back her when she owns her sexuality after an overwhelm of emotion and a powerful confrontation with her best friend Kanchan. Speaking Kanchan, Simone Singh's grace is unmatched. Her dialogue delivery is crisp and endearing. There's a scene where the three mothers take a cable car ride, and that's where Simone Singh outshines. Sheeba Chaddha's versatility is one for the ages, she will win your heart with her Punjabi monologue towards the end of the movie. Gajraj Rao and Rajit Kapoor play their roles as fathers of opposite natures brilliantly. Ritwik Bhowmik of the Bandish Bandits' fame justifies his Gujju son role wonderfully, and Barkha Singh's emotional scenes make you like her instantly.
Overall, the film articulates the duality of the world, the convenient woke culture, and people's urge to change the world but not work a tad bit to change themselves. The film does go astray with petty dialogues, over-the-top accents, and an overbearing NRI song, but then if we purely watch it for the message, for the performances, you'll spend a good two hours streaming.
The views expressed are the author's own.