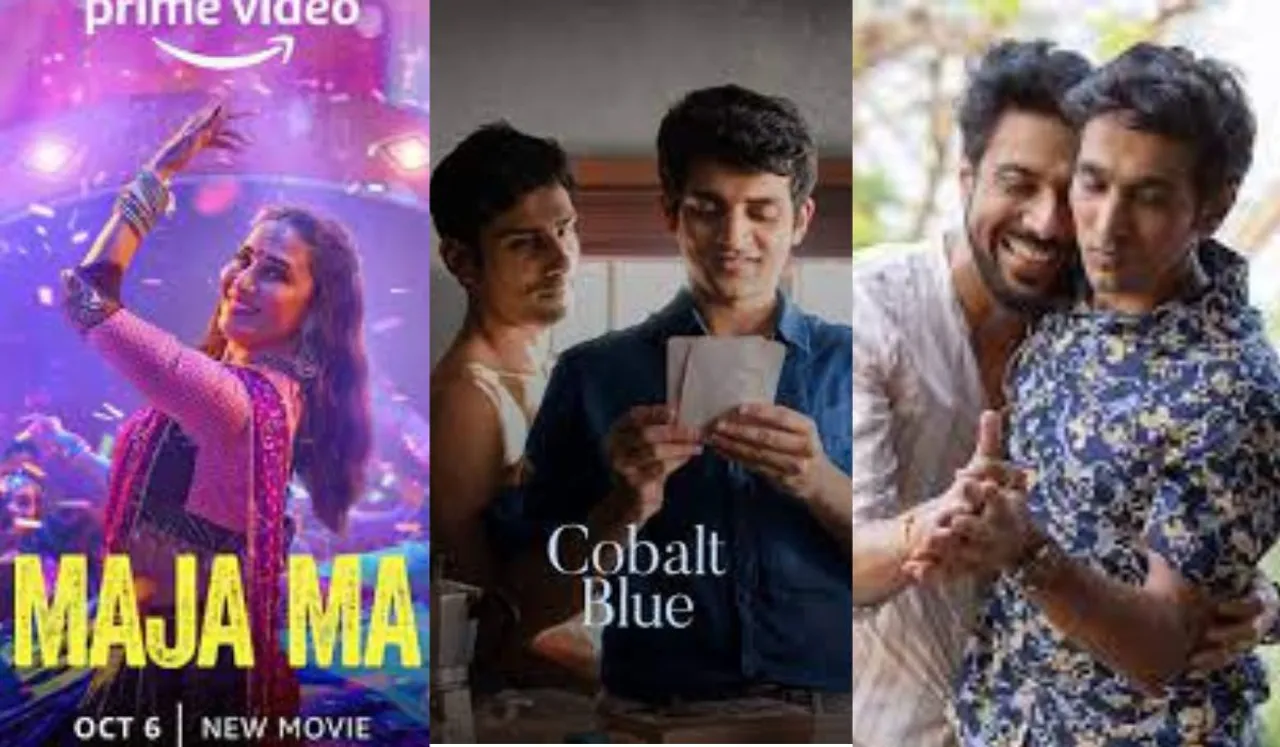 Indian Cinema this year left a few clichés behind and tried to bring more nuanced stories and different perspectives on the issues of the LGBTQAI+ community. Instead of portraying queer characters in supporting roles or stereotyping them, films and shows tried to explore their life through their own lens. The year 2022 has been a little more experimental and inclusive from the LGBTQAI+ standpoint. However, it still lacks to address the key issues, at least this year has been a starting point. OTT platform provided more scope for such stories to flourish and the audience also enjoyed watching them. 
Now that year is about to end, and we are looking back at what the year has given us. Here is the list of films and shows having queer characters that created buzz and added to awareness. 
Queer Characters 2022
Tanay From Cobalt Blue 
Cobalt Blue is adapted from the novel of the same name that follows a story of a brother and sister who fall in love with the same man. Sachin Kundalkar's film shows Prateik Babbar as the tenant who upturns the lives of the siblings Tanay (Neelay Mehendale) and Anuja (Anjali Sivaraman). The film has a social fabric of a traditional Marathi family and is set in 1996 when same-sex relationships were not legal. Tanay is a poetic character, cheerful who believes in love. His words are not understandable to everyone, but when he speaks his voice has romance and intense intimacy. Tanay's gaze is heavily sexualised that is what atleast Vincenzo Condorelli's camera show. It puts Tanay's imagination vividly. Tanay's character address what heartbreak feels like, attraction towards men is not all fun, and feelings are involved. There are raw emotions when his heart is broken. Tanay in Cobalt Blue is worth a watch for it tells a story of an erotic flush of first love. 
Madhuri Dixit from Maja Maa
Madhuri Dixit plays the protagonist Pallavi Patel, a quintessential family person, a devoted wife, and an ideal mother, who is regarded as a goddess of all things multitasking. However, she is not just a mother of two, but also a closeted queer person in Maja ma. Madhuri Dixit feels suffocated by the sexual orientation thrust upon her by society. Dixit subtly addresses how difficult it is for children to accept the sexuality of their parents. A woman being in a closet for years and portraying a best mother-daughter-wife picture is a concept to which many can relate, especially those who are yet living a dual life due to societal pressure. 
Manzu from Modern Love Mumbai
Hansal Mehta's directorial Baai is a short from the Modern Love Mumbai anthology. Baai revolves around a gay couple and their struggle to find a place in society. Manzu grew up in a conservative household. He is torn between love for his partner and Baai, a loving grandmother. Manzu could never come out to her grandmother and also his family warned him not to. Manzu is shown in dilemma about whether to reveal his sexuality to his ailing baai. The tale captures the raw emotions of Manzu, who is grappling with lying to the person he loves the most. There is a lot of dignity and respect but still an awkwardness of coming out. When baai emphasises on Manzu's marriage there is this silence but it is soothing, there is an unsaid conversation happening through emotions. 
Umang From Four More Shots Please
Bani J as Umang Singh is a gym trainer and a lesbian. Umang has out of the closet and has left her home. But she is still struggling to convince her parents of her sexuality. Her parents have abandoned her but there are unresolved issues, and Umang craves acceptance. In between, there are love-life problems. With failed first love and second serious relationship, Umang is heartbroken and tries to get herself together and move on with life. Four More Shots Please depicts the life of a lesbian from the family and love life angle. 
Rimjhim Jongkey From Badhaai Do
Badhaai Do starring Rajkummar Rao, Bhumi Pednekar, and Chum Darang tells the narrative of Shardul, a gay man, and Sumi, a lesbian, and the lavender marriage (mixed-orientation marriage) between them. Rimjhim has a lot many intersectionalities, she is a woman from the northeast region of India and a lesbian, who is rejected by her family due to her sexual orientation. Rimjhim is stuck between the lavender marriage of Sumi. Sumi has her share of problems with not coming out but Rimjhim who has already revealed her orientation has to face the brunt of her partner still in the closet. This has been a common phenomenon, which is hardly addressed. This could be one of the reasons for a breakup in a relationship that is meant to be.
---
Suggested Reading: