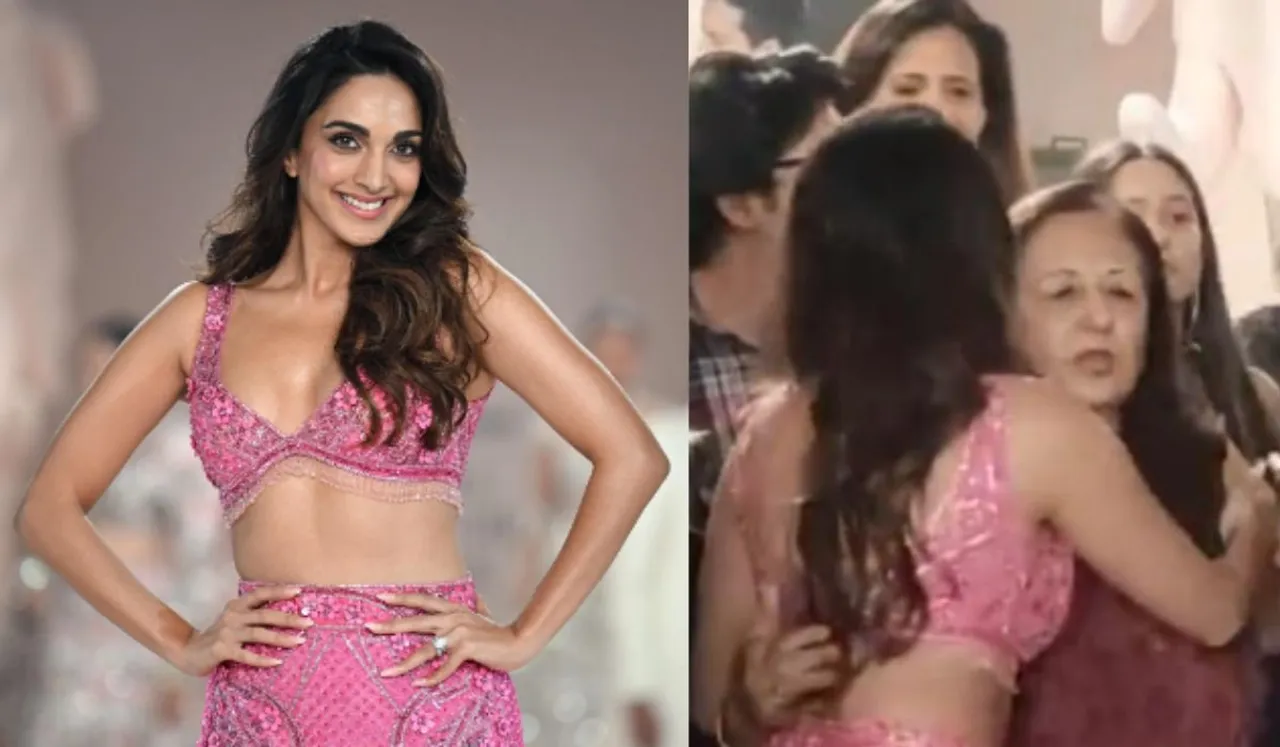 Kiara Advani, who recently walked the ramp at India Couture Week (ICW) in Delhi, shared an adorable moment with her mother-in-law. A video of Kiara Advani, who opened the 16th edition of the ICW on Tuesday, giving a flying kiss to her mother-in-law as she walked the ramp at Falguni Shane Peacock's show has been doing the viral rounds on the internet.
The video also featured Kiara Advani meeting her mother-in-law after the show and sharing a tight hug. Fans can't stop admiring the beautiful bond between Kiara Advani and her husband Sidharth Malhotra's mother.
Kiara Advani's Flying Kiss To Mother-In-Law
While Kiara Advani and her mother-in-law have become the latest celeb MIL-DIL pair to set goals, here's a list of five other women who have redefined the relationship between mother-in-law and daughters-in-law.
Sameera Reddy and Manjri Varde
Sameera Reddy's relationship with her mother-in-law Manjri Varde has been the talk of the town since the duo started making social media content together during the pandemic. Reddy has been candid about how supportive her mother-in-law has been right from the beginning, and even more so while she was dealing with motherhood and postpartum depression.
The Messy Mamma and Sassy Saasu (as they call themselves) have been making major MIL-DIL goals. The duo's humorous videos on their Instagram handle shatter the stereotypes that perceive typical MIL-DIL relationships to be sour. The duo dances, cooks, participates in viral challenges and never fails to speak proudly of each other. The two women share a wholesome bond that sets the exemplary standards of sisterhood in the MIL-DIL relationship.
Alia Bhatt and Neetu Kapoor
The Saas-Bahu duo has never missed an opportunity to showcase their love for each other. Alia Bhatt once shared that she was genuinely grateful to have Neetu Kapoor as her mother-in-law. She added that they share a friend-like equation. She elaborated on the values, positivity, and warmth Neetu Kapoor adds to her life.
Neetu Kapoor, on the other hand, has always been cheerful while speaking about her daughter-in-law. Once, when she was asked, "Who will rule the home?" Neetu Kapoor promptly responded that she wanted her daughter-in-law to have the final word. Their relationship is definitely a portrayal of how modern mothers-in-law are respectful and supportive of their empowered daughters-in-law.
Kareena Kapoor and Sharmila Tagore
The "Pataudi" Pariwar Mother-in-law and daughter-in-law duo have had their own share of adorable moments. They always speak very fondly of each other and have been expressive about how liberated they feel in each other's company. During a family vacation, Kareena Kapoor proved the point by wearing a bikini in the Maldives.
Kareena Kapoor stated in an interview that her mother-in-law treats her like a daughter. She explained that having a healthy relationship with one's mother-in-law is normal and shouldn't be such a big thing. She shared that she was very comfortable wearing a bikini around her mother-in-law, just as she would be around her mother.
Genelia D' Souza and Vaishali Deshmukh
Genelia D'Souza and her spouse Ritesh Deshmukh give us major couple goals through their reels. D'Souza also shares a beautiful bond with her mother-in-law, Vaishali Deshmukh, setting DIL-MIL goals. The actor has always been in praise of her mother-in-law and has even stated that she is more than a mother to her. Earlier, in one of her Instagram posts, she mentioned she always prayed for the right partner and never imagined being blessed with a mother-in-law who is her strong support system and a lifelong friend.
Katrina Kaif And Veena Kaushal
Katrina Kaif's mother-in-law is one of the simplest Bollywood saasu who prefers to stay away from the media's eye. But Katrina Kaif and her spouse Vicky Kaushal's social media handles do have some adorable moments showcasing their beautiful bond. They might be a little away from media scrutiny, but they sure are one of the cutest mother-in-law-daughter-in-law duos in Bollywood.
---
Suggested Reading: 7 Saas Bahu Lessons From Sameera Reddy And Manjri Varde