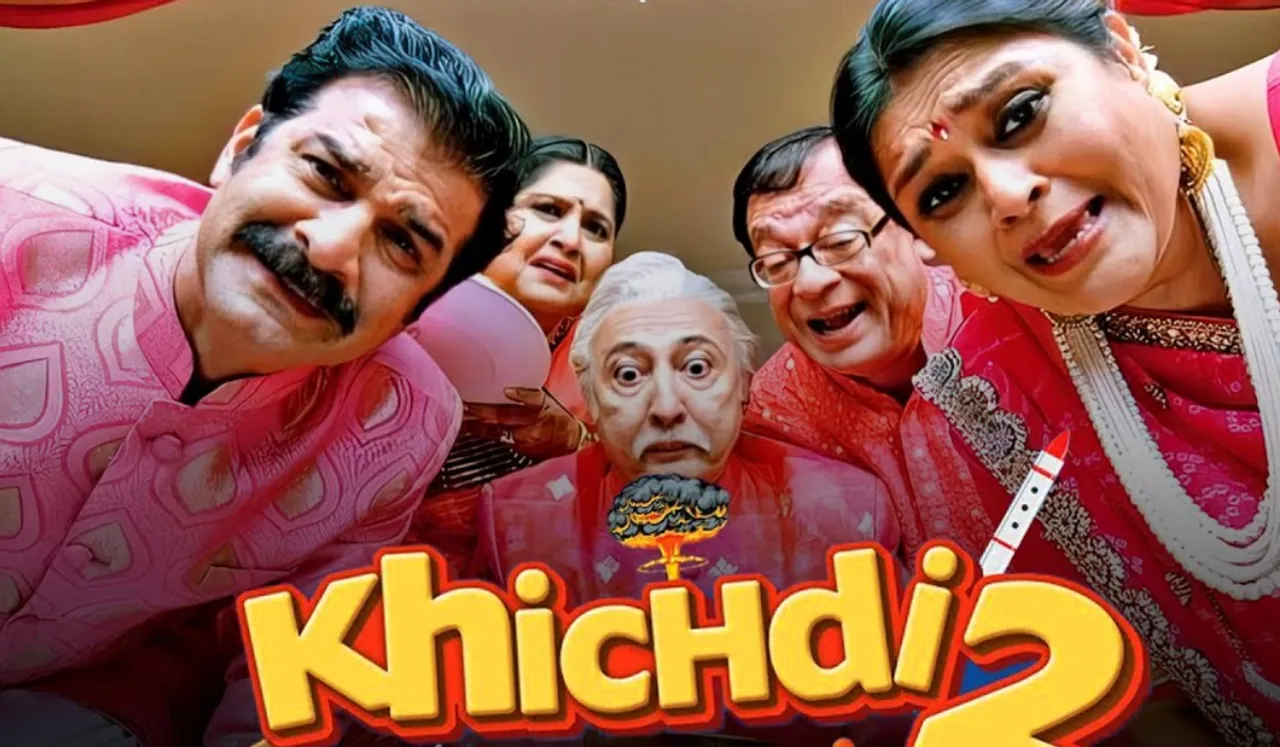 As the popular 90s show Khichdi franchise has released a sequel film Khichdi 2: Mission Paanthukistan with a clever release date of the family comedy drama on November 17, around the Diwali holidays, the film has performed commercially well in theatres despite clashing its release around Salman Khan's big release Tiger 3. 
All the '90s kids and families flooded the theatres to watch the family drama and heart-warmed movie-goers flooded the internet with mixed reviews while some called the film "laugh riot" and "perfect stress buster" others called out the cons of the comedy family adventure drama. 
Khichdi 2: Mission Paanthukistan Twitter Review:
As fans of the iconic show series were eager to watch the film on the big screens, most fans wrote about the film to be "laughter therapy and tickling "funny bones", many appreciated the performance of the actors Rajeev Mehta playing Prafful and Supriya Pathak playing Hansa Parekh. 
Caught #Khichdi2 last night and I must say it is a treat for all the comedy and franchise lovers. Praful antics in #Khichdi2 are pure comedy gold ! The first half is pure gold while the second half focuses on comedy as well as on the core story. All in one this movie will tickle… pic.twitter.com/fD47CnuNn9

— CineHub (@Its_CineHub) November 18, 2023
In stitches from #Khichdi2! Hansa and Praful steal the show, making this sequel a gem.

— Nishi✨ (@wtfnishii) November 18, 2023
If you worry that the original show will lose its essence through its filmy format, this X (formerly Twitter) user addressed your worries calling it the "perfect blend." 
Just caught #Khichdi2 and it's an absolute joyride! Perfectly blends nostalgia with new hilarity - a must-watch for every Khichdi fan.

— Sachya (@sachya2002) November 18, 2023
Another admirer of the film called the film a pure "laugh riot" however, pointed out the cons of the film giving an honest review. 
Just watched #KHICHDI2 with the family. Pure laugh riot! If you love the Parekh family, it's more of them but sillier!
The only con is songs because they kind of blocked the flow but other than that, a pure comedy movie after a long time! #khichdi2review

— શિવમ્ Shivam (@CynicalShiv) November 17, 2023
A nostalgic fan of the show in a video review admired how the film will take viewers back into Nostalgia but called out the film to be a "one-time-watch" and warned watchers to not use any "logic" while watching the film calling it a "Time Pass watch."
#Khichdi2 REVIEW: Time Paas ⭐️⭐️

Agar aapko #Khichdi show pasnd h uske characters ko aap pasnd krte h to ye movie aapke liye ONE TIME WATCH h. movie Purane show k nostalgia me aapko le jaaygi😇 jo mujhe bhi achha lga.

Baki logic mt lgana wrna maza nhi aayega!😁 #Khichdi2Review pic.twitter.com/IjGidGm502

— Sagar Sharma (@SagarShirley) November 17, 2023
Another user addressed the film's "brainless comedy" yet appreciated how the jokes landed well, while another user emphasised sentimentally how the film pushes everyone into nostalgia. 
#Khichdi2 is a delightful blend of nostalgia and fresh comedy! It's like revisiting old friends while experiencing new adventures.

— Nishant (@Nishantchant) November 18, 2023
Overall, the film received decent reviews from being called a "perfect stress buster" to a "feel-good comedy" while others called out the film as having a "stretched screenplay" or "okayish" but the "nostalgia factor" to be working. 
---
Suggested Reading: 7 Upcoming Hindi Films Releasing In Theatres To Wrap Up 2023